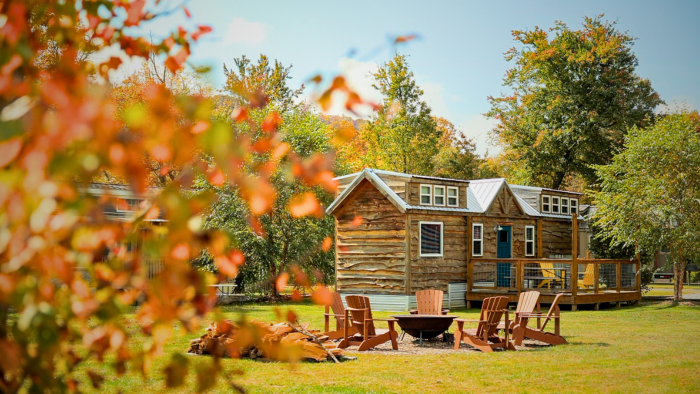 Is this the best Tiny Home Community?
Do you want to live in a tiny house community where you know everyone but aren't on top of your neighbors? Then, you'll want to hear about Acony Bell Tiny Home Village. Founded in 2017, it's located in Mills River, North Carolina, near Asheville.
First, let's talk about the people behind Acony Bell, founders Mark Brooks and John Monroe. Mark worked as a civil engineer for 25 years, and John has complementary experience in real estate and property management. They are both genuinely passionate about advocating for more legal acceptance of tiny home communities.
"I work in probably 20 different counties in North Carolina. Their attitudes and rules and regulations with regard to doing this kind of thing are so different. I mean, it varies wildly from one little burg to the next. And a lot of times, their regulations and whatnot are formed by maybe one or two people within the local government or maybe on the council or whatever's attitudes, opinions, and possibly even prejudices.

I just wish that they would take the time to come and investigate places like Acony Bell and other good communities like this and look at it and ask them questions and go, how does this work?

This is a great solution. It limits sprawl, even though we're pretty fairly rural here. And a lot of positives. I just think that something's got to be part of the solution in the future."

-Mark Brooks, Acony Bell cofounder
Tiny Home Community Development
The property was all actively farmed tomato and pepper fields when they purchased it. Most of the property was in the floodplain that flooded pretty regularly. So, they decided to excavate some dirt from the front portion to fill in and raise the elevation. They undertook other specialized infrastructure projects to add to the quality of life in the community. It was all expensive but worth it.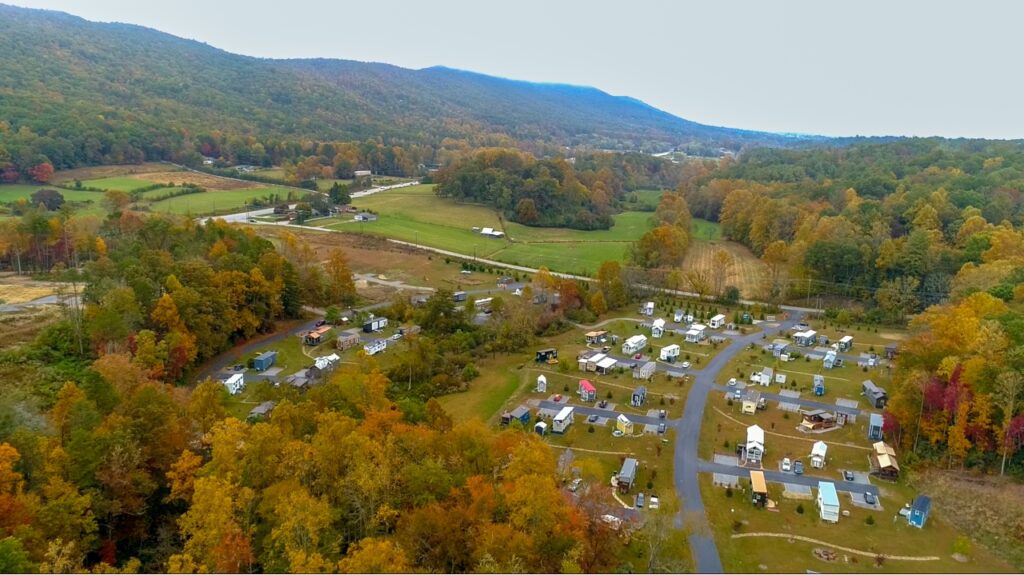 Mark and John made it their mission to create a wonderful place to call home. Located on 58 acres with mountain views, close to the Pisgah National Forest, this village is not a typical RV park. It was designed to provide everyone with privacy while allowing them opportunities to be part of the community through shared spaces and village events.
Their development philosophy incorporates sizeable lots and distance between homes and landscaping between them. Each time a tiny house moves into the community, a new tree is planted, and the resident gets to choose what kind!
"Tiny living is about living outside. Decks, chairs, horseshoe pits, fire pits—everybody puts their own little twist on their little area. Now, we've got a couple of homes that have decks on top of them. So I think that's the number one important thing.

Second of all is trying to make everything look like marine barracks. You don't want that straight-lined up. We try to put a skew on the homes to kind of break them up so it doesn't look like home after home after home. These homes are all different builders, which creates the eclecticism of the village. And that just makes it really cute and a great place to be because of that.

We could have jammed 500 units in here (instead of the 114 lots), and turned it into not a very nice place to live."

-John Monroe, Acony Bell cofounder
Inside Acony Bell Tiny Home Village
When it comes to amenities, Acony Bell Tiny Home Village doesn't disappoint. These include communal gardens, horseshoe areas, and always-stocked fire pits. Join the chicken club to enjoy fresh eggs! The community house is the perfect place to get to know your neighbors and foster a close-knit community.
Residents can access laundry facilities there. They can also utilize an oversized, comfy couch, a big-screen TV, a fireplace, a piano, and a spacious dining table. Many impromptu potlucks happen there, which is really lovely. Further, a separate room is available for working out.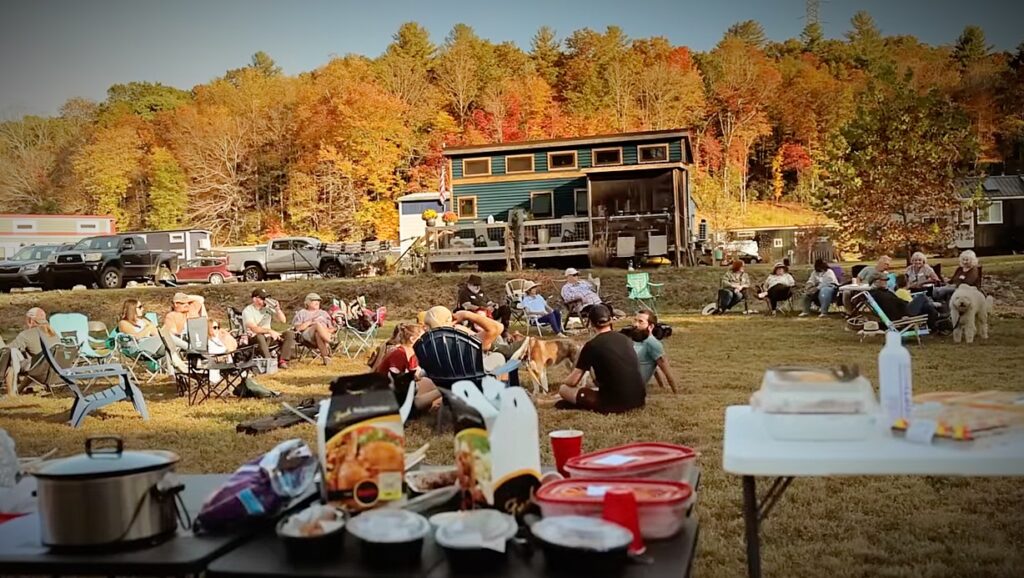 Annual community-wide potluck with live band
Lot Rent at Acony Bell
Now, let's talk about the elephant in the room—the cost of living in this amazing tiny home community. Monthly rent for the inside lots is $550, and for the outside perimeter, it's $625. This fee includes water, trash, and recycling; free internet is available at the clubhouse.
"The national average three years ago was $575 for an RV spot. And when I came here and moved here and said it was $600-- what do you mean $600? And people were just so irate. And I was like, the national average is $575. And not for nothing, but have you seen this place? It's beautiful.

And they put money into the infrastructure. You have to appreciate that. And they have to recoup that money.

If you think you're going to get an apartment in Asheville for $600, good luck, sis. It's not happening. So if you're coming from a city, a large city and rents are $2000 easy for a one bedroom. For a house you own, to pay $600, are you mad?

I'm not mad at all. And I appreciate the attention to detail here, the beauty here, the upkeep, and the maintenance of the landscaping."

-Regina, Acony Bell resident, @mi_nido_aka_my_nest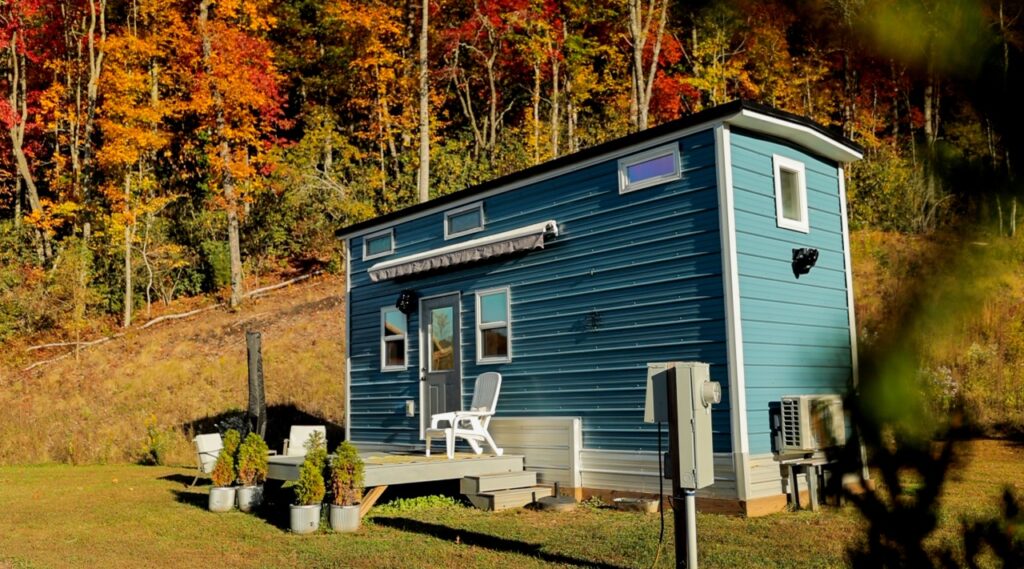 Regina's tiny home
All the residents appreciate the upkeep and maintenance, which enhances their living experience. They take pride in maintaining their community, and their efforts have not gone unnoticed. The village's landscaping promotes tranquility and strengthens the sense of community.
Try Out the Lifestyle
Ready to try out tiny house living and community life? Acony Bell has a range of vacation rentals. These are popular due to their unique designs, cozy interiors, and comfortable living arrangements. You'll also find yourself surrounded by like-minded people who share your love for tiny homes.
Residents and guests can also access many outdoor activities like hiking, fishing, and camping.
Overall, Acony Bell Tiny Home Village is the perfect place for people who want to live in a close-knit community that still provides privacy. The amenities ensure that everyone has something to do and that the community spirit is strong. With plenty of outdoor activities and access to the artsy city of Asheville, this a wonderfully well-rounded place to home.
Don't just take our word for it! Watch the tour to see for yourself and to hear from many residents.
Thanks to our video sponsor, Merge Gardens! Install the game for FREE, https://clik.cc/KiQKl, and build your own beautiful garden. 🌻