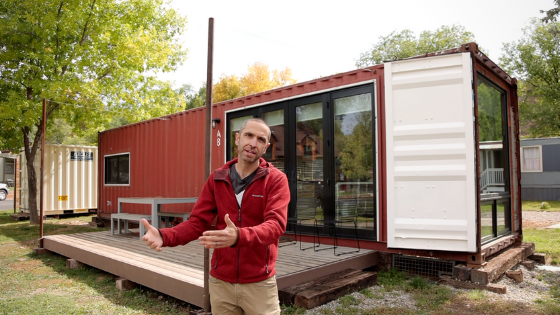 Is This the Most Livable 40-ft Container Home?!
40' Shipping Container Tiny Home Conversion
Meet Dan, an architect who designed, built, and now lives in a high-cube 40-ft container home with his wife, dog, and cat. During the design phase, he focused on not sacrificing comfort while optimizing function. The result is an exceptionally livable, light & airy tiny home.
Impressively, Dan did it all for $45,000. DIY building made it possible. However, he did hire for crucial elements of the build—electrical, plumbing, and spray foam insulation. Dan didn't want to compromise on quality in these areas, especially since he only knows enough to be dangerous.
"We actually splurged in a few areas that were important to me because this was going to be a place that we're going to be living in and also going to be sort of a showpiece for my firm.

One of the areas we opted to spend a little more money on is the windows. The reason for that also was to make the space feel a little larger than it is. In my mind, yeah the windows are expensive but capturing some more of the outside because of it. It's almost like buying additional square footage, or at least visually it feels that way."

—Dan, Mesa Architecture Studio
Inside His 40-ft Container Home
Dan's 40-ft container home feels much like a stylish, space-efficient studio apartment. Though, he and his wife enjoy more privacy in their bedroom—enclosed on three sides and placed on the opposite side of the house from the living room. It's a total of 270 square feet with much open floor space and some movable furniture for added floorplan flexibility.
What also makes this such a livable tiny home is a large amount of storage. For example, the bedroom has a full-size built-in closet, drawers in the bed frame, and hidden storage inside the raised floor platform.
Watch the tour above to see all the cool features of Dan's 40-ft container home!
Follow Dan's architecture work & container home life on Instagram: @Mesa.Architecture.Studio 
Have you ordered our book yet?
Learn the history of the modern movement, get a breakdown of tiny home styles, and meet the passionate tiny community. The Beginner's Guide to Tiny Houses also discusses the pros and cons of micro-living―is a tiny house right for you, right now?
What people are saying:
"Most books about tiny homes are really just about the fantasy, with beautiful pictures in far-off places, but they don't tell you how to get from point A to point B. That's where this book comes in and fills in all the gaps!"