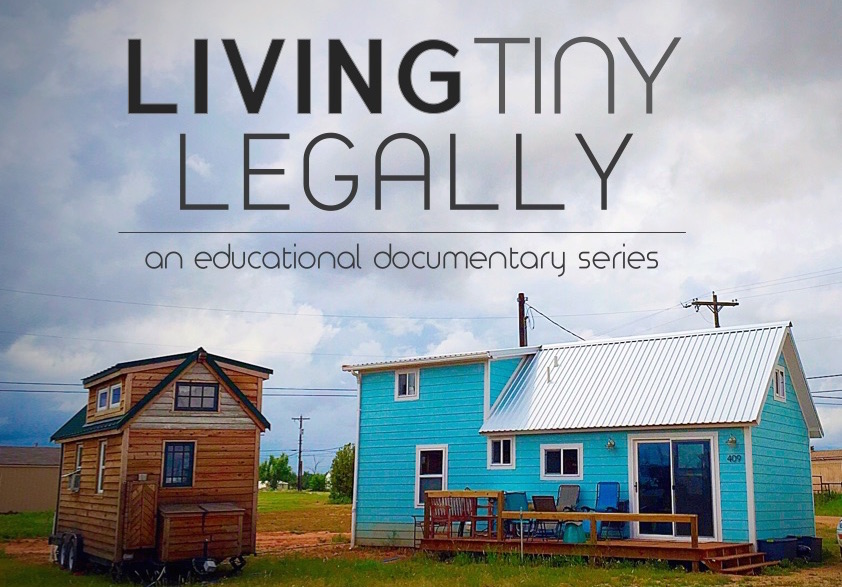 Online DEBUT of "Living Tiny Legally, Part 2"
An Educational Documentary + Resource for Tiny House Advocates and Policy Makers
YOUR guide for making legal, full-time tiny house living a reality in YOUR community!
"Gave me goosebumps. Never thought building code revisions could be so gripping."
— Kevin Polk, Makes A Village
The much-anticipated next installment of the Living Tiny Legally documentary series recently debuted at the Georgia Tiny House Festival and is now available online. Part 2 explores the benefits of tiny housing, examines the need for building standards and how current codes can be updated to be more tiny house friendly.
Living Tiny Legally, Part 2 features the following case studies:
An insightful look at how one CTE (career technical educational) program in San Antonio, the Construction Careers Academy, opened the door for permitted, inspected and certified tiny houses.
The behind-the-scenes story of how Walsenburg, CO, became a tiny house friendly town-- from zoning to building codes.
An inside look at the historic approval of the tiny house appendix for the 2018 version of the International Residential Code. It includes the compelling arguments for why this is needed, implications for the future of the movement, and the next steps for implementing the appendix locally.
In the first time in International Code Council history, they granted permission for an outside film crew to film inside the hearing room and to distribute the footage publicly.
The Living Tiny Legally series is a passion project of filmmakers, Alexis Stephens (that's me!) and Christian Parsons of Tiny House Expedition. We believe that legal acceptance is necessary to allow more people the opportunity to live tiny, safely, and without fear of eviction. This step is crucial not just for the future of the tiny house movement, but for the future of housing in America. The current housing market is sorely lacking in quality, attainable housing options.
A better understanding of how to make this happen and the value tiny housing can bring a community, help both advocates and policymakers find a path forward. We make these films to inspire positive change, empower others into action, and amplify the efforts of the many dedicated advocates that we document.
Part 1 and Part 2 are now available for community screenings. Contact Tiny House Expedition for more information.
Stay tuned for Living Tiny Legally, Part 3, and LTL short films on specific topics and stories from our feature-length films. These will be available for advocacy efforts and educational presentations. HUGE thanks to all sponsors and online donors!
Full list of Sponsors available HERE. All online donors listed in the film's credits.
-Alexis & Christian, cofounders of Tiny House Expedition