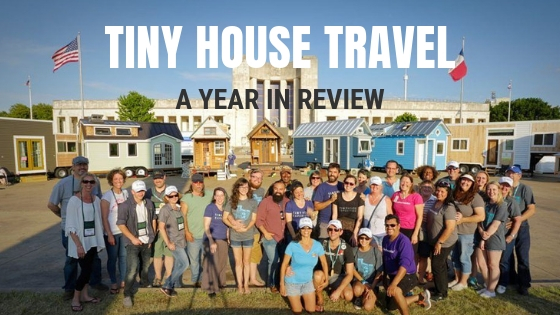 Tiny House Road Trippin', A Year in Review
The Best & Worst Tiny House Adventures of 2016
A tiny house road trip is an extraordinary experience — the ultimate way to spread smiles and start conversations wherever you go. Our traveling home has proven to be our comfy ticket to adventure and a delightful way to meet new people.
I love waking up in new, strange places from the comfort of my bed. There's nothing like making coffee and taking in the kitchen window view of today's surroundings, whether it be the ocean, another tiny house or even a crowd at a Walmart parking lot. Awkward? Sometimes.
Miles Traveled:

 

18,000 (total 25,000)

States Visited:

 15 (total 22)

Visitors in our Tiny Home:

 25,000 (total 40,000)

Tiny House Communities Visited: 6 (total 12)

National Parks Visited: 6
An epic road trip wouldn't be an adventure without a few misadventures. Think broken bones and poorly timed flat tires. It's all part of the journey. Most importantly, we lived to tell the tale. 
Here are the best and the worst from our tiny house travels:
Llamalopo
lis
Our two-week stay was one of our first and most impactful tiny home communities experiences to date. We got to experience a thriving, working urban tiny home community up-close and personal. It was wonderful having neighbors for two full weeks. Fun, kind, fascinating neighbors-- the full and part-time residents of Llamalopolis.
What happens when 70,000+ dreamers create a pop-up city in the middle of the Black Rock Desert? Magic. At Burning Man, everyone says, "welcome home." During our experience there, we soon realized in a community valuing radical self-expression and radical inclusion; you do feel completely at home.
Even with all the amazing art exhibits, our tiny home was still very much a conversation starter. Every time we lounged on the porch, we met someone new. We even got parking offers!
One of our favorite things about our Burning Man experience was genuinely being in the moment, savoring every moment. While disconnected from the outside world, living off-grid, we found ourselves more connected than ever to what was happening around us.
The release of Living Tiny Legally, part one of our three-part educational documentary series, was a huge relief and joyous success. We couldn't be more pleased to have received so much positive feedback from both advocates and government officials, who found the film to be insightful and a useful resource.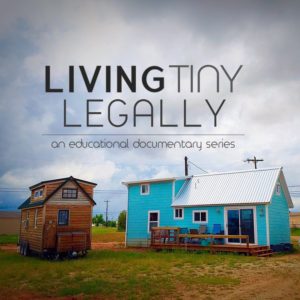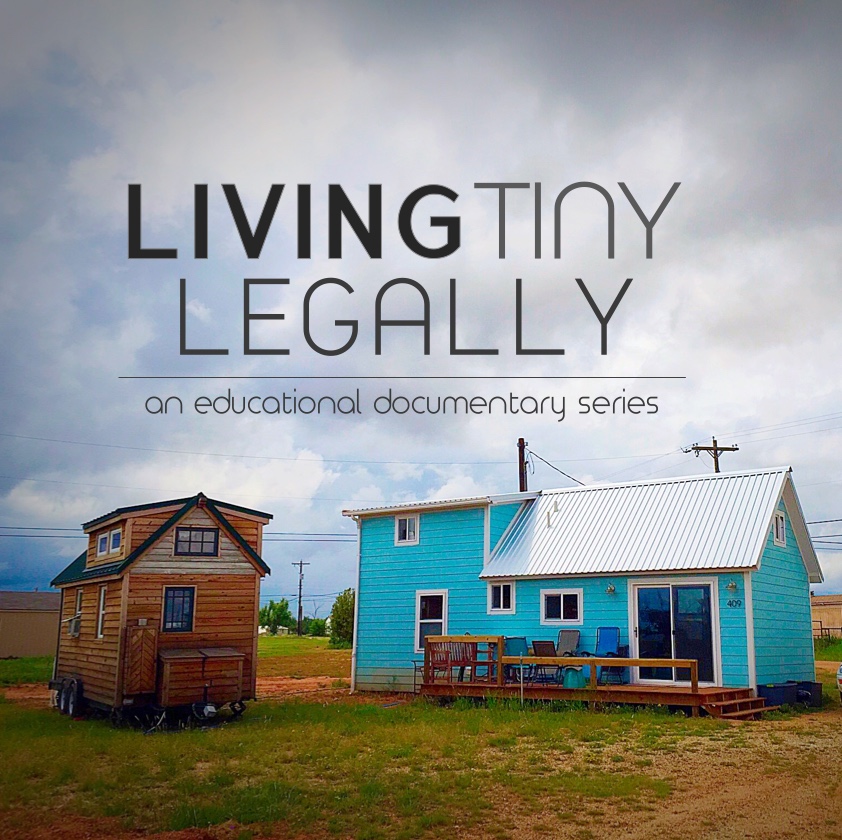 Tiny House Meetups
There are so many marvelous tiny house Meetups across the country. In many ways, they are the heart and soul of the movement, from offering support for DIY builds to advocating for zoning acceptance. Over the last year, we have had the pleasure of spending time with several such groups, including the DFW, LA, Bay Area groups.
Need an injection of inspiration and community? Join a local tiny house Meetup!
The Dope Parking Spots
Have you ever wondered where you can take your tiny home on wheels? Our front yard has been the ocean, the mountains, the desert, a warehouse yard, a neighborhood street, and many more locations. Some of our all-time favorite parking spots have been next to another tiny house, or in the driveways or backyards of friends (new & old). Our travels have shown us the power of networking and the abundant kindness of others. We are so grateful for the generosity of all our parking hosts/ temporary neighbors.
New Friends & Meeting Remarkable People
Perhaps our favorite aspect of our tiny house travels is making new friends, sometimes in unexpected encounters. Even better? Making friends in one state and then reconnecting in another state. For instance, we met our friend Carlo in a chance encounter at Burning Man in Nevada. We hit it off immediately, and months later, we parked behind his warehouse in San Jose, CA.  Fun fact: Carlo holds a world-record for team rowing. 
If I made a list of all the remarkable people we've had the pleasure of connecting with and interviewing, it would take up this whole blog post! With that said, Dominique Moody is a real stand-out.  We parked next to her in Joshua Tree, where she was in an artist residency with her tiny home, the NOMAD.
Dominique is an assemblage artist, DIY tiny house dweller, and storyteller with a long family history of nomadic living. She built her tiny home over three years (like the gestation of an elephant, she would point out). Dominique approached the build as an artist and infused every aspect of her home with rich meaning, color, and texture.
Did I mention she's legally blind? Dominique is truly extraordinary. She has a very thoughtful, poetic and deliberate style of speaking. When she talks, I always find myself completely enthralled.               
Being nomadic is a legacy rich in an ancestry rooted in this mobile memory and now practiced in defiance to social and economic limitations, so I will continue to express my 'mobility of spirit'. For the past forty years my nomadic migration has taken me on a path of creative exploration where I could imagine my life based on my creative dreams that are grounded by ordinary tasks of everyday life. 
Though we are nomads, this lifestyle does not keep us from experiencing community. Moreover, our community experience is incredibly rich and intimate. We are weaving a community network across the country. Geographic boundaries do not define it but made strong through in-person connections, shared experiences, open hearts and minds.
Visiting Old Friends & Family
Christian and I have loved ones spread all over the country. Our road trip has enabled us to visit many of them. Parking in their driveways or backyards provides the best of both worlds. You can enjoy the company of your family and retreat to your private space when you're worn out. My ten-year-old son, Garrett agrees. He's a part-time traveler and tiny house resident. Every time he is with us, we make a point to visit family, like spending Christmas with my sister's family in Utah. Conveniently, she has an RV pad in her backyard.
Community Living at Tiny House Events
Our tiny house festival experiences this year were all uplifting good times, especially the after-hours hangs. Like at the Earth Day Texas Tiny House Village, where we parked next to eight other tiny homes. It truly felt like community life. Neighbors helping each other set-up, shared meals and porch life in the evenings.
This story from Nina Zamudio perfectly sums up our makeshift village:
One night, after the Earth Day open houses, Nina went in search of a bathroom in the expansive Dallas Fair Park. Meanwhile, all the tiny villagers were hanging out. Nina passed by a fancy soiree, also happening at the Park. She overheard two sharply dressed gentleman discuss the tiny housers."Have you seen those tiny house people? Every night they're laughing and drinking and having a great time. I think they've found bliss.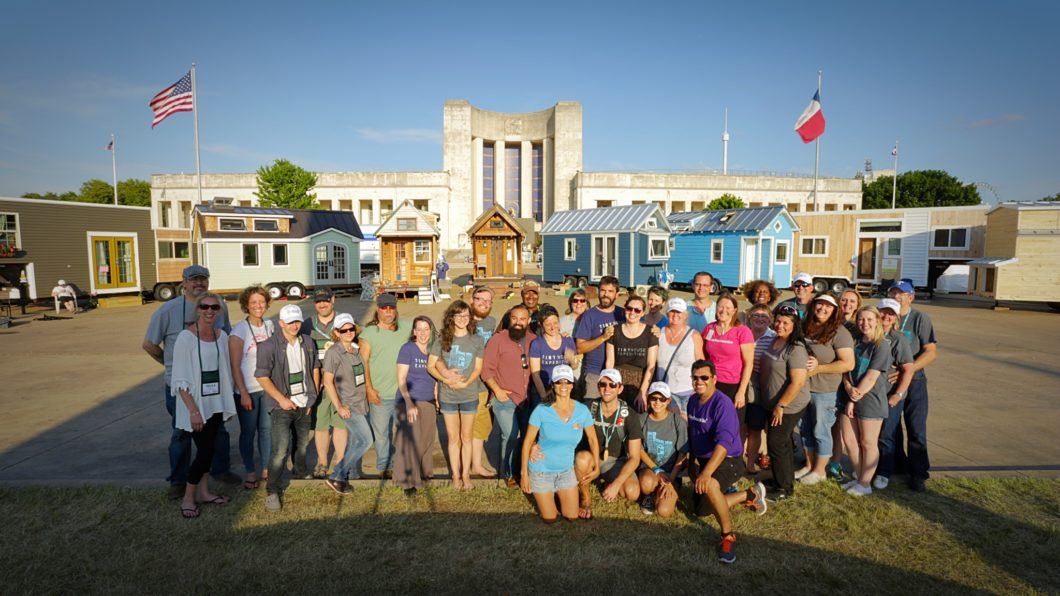 HUGE Tiny House Advocacy Victory
The approval of the historic tiny house appendix for the International Residential Code (IRC) was a significant highlight of 2016. We were very fortunate to attend the first round of voting at the ICC (International Code Council) public hearings in Kansas City, MO, with a dynamic group of advocates and tiny house community leaders.
It was the first time in ICC history that the code council granted permission for an outside film crew to tape inside the hearing room.
Public hearings can be very dry, but this was not your typical hearing. It featured a singing ICC member, a baby at the podium and electric enthusiasm from the crowd.
It is a groundbreaking victory for the movement. There is now a model building code for tiny homes on foundation, and it will be available for adoption in all IRC jurisdictions nationwide. 
The approval process of the Appendix and the implications for tiny house building in the future will be featured in Living Tiny Legally, Part 2. To be released in Spring 2017. 
The Worst of 2016, the Misadventures
A Broken Wrist
In December, we parked in beautiful South Lake Tahoe with plans to spend five days snowboarding and visiting our new friend Deon (we first met at the Tiny House Jamboree). While Christian is an experienced snowboarder, I am a complete beginner. At first, it was tough. After a couple of days, I started to get the hang of it.
But on my third day, after my best run yet, I caught an edge and fell hard on my right hand. And just like that, I broke my wrist. The good news is I didn't have to have surgery, and with the help of my new right hand, Christian, I've been able to get along just fine in our tiny home.

After meeting in Ojai, CA, at an advocacy meeting, our sweet new friend Amanda invited us to park at her place in Oakland. When arrived at her very dense neighborhood, we knew we had our work cut out for us. Her driveaway was incredibly narrow, just big enough for us to carefully squeeze in.
Christian was behind the wheel, and I was his eyes on the ground. Fortunately, we have our hand signal system down pat, which we put to use for forty-five minutes of slowly backing up and pulling forward and backing up, from every angle. Finally, we asked a neighbor to move their car, which gave us a few extra feet of maneuverability. We finally made it in!
The good news, at this point, was that we planned to stay for two full weeks. But when the day came to leave, the street parking was packed on both sides of the street. Consequently, we knocked on doors for twenty minutes to ask for neighbors if they could move their car. No luck.
We decided to give it a go, which we did for one hour and half of slowly backing up, back and forth. Unfortunately, there was no way we could get our 45' rig (U-Haul truck and tiny house combined) out of Amanda's driveway. After lightly hitting a flag pole, a neighbor walked by. Fortunately, he was just the guy we needed. He asked his buddy to move his car, parked just next Amanda's place. It was the key to our successful exit from the driveway.
Ten minutes later, we were free! We made it to our schedule open house event, an hour away, just in the nick of time.
A Most Inconvenient Flat Tire
During our trek to Burning Man, in remote Nevada country, we stopped for gas. It was one of the last available gas stations before entering the remote Black Rock desert. We quickly discovered a flat tiny house trailer tire. Not just flat, but the rim was also busted. I'm ashamed to admit that we didn't have a spare-- believe me, lessoned learned.
At this point, we have been driving for five hours, and we were nowhere near a tire repair shop. We planned to spend nine days in the desert for the event, which was still several hours away with traffic. Also, we needed to be able to make it back to Reno afterward.
After an hour of calling all the mobile repair services, with no luck, and asking passing travel trailers if they had a spare tire, we met Gabriel. He was a resident of the local Pyramid Lake Reservation.
Gabriel was a godsend. He took Christian to his father's home, where he had a tire and rim that worked for our trailer. The kindness of strangers continues to blow us away. Even though they didn't ask to be paid, we gave them some money and profuse thanks.
In the end, seven hours later, we made it our parking spot inside Black Rock City at Burn Man.
For more stories from our epic tiny house adventures and misadventures, watch our Facebook Live 2016 recap:
-Alexis Stephens, co-founder of Tiny House Expedition