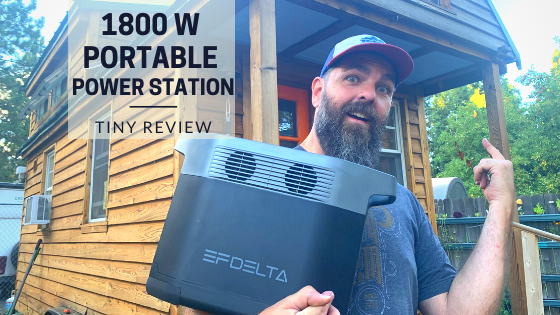 Powers Entire Tiny House! Ecoflow Delta 1300 Power Station
A Portable Power Station with a Giant Punch
Impressively, the compact and powerful Ecoflow Delta 1300 power station can run our entire tiny house!
We first tested it when our host's power went out, resulting in a real-world backup power situation. Of note, it has an 1800 Watts and 3300W Surge capacity (Pure Sine Wave). View full specs here.
In our product review, we share various ways to use and recharge the Delta 1300 power station with key comparisons to other portable power stations/solar generators. We tested the Delta's solar power recharging capability by connecting it to our two, 400-watt solar panels—installed on our tiny home roof.
Later on a camping trip, we tested it with the fold-out EcoFlow 110W Solar Panel.
In the future, we might invest in a second Ecoflow Delta 1300. Both could easily fit under our couch and could be connected to our 400-watt solar panels to ensure continuous off-grid power for our tiny house. And one could be easily transported to a shop space too. Mini-homestead goals! 
Top Delta 1300 Features:
Fully recharge within 1-hour with AC power

10x faster than most portable power stations

Fully recharge with solar panels in about 4-hours (dependent on direct sunlight and panel capacity), AND with a 12/24V carport in 10-12 hours— again faster than other available options

Comes with universal solar input (MC4 to XT60 Connector)—unlike other mobile power stations

Large inverter load enables it to power most home appliances AND heavy-duty tools under 1800W (3300W Surge, Pure Sine Wave) with 1260Wh capacity

Can charge an electric car! Comes with the necessary cable

Small-space friendly size! 15.7 x 8.3 x 10.6 in (40 x 21 x 27 cm)
Top EcoFlow 110W Portable Solar Panel Station Features:
Chainable feature allows you to connect four of the 110W solar panels

Comes with a handled carry case that has a built-in, adjustable stand

Made of waterproof materials
Exclusive Content
Monthly LIVE tiny living discussions with extended Q&A, plus BONUS content, like behind-the-scenes filmmaking and tiny home life insights.
Early Access
See new videos first, get first dibs on new online courses and more!
Exclusive Giveaways & Discounts
Win tiny living festivals passes, and more!
Join today!