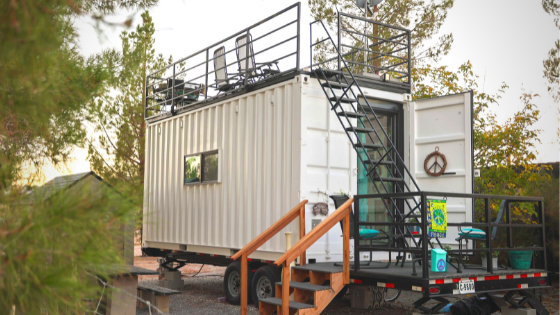 Retiree's Container Home on Wheels Life, a Healing Journey
Meet Sally, a retiree living in a container home on wheels. She downsized into her 20-foot tiny home to turn a fresh leaf and achieve her own independent affordable housing. Although Sally had no debt, she has little income, which makes obtaining a loan challenging. But thanks to Operation Tiny Home & Sutter Home, she received a downpayment grant which keeps monthly payments super low at about $300 per month!
Thanks to her backyard parking spot hosts, she has a side gig— taking care of their darling Airbnb container home also on the property.
Now Sally is living her best life, truly. Tiny living helps tremendously with her trauma healing after a horrific attack many years ago.
"I have been searching for years to find a safe place to find somewhere I could close my eyes at night and gets some good sleep...

I decided that maybe changing from living in the same town where I was assaulted, then maybe by going somewhere; I would lose a lot of those fears. But I actually needed to find a place that was affordable and a place that was all me, 100% me...

Living in a tiny home does help me to achieve the peace that I needed."

— Sally, @gypsy.container.living
Inside Her Container Home on Wheels
Sally's tiny house is an RV-certified shipping container home on wheels. At 20-feet long, it has 160 square feet of indoor living space with an 8-foot front porch. Additionally, she enjoys an extra 160 square feet of outdoor living space on the rooftop deck. Of note, the deck railing folds down for transport.
Importantly for Sally, she has a downstairs sleeping area. Her Murphy bed with an attached sofa easily pulls down, and it really maximizes the efficiency of her limited square footage.
While Sally downsized quite a bit, she kept her most treasured possessions. Her entire container home on wheels is decorated with artwork, along with some family heirlooms. It makes for a colorful, inviting space that is 100%, Sally.
Watch the tour above to see her container home on wheels in detail!
Follow Sally's tiny home life on Instagram: @gypsy.container.living
Thanks to our video sponsor, BetterHelp!
Get 10% off your first month here: https://betterhelp.com/tinyhouse
Have you ordered our book yet?
Learn the history of the modern movement, get a breakdown of tiny home styles, and meet the passionate tiny community. The Beginner's Guide to Tiny Houses also discusses the pros and cons of micro-living―is a tiny house right for you, right now?
What people are saying:
"Most books about tiny homes are really just about the fantasy, with beautiful pictures in far-off places, but they don't tell you how to get from point A to point B. That's where this book comes in and fills in all the gaps!"