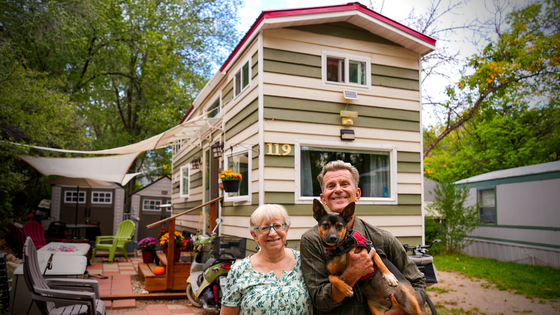 'Seniors' downsize into Tiny Home for freedom
Meet Kathi and Jim, "seniors" living in a 28-ft tiny house on wheels that they helped build. Downsizing allowed them to live in their dream town, Durango, Colorado, which has an exceptionally high cost of housing. They get much joy from being able to enjoy the mountain atmosphere affordably. They've also found that their simple living lifestyle keeps them active and feeling young.
Fortunately, Kathi and Jim gained further financial security through their tiny house parking situation. They live in a resident-owned mobile home park. With this new arrangement, rents won't get raised just for profit like in the past.
"A couple of years ago, Colorado passed a law making it legal for mobile home parks to be purchased by the residents. And that was important here because in the years we had lived here, we had been bought out twice. And each time, the rent went up. And they did nothing for our infrastructure.

The owners were obviously just in it for profit. They weren't doing anything to improve anything here, and it's a little bit of an aging park. It's about 50 years old...

There is actually an organization called Thistle that helps mobile home parks, mostly in the West, I think, for the residents to purchase them...we actually were the first park in Colorado to be bought by a co-op.

Thistle also helped arrange for financing, which is a key component. Because we didn't actually, as residents, have to put in money. The co-op got financing external financing, and the co-op bought the park. But the residents, we still all pay rent on our lots but to the co-op. And there is some expectation of rent control for the future.

We know exactly where all our money goes with the budget. We get to approve the budget as co-op members.

I think the other thing about the co-op is that it gives us a sense of community and pride of ownership."

-Jim & Kathi, @kathi.macnaughton
Inside their wonderfully livable 28 ft Tiny Home
Jim and Kathi have lived in their 28 ft tiny home on wheels for the last six years. It was built by Rocky Mountain Tiny Houses in Durango, Colorado, for about $65,000. Luckily, their builder allowed them to work on parts of the house to keep the cost down.
In total, their tiny house is approximately 300 square feet. This is inclusive of their lofted bedroom and spacious office loft. During the design phase, they focused on creating functional zones. Areas that allow for all important things in their daily lives, like working out, cooking, lounging, and small business management. Surprisingly, Kathi had enough space to teach online Zumba classes during the pandemic!
As Kathi and Jim will admit, they are not minimalists. They maximized the storage space in each 'room' in their tiny home with cabinets, cubbies, under-shelf hooks, and more. They also talked their builder into adding dual stairs for easy access to the upstairs and for more storage.
Watch the tour above to see more of their charming 28 ft tiny home!