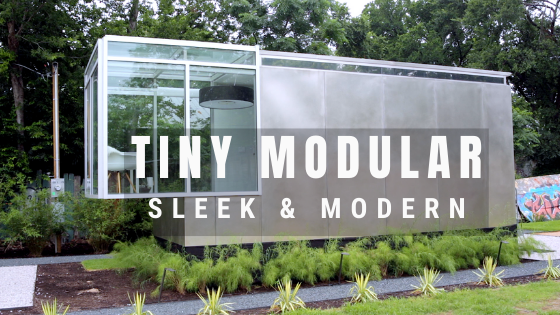 Sleek Modern Modular Tiny House Inspired by Converted Dumpster
A Minimalist Living Experiment Leads to Innovation
Described as the "iPhone" and "Tesla" of tiny houses, the Kasita modular tiny house is sleek, modern.
It's the epitome of minimalism. Believe it or not, it was inspired by a dumpster that was converted into a tiny home. From that experience, original Kasita co-founder, Jeff Wilson dreamed up the high-quality, minimalist design. He's better known as, Professor Dumpster.
The Kasita company has recently reinvented itself, pivoting from consumer sales to boutique hotels. Coming to 6 cities nationwide in 2020! Though, landowners can still purchase them for their properties, as short or long-term rentals.
"Kasita is a hospitality company created for independently-minded travelers.

For guests, Kasita offers the optimal purpose-designed, precision-built hotel suite and a seamless guest experience. We combine the consistency of a global luxury hotel chain with the warmth, personal touch, and experiential authenticity of the best short-term rental you've ever stayed in. What you see is exactly what you get, and every single Kasita room is the same no matter where you stay.

For landowners, Kasita offers the opportunity to activate luxury hospitality on their properties in a fraction of the time and at a cost savings of up to 50% compared to conventional projects.  Kasitas are permanent structures but are precision built in a factory and can be moved opportunistically at a low cost. This unlocks land-banking opportunities and the ability to "tuck in" Kasitas at existing destinations like wineries with minimal disruption.

For investors, Kasita aims to be the first boutique hospitality company with a global reach by delivering a premium, seamless hospitality experience to guests at rapid scale. Hospitality and construction are ripe for disruption. Most hospitality offerings are uninspiring (big box), inconsistent (STR), or overpriced (boutiques). Site building hotels is expensive, takes forever, and results in a permanent structure with a fixed key count. Kasita offers a solution to both problems."