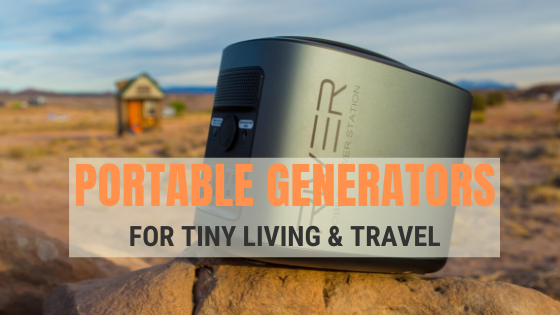 What is the Best Portable Generator for a Small Home and Travel Adventures? 8 Great Options
Are you wondering what is the best portable generator to get for a small home, road trips or camping adventures? If yes, check out these fantastic options.
One of the great things about tiny homes is that they're portable, capable of being taken anywhere. However, with that freedom comes a few restrictions, like access to a reliable power source.
Fortunately, there's a way to get around this problem. All you have to do is employ a portable generator. Interested in buying one for your tiny home or next travel adventure? Then read on.
We're going to help you find the best portable generator for your needs.
We'll start our list with the DuroStar DS4000S, a mid-range generator offering superb power and portability. Available for a mid-range price, it offers tons of bang for the buck.
Equipped with handles on all of its sides, it's exceedingly easy to pick up and transport. Made out of heavy-duty steel, it can take quite a beating. As such, it will thrive for years to come.
Power-wise, it can provide up to 4000 watts of energy. This enables it to handle half a load for around 8 hours.
As far as connections go, it's equipped with two 120-volt outlets and one 120-volt, 30-amp outlet. When used in tandem with power strips, these enable you to power virtually everything in your tiny home.
Honda EU2000I Super Portable Generator
Prioritizing portability over power? If so, you should consider buying the Honda EU2200i. Compact, lightweight, and equipped with a centralized handle, it can be picked up and moved with little effort.
Now, this isn't to say that it lacks power; It can still accommodate up to 2,200 watts. It's just that it might have trouble powering everything contained in your home.
Nonetheless, it's exceedingly energy-efficient, capable of running for up to 8 hours on just a single gallon of gas. Plus, it's quiet, allowing you to use your home without subjecting yourself to grinding and sputtering noises.
The biggest issue with this generator? It's expensive, almost three times the price of the DuroStar reviewed above.
Champion 3100-Watt RV Ready Portable Inverter Generator
Up next is this generator from Champion. Though a little on the expensive side, it provides enough in terms of features and functionality to make it worth its price.
At maximum, this generator can supply 3,100 watts of energy. For most small homes, this will suffice, covering everything from televisions to kitchen appliances, and the like.
When handling a 25% load, it can run for approximately 8 hours. Plus, it's quiet, producing only around 58 decibels of sound.
The unique aspect of this generator? It can be started and stopped remotely from up to 80 feet away. Few other generators provide such functionality.
Another high-quality portable generator is the WEN 56225i. Available for a middle-of-the-road price, it provides average power and superb handleability.
For transportation purposes, it's equipped with a centralized handle. This enables it to be picked up with one hand and quickly moved from place to place.
In terms of power, it can produce up to 2,250 watts at one time. It may or may not be able to handle all of your power needs. However, in any case, it will most certainly be able to handle a few cell phones, laptops, and kitchen appliances.
Quiet and compact, you'll hardly even notice it's there. While it might not be the best portable generator on the market, it's not a bad option either.
Looking for something even cheaper? You might consider this generator from Pulsar. Compact and easy to handle, it's as portable as portable generators come.
This generator tops out at around 2,300 watts, allowing it to accommodate the vast majority of electrical items in a tiny house. On a half-load, it can run for up to 6 hours.
Though not quite as quiet as some of the generators reviewed above, it's not loud either. You'll barely notice it running.
All in all, this is a great bargain buy. It offers superb portability and slightly above-average power capabilities to go with a downright reasonable price.
Kruger 3kVA 240V Petrol Generator
Kruger is best known for its commercial generators, some of which can be seen at https://krugerpower.com.au/kubota-diesel-generators.html. That being said, the company produces portable generators, as well. And for tiny house purposes, their best portable generator has to be the 3kVA 240V.
Producing up to 2,800 watts at once, it can handle the majority of a tiny house's electricity needs. When running at prime-load, it can thrive for up to 12 hours straight.
It's equipped with wheels, making it reasonably easy to transport from place to place. Unfortunately, due to its substantial weight (over 100 pounds), it's a little challenging to pick up.
Jackery Portable Power Station Explorer
If you're only looking to produce small amounts of power, you might consider buying this solar generator from Jackery. While it can't serve the needs of an entire tiny house, it can help to power small items such as phones, laptops, and toasters.
At max, it produces 150 watts of energy. This is a far cry from the thousands of watts produced by the generators reviewed above. That being said, it serves its purpose well.
Plus, because it's solar-powered, it's much better for the environment. Heck, if you want, you can even run it in your house.
EcoFlow is debuting its latest cutting-edge portable generator. Their original model, the River, boasts similar benefits and capacity to the Jackery model. Now, their Delta model completely blows these out of the water. It's just slightly larger, but more than the doubles the output.
"Featuring a capacity of 1300Wh and an output of 1800W, DELTA is able to charge anything from your electric vehicle to your workshop tools to your tailgate."
It can also be recharged with solar panels, AC outlet, and DC carport. The ultimate flexibility depending on your needs, and especially helpful for back-up power for partially off-grid tiny homes. Additionally, if you only have access to 15amps in your parking spot but need 30amps, you can use this to directly power select power needs like an electric heater.
So, Which of These is the Best Portable Generator for a Tiny Home? 
While all of the generators reviewed above are of high-quality, only one can rightfully be called the best portable generator for small homes. In our estimation, the top two: DuroStar DS4000S and EcoFlow Delta for reliable daily use. Not only do they possess supreme power capabilities, but it's also exceedingly easy to pick up and transport, making it perfect for the limited available storage space and on-the-go lives of tiny house owners.
Though more compact, less expensive options like the Jackery, are excellent for camping and road trip adventures.
On the search for more tiny house information? We've got you covered, from everything from tiny house regulations to tiny house design tips and more.