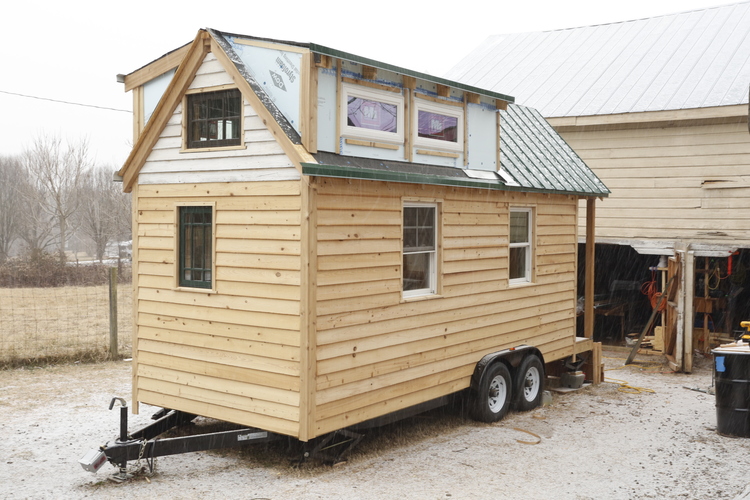 A house is made of walls and beams; a home is built with love and dreams.
William Arthur Ward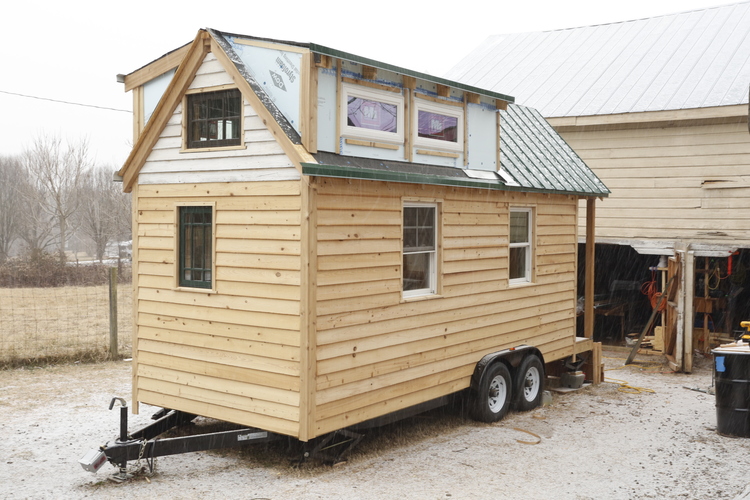 If a home is built with love and dreams, Christian and I are most certainly making a tiny home, not just a tiny house.
Even though our house is not yet complete, the sense of home frequently washes over both of us as we toil away, often with the help of friends. This warm sense of sanctuary and comfort comes from having a place of our own, to share together and with communities across the country. We are crafting a sense of home which we hope will bring people together to dream big and collaborate to make a difference.
There's nothing like building a house, an unconventional house at that, to make you reconsider the idea of what makes home, home. We all know a home is more than four walls and roof, whether 130 or 2500 square feet. As we've experienced, it's made of many, many kinds of nails and screws, lumber, insulation, windows, flooring… In all seriousness, the meaning of home is very personal and goes beyond the physical structure. Home is a state of mind.
We've received many delightfully different and spot-on answers to one of our favorite questions: what does home mean to you?
Freedom.
Where I can take off my bra.
Home is a place to relax and regroup from the pressures of life, a place where family and friends can come together and enjoy meals and conversations – a safe place to just be yourself.
The place I come back to. Warmth & comfort. Welcomed, loved. Where I'm myself.
Amanda Albert, Tiny Houses Greensboro & Habitat of Humanity Greensboro
We carry home with us, the essence of what home means to us. When we stop, what's inside begins to manifest outside of ourselves.
I recently met up with Audra Volpi and Amanda Albert, a couple of the wonderful folks behind Tiny Houses Greensboro, a group who are exploring opportunities to build tiny houses in Greensboro to support people experiencing homelessness. They have a beautiful dream to provide housing to the unhoused in their community, and to do this they'll need to help of many city officials and citizens. So far, they've experienced an outpouring of love and support. This is home, a sense of community. When people really care about a community or place, they can make it better. They can create a sense home for all of their neighbors.
As Audra put it, home is "a supportive community" and is not limited by a specific location. "Home can be anywhere," said Audra, "where my family is but what is family? Home is where you can be yourself, surrounded by loved ones whether friends or family, to find comfort." I wholeheartedly agree with Audra, being with those who understand you is the ultimate way to feel at home and home with oneself. For more on my conversation with Audra and Amanda, stay tuned for my Coffee with Community Makers post coming soon.
Even those with no roof over their heads can have sense of home. Christian and I recently volunteered in the Point in Time Count of Homeless, led locally by the United Way of Forsyth County and the local 10 Year Plan to End Homelessness. An inspiring cross-section of community members came together to sweep the city, to help those without houses get a little relief; working as a supportive community to help end chronic homelessness in the area. That night many well-meaning strangers ventured respectfully into homes and bedrooms, however cold and make-shift, of those without traditional roofs over their heads. Just because someone doesn't have a house, doesn't mean they don't have a sense of home, a place of their own, however fragile. As humans, we seek and cling to the comforting concept of home. We can all help cultivate this for our neighbors, housed or unhoused. It begins with a little kindess.
Christian and I are left with a more poignant meaning of home. Home a place of your own, of self-respect, of security and of community.
Every day is a journey, and the journey itself is home.
Matsuo Basho
Team #TinyX asks, what does home mean to you?
-Alexis Stephens, co-founder of Tiny House Expedition (Team #TinyX)