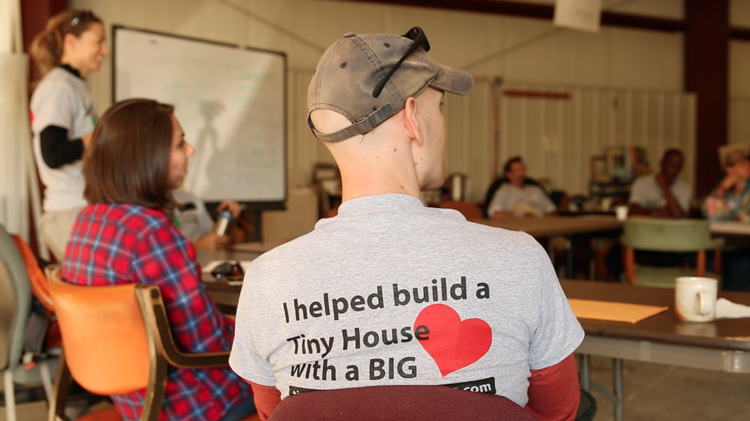 Coffee with Community-Makers: Tiny Houses Greensboro
A poignant conversation about a non-profit's mission to create a tiny house community for those most in need.
Warm, funny and patient: my initial impressions of Audra Volpi and Amanda Albert, when I fumbled my way into The Green Bean for our coffee date. I was a bit of mess that morning, running late from bad traffic and feeling a little clumsy, as I hurriedly grabbed a latte and sat down with these good-humored ladies. They immediately made me feel at ease. The fact is these two women are actively involved in creating a more vibrant community in Greensboro, NC, via their involvement in Tiny Houses Greensboro. They are community-makers. My theory is that community-makers, as smart, innovative thinkers and doers with big hearts, are by nature empathetic towards others and their surroundings.  Here's my personal definition:
com·mu·ni·ty-mak·er
a social good promoter. a creative thinker and doer, working to make a positive impact in his or her community via active collaboration with others--neighbors, like-minded individuals, community organizations, etc.
Tiny Houses Greensboro's community build day, led by Amanda Albert.
Tiny Houses Greensboro (THG) is a coalition of diverse individuals and local organizations who aim to reduce homelessness by engaging in public and private partnerships to create a tiny home community.  Working alongside people experiencing homelessness, their goal is to encourage positive community engagement and foster an educational experience in a welcoming environment. Amanda & Audra are THG board members and have been actively involved since the beginning of the group in the late Summer of 2014. Amanda led a tiny house building workshop back in Fall of 2014, hands-on community education on the THG prototype tiny house.
Over coffee, we discussed the challenges facing THG and needs of the area's unhoused. Audra and Amanda see tiny houses as innovative housing with the potential to create positive, sustainable impact for the low-income and unhoused, particularly when incorporated into a pocket community with a built-in support network. A primary challenge they identified is the "not in my backyard" attitude still held by many. Yes we need an effective solution to combat homelessness, but just not too close to my neighborhood or near places I like to frequent downtown. "What we need is an attitude shift," says Amanda; Audra chimes in, "education is key". Folks are often understandably uneasy about situations or people they don't understand. One way to help ease a community's concerns about an unorthodox housing solution is to share successful examples of other tiny house communities for those experiencing homelessness, like Opportunity Village Eugene. That's why THG is actively researching diverse projects around the country where local people are creating tiny home communities.
Audra shared a story about Walter, gentleman experiencing homelessness who has been active at THG. "I want to be considered a member of society, just like you all," Walter said to a stunned Audra. Just heartbreaking. He was referring to his desire to have a home of his own and to be a part of the building process, as a way to feel acknowledged as a contributing member of society. Of course, he is a member of society; he's a valued member, Audra emphatically countered. What a thoughtful reminder that all people need to feel acknowledged and respected. Healthy self-respect and having a safe, comfortable place to call your own, go hand in hand. The need for home goes to the core of the human experience. The importance of fostering a sense of home is essential to healthy communities.
Both Audra and Amanda agree that balance is needed to effectively craft a housing development that holistically addresses the needs of its residents, while respectfully engaging with & acknowledging concerns of the greater community. A great way to better understand what they're trying to do is to get involved ([email protected]). Contact them today!
What's their vision, you ask? Audra's vision is a community of 15-20 tiny houses, near transportation and community services. There would be a community house providing essential resources and classes about healthy eating and financial planning. A transitional housing program to help get residents back on their feet. Rent would be paid through active participation in the micro-community and maintenance of their house and the shared space. Amanda fully supports this concept and adds that she would like it to be a self-governing pocket neighborhood within a supportive community, perhaps within a larger established neighborhood of hopefully open-minded folks.
This idea of the community embracing a diversity of homes and residents particularly resonates with me. Nothing feels better than having a secure, comfortable place to come back to where you can be yourself. Not just yourself, but the best version of yourself, surrounded by a supportive environment, like a welcoming neighborhood. Nothing can be more destructive than being isolated from society, feeling lesser-than and unwanted.
Audra and Amanda are two wonderful community-makers helping to create a more inclusive, supportive community in Greensboro, North Carolina. To read more about what home means to them, please check out my previous blog post, The Meaning of Home.
*Source: Tiny Houses Greensboro.  Interested in getting involved or learning more? Visit their website & Facebook page.