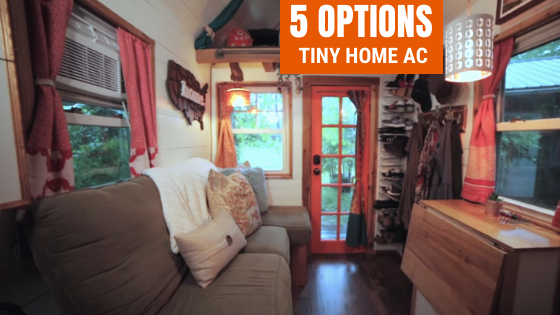 The Most Popular Tiny House Air Conditioning Systems
Sharing top tiny house air conditioning options for those planning their build.
There was a time when air conditioning was seen as the ultimate height of luxury. Air conditioners were expensive and consumed a lot of power, which meant higher electric bills. However, as the technology behind them evolved, these cooling systems have become more affordable and more energy-efficient in the past years. Today, they are a common household item. Though, tiny house air conditioning does feel luxurious.
Similar to how air conditioning systems changed, living spaces also evolved. Nowadays, one of the trends of living spaces is tiny homes. Unlike the standard-sized house, tiny homes cost less, consume lesser energy, and are easier to maintain—garnering a high interest from consumers. One of the things that tiny house owners need to consider is how to cool their homes especially since they are in an enclosed space. It's critical to have proper air circulation and cooling, to ensure a comfortable and livable space.
Looking for ways to cool your tiny home? Check out our list of the most popular tiny house air conditioning systems.
5 Tiny House Air Conditioning Options
Mini Split Air Conditioner
The mini-split AC is one of the most common units in households today and an increasingly common tiny house air conditioning option. This air conditioner consists of 2 parts: an indoor unit and an outdoor compressor—hence the term "split."
Unlike a window air conditioning unit, the split type air conditioner does not require you to make big holes on your walls. The mounted interior unit will only require you to have minimal holes for the wirings.
While the initial purchase cost is higher than a conventional window type air conditioner, a split air conditioner is more energy-efficient, making it the smarter choice for long-term use.
When it comes to decorating your tiny home, a split type AC is also a great choice as it provides a more appealing look. But most importantly, this tiny house air conditioning option is multi-functional. It can also heat, dehumidify, and even air purify.
Window Air Conditioner
The window unit air conditioner is one of the cheapest types of cooling systems that you can buy. It is mounted in a window or a hole in the wall and is more noticeable than a mini-split.
One benefit of window air conditioners is that they can be installed without needing too many additional wires. All you need is space on the wall, a socket, and you will be able to install it easily.
Since the window air conditioner is a single unit, the placement is important.
Bear in mind that the compressor must be well-vented to the outside. Unlike the mini-split, the window type is less appealing to look at but can easily be dressed-up by installing a frame.
Our tiny house air conditioning is a window unit that cools our 130 square feet well, along with a small fan for better air circulation.
Air Coolers

Air coolers are another great way of home cooling. These portable units are much more energy-efficient than air conditioners making them cheaper to run. Unlike the air conditioner, air coolers don't provide as much cooling and are only an ideal option if you live in an area where cooling isn't essential most of the time.
For people living in a tiny home, air coolers can be a great way of cooling specific areas from time to time. It also offers better air quality and is ideal for those with dust allergies and asthma.
Ceiling Fan
Ceiling fans is one of the options for good air circulation. While this system is energy-efficient, it doesn't have a cooling system that lowers the temperature in your room. However, the ceiling fan is easy to install and costs less to maintain in the long run, making this system ideal for cold environments.
Central Air Conditioner
Central air cooling systems are the preferred choice for most houses. Since this is a centralized system, it eliminates the need to install individual units inside your home. This system, however, is much costlier than the standard air conditioner. However, with a central system, you can easily choose your home's temperature to fit your needs perfectly.
However, central tiny house air conditioning is best for permanently placed homes due to larger power needs and bulkiness.
Tiny House Air Conditioning for Comfy Living
Before purchasing the ideal AC for your tiny house, consider these factors: design, maintenance, size, environment, and the energy efficiency rating. One of the most important things we look for in our tiny home is comfort and livability. Having the most effective tiny house air conditioner system will help you achieve that.
Digital Magazine Dedicated to Micro, Tiny & Small Home Living
Do you have more time at home? Enjoy some inspirational reading from Tiny House Magazine!
Discover different types of tiny houses from liveaboard boats to Alaskan yurts, converted school buses to high wall tents.
Try recipes from a tiny house kitchen. Each month we feature a recipe from the Tiny House Foodie. Learn to make it work and still cook like a pro.
Hear from those living with kids in a tiny house. What happens when you build for two but end up with four? Can it really be done?
Read excerpts from books on tiny houses, downsizing, and a host of other related topics.
Each month brings new topics and new, exciting articles!