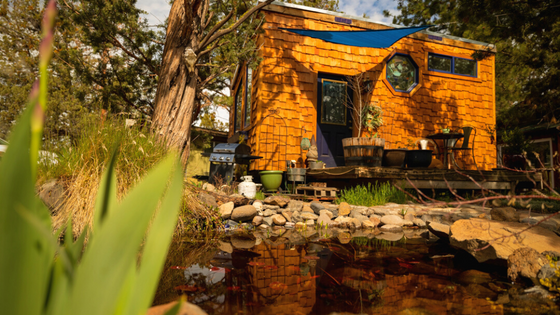 Tips for Creating a Tiny House Outdoor Living Space
Creating a tiny house outdoor living space is a great way to expand your livable square footage and still enjoy various features that a backyard has to offer, from gardening to leisure, to cooking. Because tiny homes offer limited floorspace, you may want to bring some of your home's features outside, such as a seating area, a dining table, or a cooking station.
Here are a few tips for creating a tiny house outdoor living space to help you make the most of your side or backyard space.
Your Available Outdoor Space
This might be an obvious point, but you want to consider how much exterior space you have to work with when thinking about your tiny house outdoor living space. How much you have to work depends on where your home on wheels is located—on someone else's property, in a tiny home community, etc. If you're lucky enough to own your property for your THOW or foundation-based home, you'll have more freedom.
But even if you're working with an average RV park lot size, there's much you can do to bring it to life. It just takes a little creativity.
Consider how you want to use your available space. Do you want a small patio area and some greenery or a more extensive garden and outdoor dining area?
If you have more space, you can consider features like outdoor kitchen options, multiple seating areas, or even a small water feature. But if you're working with tight space, you can still spruce it with potted plants, compact gardens, and a little lounge space.
You can use various space efficient design strategies to fit more in. For example, you can use vertical space and walls to store plants or even furniture and garden tools that would otherwise take up valuable floor space. You can also consider multifunctional outdoor furniture, such as benches with storage space or seating that doubles as a planter.
The most maximized tiny community parking spot we've ever seen!
Your Budget
It is essential to have a set budget in mind before starting any tiny house outdoor living space projects. You should start looking into the prices of supplies, plants, and other related expenses to develop a realistic idea of how much it will cost. This will enable you to finish the project within your means and help you make smart material choices.
After you have listed all the related expenses for your wishlist, you can decide how much money you can reasonably spend on the project. It's a good idea to include a little more than you think you'll need for any extra expenses that might pop up, like fees and additional parts, as well as the costs of any equipment that could be required. Then you'll have a practical budget by considering all of the necessary aspects.
You may need to be flexible along the way and be prepared to make changes to the budget if something unexpected occurs. Remember, you can always do it in stages as you can afford it.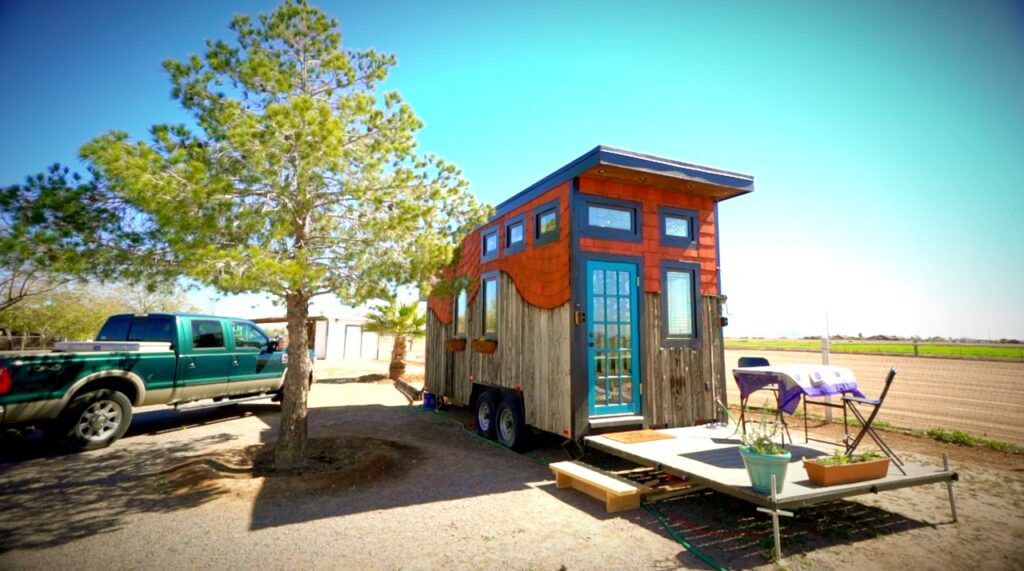 Folding deck & folding furniture for a nomadic tiny house!
Practicality and Layout
You need to consider a practical layout when planning your tiny house outdoor living space. Take into account how much space you have, what activities you would like to be able to do in the backyard, and how much maintenance is required for any plants you might get. Additionally, for homes on wheels, think about the need for mobility. If you plan to move to different parking spots in the future, you want to be able to pack up your outdoor features and bring them with you.
To create a layout that works for you, think about convenience and a logical flow from your front and back doors (if you have one). For tight spaces, how can seating and plants be arranged to allow for easy access in and out of your tiny house? For larger yards, what areas make the most sense for a garden or outdoor kitchen? Easy access to water is critical. Consider the movement of the sun throughout the day too. This is also important for creating shade or cover from the elements for a outside dining or workspace.
An ideal outdoor living space layout would consider all of these factors to create a functional and aesthetically pleasing environment.
For movable outdoor living setups, look for folding furniture or options that can easily be taken apart. Choose mobile-friendly gardening methods like these. Additionally, for any decks, build these in pieces that can be deconstructed and put into a box or flatbed truck.
A backyard layout designed with permaculture principles in mind!
Outdoor Living Space Features
What features do you want in your tiny house outdoor living space? Time to create your wishlist! You might be able to afford or fit everything, but once you know what you really want, you can investigate alternative options. For example, can't fit in a container garden, look into vertical hanging options. Below are more options you might already be considering.
Cooking & Dining
Cooking can be done outside your indoor kitchen with many available options. This allows you to enjoy the outdoors while creating delicious meals. Of course, a grill is a classic go to choice. Consider mixing it up with a compact Ooni pizza oven that can bake wood-fired pizzas and other dishes.
Al fresco dining is the perfect companion to outdoor cooking. Then you can entertain even though you live 400 square feet or less. There's a wide selection of outdoor furniture to choose from, depending on the size of your lot. Check out this stylish small space patio dining set with extra seating that can all be stored under the table!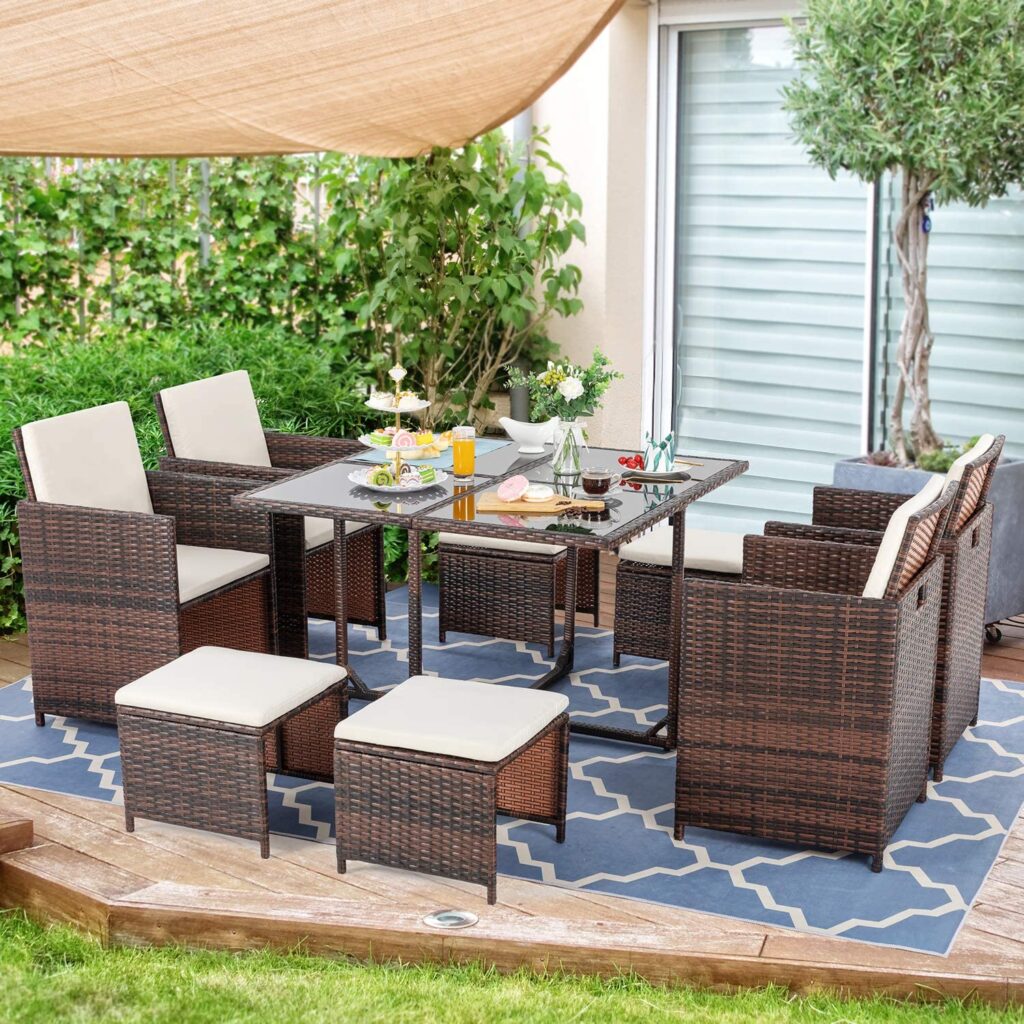 Gardening
You might also want to use your tiny house outdoor living space to grow your fruit and vegetables. Growing your food can save you money and is also an organic way to provide fresh and healthy produce for you and your family. One excellent option is a container garden. These setups can be as small or large as you like. You can start with one and expand as your gardening skills grow.
For limited outdoor space, look for compact containers that can fit on a tiny porch.
Creating a To-Do List
Creating a to-do list for your outdoor living space project can help you stay organized and on budget. Making a list of tasks that need to be completed before the project is finished, along with their associated costs and timelines for completion, can help you stay on track.
Knowing what tasks need to be done and when they must be completed will make it easier to plan for potential delays or setbacks, which is especially important for more involved landscaping projects.
Your Tiny House Outdoor Living Space
Creating a tiny house outdoor living space is a great way to expand your limited indoor square footage. Adding various features, from a simple seating area to a robust outdoor kitchen, can make you forget that you live in such a small home. Having a budget to help you decide how much money you can reasonably spend on the project is important.
Consider how much space you have, how much maintenance is required, and what activities you would like to do in the backyard. The layout is likewise essential. You may want to use various strategies to fit more in your backyard (if you need to).
Furthermore, by creating a to-do list and staying flexible with the budget, you can create a beautiful, functional, and inviting outdoor space for your tiny house.
Watch tiny house tours on our YouTube channel for more outdoor living space inspiration!
A tiny home with a covered deck, screened-in porch, garden & rainwater catchment - deck is movable too!
Have you ordered our book yet?
Learn the history of the modern movement, get a breakdown of tiny home styles, and meet the passionate tiny community. The Beginner's Guide to Tiny Houses also discusses the pros and cons of micro-living―is a tiny house right for you, right now?
What people are saying:
"Most books about tiny homes are really just about the fantasy, with beautiful pictures in far-off places, but they don't tell you how to get from point A to point B. That's where this book comes in and fills in all the gaps!"