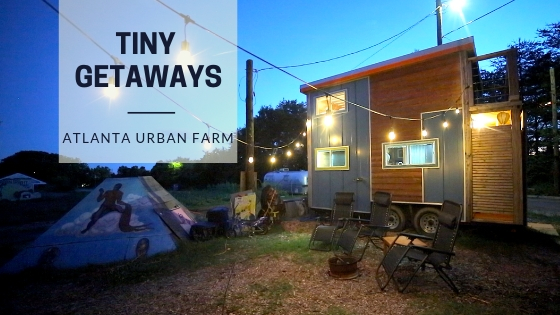 Tiny Getaways: Charming Vintage Campers & Tiny House on Wheels
Debuting our New YouTube Series: Tiny Getaways
The idea behind Tiny Getaways is to share all the amazing ways you experience tiny, to get away from it all, or to plan for your future tiny home.
Welcome to episode 1! In the Spring, we took a trip to Atlanta for an epic tiny house festival by MicroLife Institute. It was the perfect opportunity to try our friend Rhode's beautiful, fun tiny house and vintage trailers rentals, on a lovely urban farm just a short drive from downtown Atlanta. She is an Airbnb Superhost with a small fleet of tiny getaways.
During our visit, we stayed in her new 16' 1968 Shasta Camper with a loft. It's full of vintage charm with original fixtures and classic games. There we observed the difference between glamping and full-time tiny living: standing height ceilings. While we had a blast trying out a 16' vintage Shasta trailer this past spring, Christian, all 6'2" of him, noted it would stop being fun after about a week.
Next, we tried out the adorable 93 sqft tiny house on wheels. It showcases an impressive use of space, with features like a compact gym and ceiling hammock net. For many guests, the outdoor shower is in the running for the best shower of their lives. Take an invigorating shower on the THOW porch, mostly enclosed but with lots of fresh air and farm treetop views.
To see more of Rhodes's rentals, follow her at 98 Squared on Facebook and Instagram.
Watch the full tiny house tour:
Find a Tiny House Event Near You!