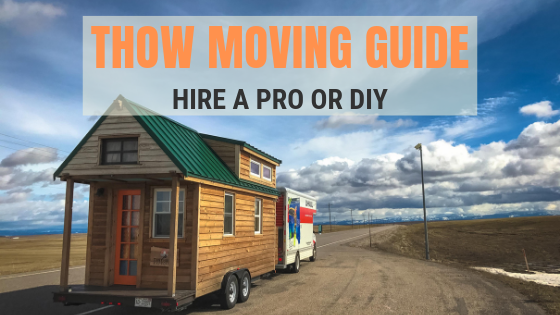 Towing a Tiny House: Your Guide to Moving with a Pro or DIY
Are you ready to take your tiny house to a new destination? Use this tiny house towing guide to learn how to prepare and execute a THOW move.
You've waited so long for your contractor to finish building your tiny home. Or maybe you're finally nearing the end of your DIY build. You went through and pared down all your belongings and scouted out the perfect place to park your new home.
Welcome to the tiny house community! It's definitely exploding with the increasing popularity of simple living in tiny spaces. Some estimates place the number of tiny homes in North America to around 10,000!
Before you can fully become part of the tiny house nation, you have to get your home to your parking spot and settle in. But towing a tiny house is not easy, especially for the inexperienced.
Don't worry! We have some helpful tips and valuable information to help you get your tiny home from point A to point B with as little problems as possible.
Keep reading to learn everything you need to know about moving your tiny house on wheels.
Get the Tiny House Shored up and Ready to Move
The first thing you need to do is batten down the hatches and secure anything that moves. You don't want things flopping and rolling around while the house is moving or you could end up with damage to your belongings and your home.
Use straps to secure appliances like your stove, refrigerator, and laundry machine. These things can do a ton of damage if they shake loose.
Pay special attention to your cabinet doors also. Some doors have magnetic or click closures built-in, so they stay closed during transport. If your cabinets are not secured, try using zip ties or duct tape to keep all the doors shut. Be cautious if your cabinets have a delicate finish or paint because the tape method can damage cabinet finishes.
Box up as much of your smaller belongings as you can. Some tiny homeowners even rent a separate moving truck for their boxed items.
If you plan to move your tiny house frequently, you'll want to utilize ideas from the RV world, as well as, minimize the number of things you need to take down every time you move.
Here's what we do:
On the outside of your tiny home, be sure to secure any loose hookups for water, gas, sewage or electricity. Also, consider boarding up any lower windows, on the tongue-side of the trailer, to prevent little rocks bouncing up and damaging your glass.
Make sure your license plate is secure and visible. The last thing to do is test tail lights, turn signals, and trailer brakes to ensure your home is road safe and ready to go.
Hire a Company to Move the House for You
If you are not confident that you can move your tiny home by yourself, hire an experienced company to do it for you! There are a couple of different types of shipping companies to choose from, depending on your situation.
Long Haul Moving
If you need to travel overseas, to Hawaii, or move your tiny house from one end of the country to the other, you should consider the freight transportation. Shop around to find the best transport option for your budget and situation!
Some freight companies offer a roll-on/roll-off option where the truck tows the tiny house onto the boat. Then meets it on the other side and rolls the house back off the ship. This method is ideal because you don't need to fit inside a tiny steel shipping container.
Short Move Companies
You can still hire a company if you aren't moving far away. There are plenty of companies who move tiny homes like a typical moving company transports boxes and furniture.
Choosing a tiny home moving company is an excellent choice if you are not confident in moving the home by yourself or if you would rather trust a professional. Tiny home movers will have the equipment and the know-how to make sure your home arrives unharmed! See our Resource Directory for options.
Towing a Tiny House Yourself
Many tiny homeowners have a strong can-do attitude and a desire to move their homes by themselves. On top of being a liberating experience, moving your tiny home DIY style can save you money too!
Watch our towing how-to videos for a clear understanding of what's involved. For more in-depth advice and planning, which begins during the build phase, sign-up for our THOW Travel e-Course.
Big Trucks for a Big Job
The first thing you need is a big truck. Not a typical pick-up truck though. You need a heavy-duty truck meant for hauling heavy loads. If your truck isn't rated to pull the weight of your house, you will be going nowhere, fast!
We use a 20' U-Haul box truck to tow our bumper pull tiny house trailer. It's a great affordable option for the rare move of any THOW 10,000 lbs. and under.
Be sure you have the right hitch as well. If your tiny home has a "gooseneck" trailer, you will need the truck to have a hitch mounted in the bed. Also, box trucks won't work for this kind of trailer.
Weather Concerns
Check the weather when you plan your move and again right before you leave. Bad weather is dangerous when moving a large structure like a tiny home.
High winds are notorious for toppling tiny homes because they are so tall.
Heavy rains make the roads slick and weigh down the house even more, which may go past the weight limit for your truck! If the weather looks bad, postpone moving the tiny house until the weather improves.
Remember if bad weather sneaks up on you, just pull-over and go hang out in your tiny home until it passes.
Get Your Permits in Order
For any tiny home over 8.5' wide, you will need a wide-load permit and special equipment to make it legal and safe to tow on public roads. Each states' rules may vary about road-legal vehicles. Be sure to check the laws of each state you plan to travel through on your journey.
Going Tiny in a Big Way!
Owning your tiny home is a great adventure! Towing a tiny house is a big part of that adventure. Don't let yourself stress so much that you don't enjoy the journey!
For our tiny house travel inspiration, watch our Today's Tiny House Parking Spot series.