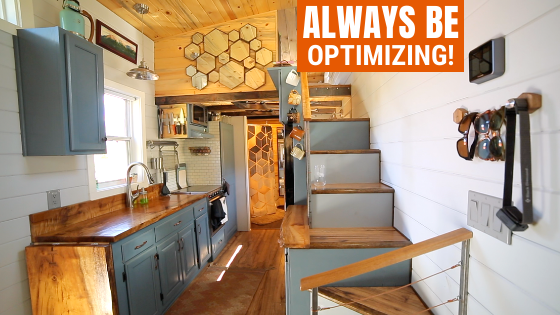 Tiny Home Improvements to Maximize Beauty
Always be optimizing! Tiny home improvements can help you upgrade quality.
Some tiny homeowners may struggle to make some tiny home improvements, afraid they would make the place feel more crowded, and space may not be enough. But, there are many ways to optimize and maximize your space by staying organized and doing the right kinds of home upgrades.
Properly maintaining your tiny house should be part of your priorities, and it's a responsibility every homeowner should give attention to. But the more optimized you can make your daily living experience, the more enjoyment you'll receive from your home.
If you need upgrade ideas, read below as we share some common tiny home improvements that will surely work wonders for your little abode.
Beautify Your Walls
Your walls are like a blank canvas providing an opportunity to express yourself and give your tiny house an easy facelift. Showcase your talent and add a touch of your creativeness to your home! Even if you have a small space, it must not stop you from incorporating something you want; it may either be hanging a painting, creating a mural, adding an accent wall, or repainting it entirely.
Depending on the kind of tiny home you own, your walls can be wood paneling, drywall, bricks, shotcrete, and even concrete. With that said, you should select the right kind of house paint for the interior of your walls, depending on the material your wall is made of. Choosing the right paint makes it look better and last even longer.
If you want to maximize space, you can also hang some open shelving to display your decorations, books, and family frames on the wall. The right arrangement of practical and functional items can create a more aesthetic appeal.
Paint Your House With Neutral Colors
Your house's color plays a vital role in how spacious it feels. While many colors are beautiful, you should know which color would work best for your tiny home.
For the interior walls of a tiny home, opt for colors that give an airy look. In this sense, it will make the house feel bigger. It would be best if you avoid using rich colors. Rich colors are created by mixing many colors, like creating pink by mixing red and white colors. Using this in small houses will make the room feel tighter unless used sparingly.
Instead, you might want to opt for neutral colors. They create a fresher vibe at home and give the home an open and cleaner look. Further, neutral colors create an illusion that the walls look further away than they are.
The most common neutral colors are shades of brown, white, and grey. Check out this expert-approved list that shows that neutral doesn't mean boring!
Use Mirrors
Tiny homes don't have to feel small. So, if you have ever wondered if mirrors could make a small room look bigger, the answer is a big yes! You can put a mirror in tight spaces in your home or behind furniture. It will make the room feel as if it's twice as big. You could also put a mirror at the back of a light source such as lamps, floor lamps, or even candles.
If you still doubt the magic of using mirrors at home, then maybe you will need some evidence. In physics, using a mirror could trick a person's eye into thinking that there is more space than the present. The human eye perceives the bouncing reflections as increased volume, which makes the room look bigger.
Hang Your Curtains High
If one of your house goals is to create a more spacious look for your tiny home, avoid heavy fabrics for the curtains since they could absorb light and make the room feel crowded, making an illusion that the room is smaller than it is. Instead, choose a lightweight material to help make the room feel airy.

Also, hang your curtains high. When the curtain rod is mounted close to the ceiling instead of the window frames, it will help make the room more spacious. It also gives an elegant look to the home. Not to mention, when you have a short curtain, it's an outdated trend and makes the ceiling look lower. So, make sure that your curtains are long enough to touch the floor.
It's surprising how a single trick like this could create major changes in your tiny home!
Use Multiple Lights 
A bit of light planning in your tiny home can almost magically create a brighter and homier feel! Having lots of lighting is ideal for small spaces because the light could be distributed so that it could leave no area in your home dark. Rather than having one main light source, make sure that each corner is bright so that you could easily see things at your home, and it could help in emphasizing the height of your home.
Look for warm LED lights. Importantly, warm light, especially in the evening, makes for cozy vibes, while cool, harsh lights can feel sterile.
Also, if you want to have a chandelier at home, that's fine too, but you will not be guaranteed to have a wider space, and it would make your space feel more compressed and cluttered. Instead, choose compact yet stylish lighting fixtures over bulky ones.
Lastly, you could also add some lighting inside your shelves and wardrobe area. These are places where dark corners are numerous, not just in the intersection of the walls. You can use some small handy LED lights to provide light inside your wardrobe, bookshelves, and even in your kitchen cabinets.
Tiny Home Improvements Takeaway
Tiny home improvements make your house's original value increase and undeniably help make it a more comfortable place to live in. Conducting some ongoing home upgrades is necessary to ensure safety. Repair any damage immediately, no matter how big or small the issue may be, to ensure long-term durability.
Hope our ideas help inspire some tiny home improvement projects!
Game-Changer! Composting Toilet Tiny Home Improvement Project
Digital Magazine Dedicated to Tiny Home Living
Do you have more time at home? Enjoy some inspirational reading from Tiny House Magazine!
Discover different types of tiny homes from liveaboard boats to Alaskan yurts, converted school buses, and more.
Try recipes from a tiny house kitchen. Each month we feature a recipe from the Tiny House Foodie. Learn to make it work and still cook like a pro.
Read excerpts from books on tiny houses, downsizing, and a host of other related topics.
Each month brings new topics and new, exciting articles!