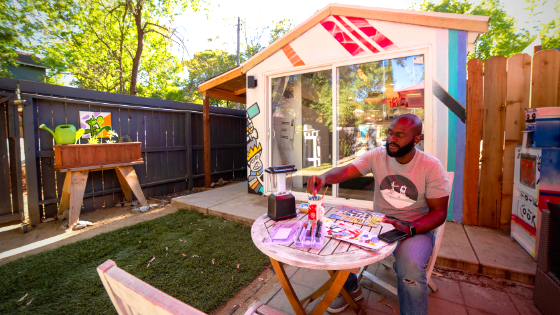 Artist's Tiny House Garage Conversion Funds His Passion
We partnered with Airbnb to share the amazing stories of hosts behind unique small space listings, like Superhost Michael Crockett's tiny house garage conversion.
Michael is a Sacramento-based artist who converted a garage into an art-filled tiny house. Hosting the Tiny Art House nurtures his creative side while significantly contributing to his income. He built it for just $55,000, inclusive of landscaping. Importantly, his tiny house mortgage is just $400 per month, and he makes at least $1,600 per month from hosting.
"Tiny Art House is the product of my passion and drive for creating. Everything inside (and out) I've either painted, sculpted or refinished myself."

-Michael Crockett, Tiny Art House creator
Tiny House Garage Conversion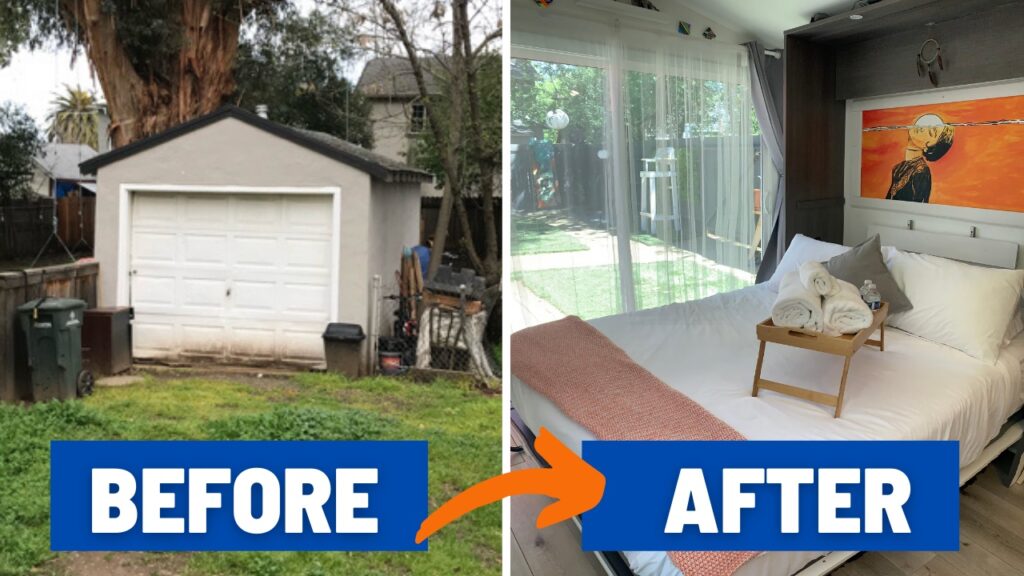 Michael's tiny house garage conversion is next to his first home, now coined the Big Art House. You might not realize that it's essentially an accessory dwelling unit because the immaculately crafted outdoor space with a separate driveway makes it feel like its own private sanctuary.
Turning this run-down 1930's, 185 square foot garage into a functional tiny house took much creative problem-solving. Michael removed the garage doors to close in the front wall. Then he added huge glass sliding doors to the back wall, which open up to a green, art-filled backyard. This also made the interior feel more open and airy. Next, Michael utilized a Murphy bed to maximize the usable floor space with a simple fold-away motion.
Watch the tour to see more small space tricks and for explanations about the vibrant artwork!

Considering hosting an Airbnb tiny house? Learn about the benefits here.  Disclosure: We earn a small fee when we refer people to start hosting.
You can also connect with an Airbnb Ambassador like Michael and learn how to create a successful listing by signing up for a webinar.
Exclusive Content
Monthly LIVE tiny living discussions with extended Q&A, plus BONUS content, like behind-the-scenes filmmaking and tiny home life insights.
Early Access
See new videos first, get first dibs on new online courses and more!
Exclusive Giveaways & Discounts
Win tiny living festivals passes, and more!
Join today!