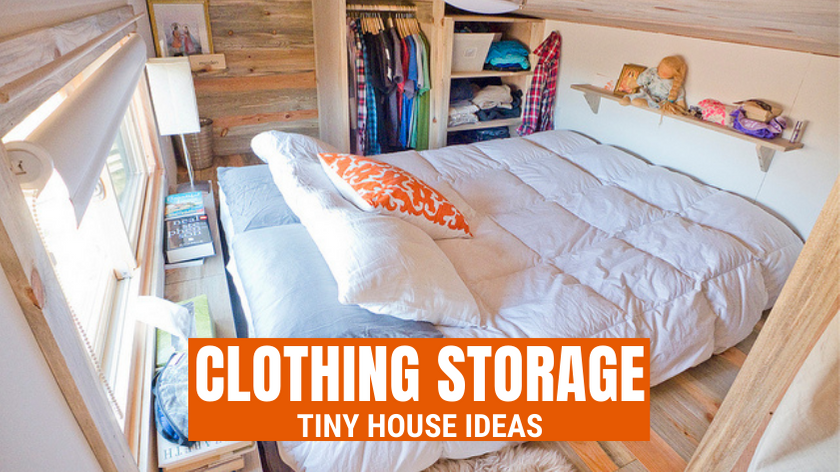 Tiny House Clothing Storage Options
Sharing Ideas & Solutions for Tiny House Clothing Storage
Most individuals are embracing a minimalist and straightforward lifestyle with each passing day. It's a chance to get an excellent home ownership deal without much financial constraint. It's also an opportunity to enjoy cozy living while having a minute environmental footprint.
One of the significant challenges that arise is where to put all your stuff, especially clothing. The best choice would be to downsize and declutter some of the clothes that you hardly wear.
However, you still need adequate space for your remaining wardrobe. It's time to have some smart tiny house clothing storage solutions, hacks, and tricks to keep your clothes neatly stored without a hassle.
Here are simple tiny house clothing storage options that you can adopt.
Ceiling storage 
Never looks down upon the beauty of storage around your ceiling area. One potential place to maximize is under the sleeping loft above a downstairs seating area.
The overhead compartments are ideal for storing clothes that you wear on rare occasions, some blankets, sheets, and winter items. These cabinets will also work correctly for storing any item that you hardly use regularly.
In a tiny loft, each inch counts, and thus no space should get wasted. You can decide to add some small cabinets or shelves along with the ceiling.
Under the Bed
Believe it or not, even in a lofted bedroom, there's still room for clothing storage under the bed—build-in compartments into the floor or underneath the bed platform. From there, install a lift mechanism to lift the mattress to access clothes easily.
For downstairs sleeping areas, you can use a bed with a dresser drawer beneath it to maximize storage.



Multiple personalities
Look for ways to open up your space in a tiny home and avoid clutter and cramming your things into available storage compartments. Thus, consider investing in tailor-made furniture to suit small living.
You can look at getting custom-fitted wardrobes to fit your living space. That's not all, and you could also invest in a sofa boxed that serves as a storage container and still get arranged to suit other multiple functions. You could also add closet space inside your staircase.
Look for hidden storage space in plain sight
If you have a narrow staircase within your house, you could be looking at a goldmine of tiny house clothing storage in plain sight. The space under the stairs is quite open to turn it into the ideal closet space. You can install drawers or cabinets and coveted hanging space.
You could also have storage cubbies built beneath the floor. It's an ideal way to store extra shoes, blankets as well as off-seasonal clothing. Additionally, using hideaway furniture could make it easier to access these spaces.
Maximize the vertical space 
It'd be best to remember to maximize your small home storage to its premium. When you are doing shelving or cabinets, you need to go all the way to the ceiling. Thus, you can store more items that you use daily close by.
Above the doors and windows, the wall space is ideal for items you hardy use daily. You can also get cute storage containers to place these items inside as you display your beautiful treasures.
Wondering how this applies to tiny house clothing storage?
By storing more items, like books and outdoor gear, up high, you open up lower, more accessible opportunities for your wardrobe. Though storing hats high on the wall and shoes in underused vertical space is also a practical idea.
Customize Your Tiny Home Clothing Storage for Your Needs
Be a minimalist pro with the above practical tiny house clothing storage options that will make your space work harder for you.
You can also choose custom-fitted wardrobes to have all your clothes, accessories, and shoes stored away neatly and efficiently. Or come up with your own creative, tucked away clothing solutions! It'd help if you keep things light open so that your floorplan will remain light and airy and give your space a more cohesive look.
Check out Alan's DIY under-bed storage solution in action!
Find Your Perfect Plans for Your Dream Tiny House!
Browse this amazing, growing directory of tiny house plans—all on sale for a 5% lower price than other places on the web.
Plus, every plan comes with over $200 in FREE bonuses, including a comprehensive how-to build a tiny house digital workshop!