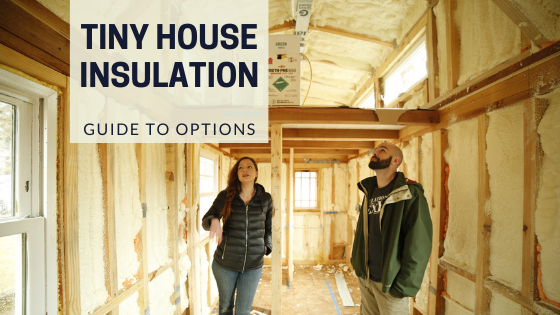 A Quick Start Guide to Tiny House Insulation
You've saved up the money and started paring down your personal belongings. You're so ready to begin building your tiny home!
Over the last few years, more and more Americans are choosing to trade in their traditional homes for simpler, tiny home life. Research shows that manufacturers build about 700 tiny houses each year in the United States!
One of the most important decisions you'll make when planning your build is deciding what kind of insulation to put in your tiny house. We put together a quick guide to explain your tiny house insulation options.
Keep reading to learn everything you need to know before finalizing your building plans.
Tiny House Insulation Materials
Not only are there many forms of tiny home insulation, but there are also several materials you could use to insulate your home! These are some of the top insulative material options.
Spray Foam Insulation
Closed-cell spray foam is one of the most common kinds of spray foam used for insulation. This unique chemical sprays on in a thin coat on the interior of the walls, then begins to expand and solidify, making a thick insulating layer in the walls.
We used spray foam insulation in our tiny house, and it's worked beautifully! In addition to the high R-value, it also minimizes sound transfer and acts as an extra structural component (acts like glue).
Recycled Denim or Wool Insulation
For those looking for a more natural insulation material, denim and wool come in handy! These materials make great insulation and won't cost an arm and a leg. Be sure to install a vapor retarder or barrier to avoid moisture and mold getting into and ruining the insulation.
Fiberglass Insulation
This is the most common insulation material used in the United States and one of the least expensive, but you need special protective gear to install it. Construction companies like JWS Construction LLC offer fiberglass insulation services so you don't have to worry about the potential dangers of DIY installation.
Styrofoam Insulation
One of the easiest materials to use for tiny home insulation is styrofoam boards. All you need to do is trim the boards to the size of the space in the wall (leaving about an inch gap), then fill in the gaps with spray foam (spray can version). Not only is this easy enough for a DIY builder to use, but it's much less expensive than using only spray foam!
Often board insulation is used for tiny house trailers (in the open cavities, under the subfloor).



Dream Big in Your Tiny Home
No matter if you're hiring a manufacturer to build your tiny home or if you're embracing DIY style construction, the right insulation will make your tiny house feel like a cozy home.
When deciding which insulation to use, keep in mind which climate you plan on parking your tiny home during most of the year. If you plan to park only in warm coastal areas, you don't necessarily need the same insulation for a tiny home that sees snow frequently.
But it doesn't hurt to give yourself the flexibility to switch climates by going bigger with your tiny home insulation.
We hope you enjoyed reading this article and that you learned a few things about tiny house insulation. If you're looking for more great articles about tiny homes and the simple living lifestyle, check out the rest of our blogs today!
Don't shy away from dreaming (and living) big in your tiny home!
The Ultimate Tiny House Design/Build/Transition Workshop
Sign-up for this acclaimed 16+ hour Digital Tiny House Workshop to learn how to build a tiny house, the legalities to be aware, how to make the transition to living tiny, and more!
INCLUDED with the DIGITAL WORKSHOP:
54 bite-sized, engaging episodes
Downloadable follow-along booklet for note-taking
Over $300 in FREE bonuses, from tiny house plans to more how to's
Digital Diploma upon full completion of the course