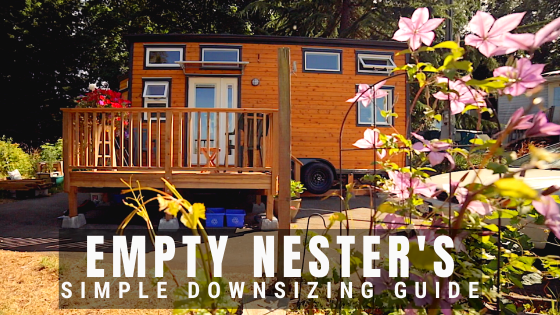 Transitioning To A Tiny House: How To Slim Down Your Possessions
Are you an empty nester? Learn how to simplify the downsizing process for a successful transition to tiny house living.
For families, having a home large enough to house everyone comfortably for many years is often a priority. However, when the children grow up and move out into their own homes, there can be a lot of spare space that isn't being used.
While some people use this space to transform their home and create home offices, gyms, and dining rooms, others choose to downsize. Moving into a tiny house can be fun, but if you have a lot of possessions, it can be tricky.
Read on for our tips on slimming down on your possessions before transitioning into a tiny home.
You Don't Have To Throw It All Out
Firstly, we should note that if you are slimming down on your possessions to move into a tiny house, you don't need to throw everything out. Sure, a clear-out can be good for the soul, but if you have to throw out items that bring back good memories, you are not going to be happy.
The best way to keep some of your items that won't fit in your tiny house is to place them in a storage locker. For example, Safestore has a centre near Walthamstow and many other locations across the country. Find local storage space, and you'll thank yourself later.
This takes the edge off the downsizing process and allows you to sort through your belongings at a slower pace. What memorabilia is worth holding on to, and what can you let go of?
Sort It Out
It can be hard to decide on what to bring to your new house when you are just looking at your home that hasn't yet been organized. For this reason, we would suggest that you spend some time sorting everything in your home out into piles.
We encourage you to have a pile of things that you need to bring, some that you want to bring, and others that you can easily get rid of. If the items that are too large to go in a pile, such as a couch, lists can also work.
The more you sort, the more you'll realize that you can get rid of much of it with minimal heartache. It's incredible the clutter that can collect in your house over the years without you realizing it!
Donate or Sell
You might be hesitant to slim down on your possessions because you don't feel as though the things that you have should be thrown out. This is probably the case, but this doesn't mean that you need to bring them along to your new tiny house.
In 2020, many shelters and charity stores require donations, and your extra items can benefit others. Also, it offers a quality tax write-off opportunity. If you have some higher value items, you could also sell them and make some additional cash for the move.
Donate or sell, and you'll be more willing to part with those possessions.
Get Everyone Involved
If you are deciding on what to bring on your own, you might find that you are more hesitant to throw out items that aren't your own.
For example, if your kids have moved out and have their own homes now, they might have left some items in their old bedrooms. The good news is that you don't need to bring all of these items with you, and you don't need to decide what happens with them. Just invite your family over for a clear-out day and let them decide.
If there are things that they want to keep, they can take them home. This will give you much more space in your new tiny house.
There is no reason why your new house should be crammed full of things that you'll never use or look at again.
Try out some of our tips for a smoother transition to your new tiny home!
Digital Magazine Dedicated to Micro, Tiny & Small Home Living
Do you have more time at home? Enjoy some inspirational reading from Tiny House Magazine!
Discover different types of tiny houses from liveaboard boats to Alaskan yurts, converted school buses to high wall tents.
Try recipes from a tiny house kitchen. Each month we feature a recipe from the Tiny House Foodie. Learn to make it work and still cook like a pro.
Hear from those living with kids in a tiny house. What happens when you build for two but end up with four? Can it really be done?
Read excerpts from books on tiny houses, downsizing, and a host of other related topics.
Each month brings new topics and new, exciting articles!