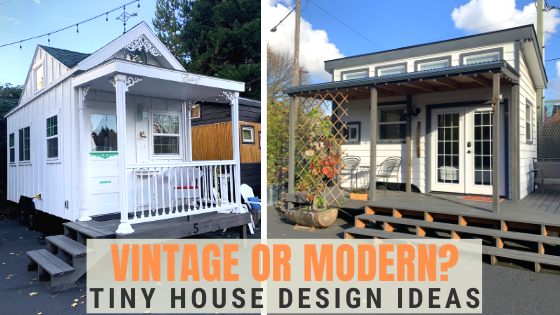 Vintage or Modern? Tiny House Design Ideas at Tiny Digs Hotel
Do you prefer vintage or modern tiny home design? Experience both at Tiny Digs Hotel!
Take a look at the latest themed tiny houses at Tiny Digs Hotel in Portland, Oregon. Hotel owner designer Pam Westra shares creative insights behind these darling custom builds.
These rentals offer big ideas for your future tiny home, from design tricks to tips for building on a budget.
The Newest Tiny Houses at Tiny Digs Hotel
The Merlot, a wine-themed tiny house
Key features:
downstairs bed
spalted maple counter & floating shelf
cork accent wall
Design ideas:
DIY wine bottle pendant light fixture—low-cost reuse idea found on Pinterest
lightweight styrofoam ceiling tiles available at Home Depot in various patterns
Victorian Cottage, vintage-inspired tiny house
Key features:
cathedral ceiling
salvaged windows—stained, beveled, leaded glass
built-in electric fireplace
Design ideas:
lower ceiling entrance then burst out to high ceiling
reuse building supply stores (rebuild centers) offer more low-cost modern and vintage materials for big savings
Watch the tour video above for more tiny house design ideas from Tiny Digs Hotel!
Exclusive Content
Monthly LIVE tiny living discussions with extended Q&A, plus BONUS content, like behind-the-scenes filmmaking and tiny home life insights.
Early Access
See new videos first, get first dibs on new online courses and more!
Exclusive Giveaways & Discounts
Win tiny living festivals passes, and more!
Join today!