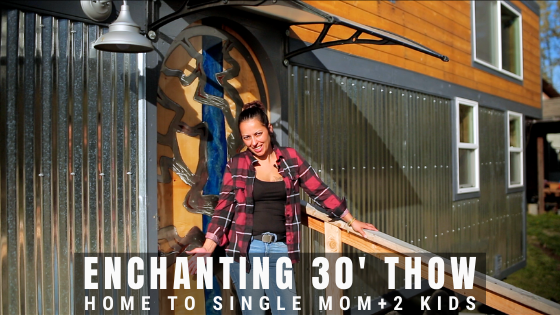 Single Mom's Tiny Home: Ideal for Life Transition
Inside a single mom's tiny home shows how simple living allows her to focus on what matters most to her. 
Meet Shannen, a strong woman and mother to two boys, and Mangus, their English Bulldog. She built her tiny house with her soon-to-be ex-husband for about $45k. But when they separated, Shannen subsequently moved her THOW just 10 minutes away, providing a smoother transition for her and her boys.
Shannen clearly adores her 30' tiny home. And it's easy to see why. It's enchanting inside and out with mountain cabin vibes. Further, what makes this tiny house stand out is the incredible epoxy work on the arched front door and throughout the kitchen.
Overall, the tiny house design is efficient with no wasted space. Yet it's spacious enough not to have to sacrifice luxuries like a small dining table, big sofa, and full-size bathtub—all ideal for two young boys. They have their own 8.5' x 11' loft. Access is via a curved metal ship ladder with a sturdy handrail.
Homeschool work takes place on the downstairs table that easily seats four. Additionally, the storage stairs include a cubby dedicated to school supplies.
Single Mom's Tiny Home Lifestyle Perspective:
"The boys like the tiny house; they love their loft. They learning some good habits. We got rid a lot of their stuff, but we let them choose their special stuff they kept. This also cut down on relatives giving them stuff.

For birthdays it's one small gift and we do an experience. We go somewhere and do something. 'What do we get to do' instead of 'what do I get'.  So it's been a good transition.

-Shannen
Outside, Shannen built a pallet deck and fence. She's also working to create gardens. Her tiny house parking spot is on 15 wide-open acres, next to the property owner's small cabin in the works. Shannen pays $400 rent per month, inclusive of utilities.
While she helps with land maintenance, she and her boys have free reign outside to build, explore, and build forts. Next up, a pallet chicken coop!
Interested in seeing more of Shannen's tiny home life? Follow her on Instagram.
Exclusive Content
Monthly LIVE tiny living discussions with extended Q&A, plus BONUS content, like behind-the-scenes filmmaking and tiny home life insights.
Early Access
See new videos first, get first dibs on new online courses and more!
Exclusive Giveaways & Discounts
Win tiny living festivals passes, and more!
Join today!