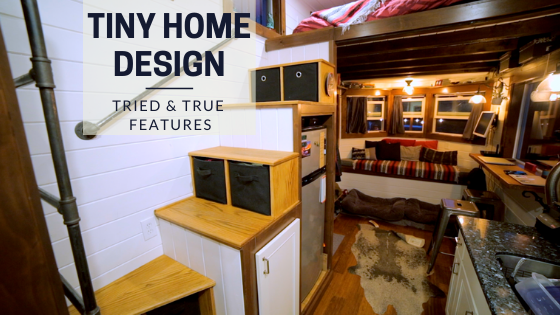 5 Great Tiny Home Design Features to Consider
Create a functional, cozy and sustainable home with these tiny house design features!
So you've decided to build or buy your very own tiny home! Exciting times lie ahead, but before you can get settled and enjoy the nomadic life, you are going to have to find yourself that perfect tiny home. When choosing a home, it is important to set your priorities and let them guide the features you incorporate into your property. From built-in storage to eco-friendly elements, there is a whole myriad of tiny house design features. Choosing between and determining the right decisions can seem overwhelming at times.
To make your life easier, we've made a little list of some great tried and true tiny home design features to consider.
A Loft
Naturally, space is limited in all tiny houses. A great way to maximize utility is to use a loft or two. When you can't build out, build upwards. Utilize the vertical high-ceiling area with a sleeping or storage loft to offer you an extra level of usable space.
Even if you want to sleep downstairs, don't overlook this opportunity to store items you don't need to access every day.
While the loft spaces in most tiny homes tend to be similar, you can change the feel by customizing it with various trims, railings, and storage areas—think decorative baskets with handles or mini-wardrobe space.
Storage Steps
There are a handful of options when it comes to accessing your loft. Ladders are popular because they are space-efficient and don't take up too much space, but storage steps are an even better option.
Sturdy loft access with endless possibilities for storing shoes, clothes, pet sleeping area, pantry items, etc.
The technique known as 'Kadan Dansu' will allow you to make use of that under-stair space for clever additional storage.
Outdoor Living Space
Of course, one of the major benefits of owning a tiny home is the flexibility of moving from one place to the next and giving yourself a change of scenery. That said, if you are the green-fingered type, you'll enjoy incorporating a garden-type feature into your tiny home.
Creating a comfortable outdoor space next to your tiny home by adding a patio seating area is another option. Just be sure to be mindful of the weather elements too. Reputable service providers such as City Seamless Patio Covers can certainly help protect that space.
Solar Panels
Stay energy-efficient and save on your tiny home's electricity bills by investing in solar panels' installation. The initial cost of opting to use solar energy may be daunting, but some great long-term benefits are worth factoring in. Not only will solar power allow you to have access to power almost anywhere, but it will lower your carbon footprint.
The good news is innovation and demand are continually driving costs down too.
Rainwater Catchment
While we are on the topic of eco-friendly features, let's talk about reducing water consumption and creating more self-sustainability. Adding a rainwater catchment system is another great way to utilize the earth's natural resources and reduce your home's water costs. These systems allow rainwater to be filtered so it can be used for multiple purposes, including drinking, cooking, cleaning, and gardening.
Catchment systems can sometimes be mounted onto your tiny home on wheels, like in a gooseneck storage closet.
Tried & True Tiny Home Design Features Maximize Functionality
There are numerous benefits to living the tiny home life, and there is no doubt you'll find the minimalism really refreshing. However, taking the time to think about little features that will make your life easier and positively enhance your experience can really make a huge difference. Ultimately, your design should be tailored to fit your needs. So think smart, and good luck with this new exciting chapter!
For more tiny home design features and ideas, browse our blog.
Clever Design Ideas from 5 completely Unique Tiny Homes
Digital Magazine Dedicated to Tiny Home Living
Do you have more time at home? Enjoy some inspirational reading from Tiny House Magazine!
Discover different types of tiny homes from liveaboard boats to Alaskan yurts, converted school buses, and more.
Try recipes from a tiny house kitchen. Each month we feature a recipe from the Tiny House Foodie. Learn to make it work and still cook like a pro.
Read excerpts from books on tiny houses, downsizing, and a host of other related topics.
Each month brings new topics and new, exciting articles!