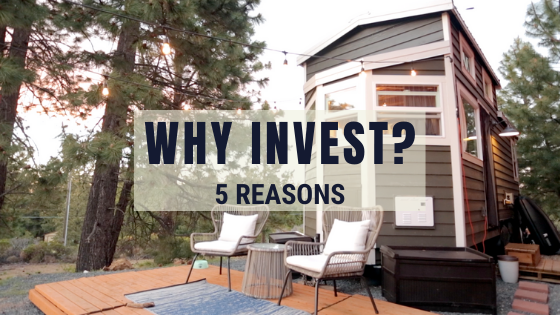 5 Huge Reasons Why You Should Invest in a Tiny House
A tiny house is a tool to achieve your lifestyle and financial goals.
Have you fallen in love with the idea of moving into a tiny house? It's an ever-growing and popular housing trend that we can't get enough of.
If you're looking for a radical life change, these five reasons highlight why a tiny house is a perfect investment for YOU.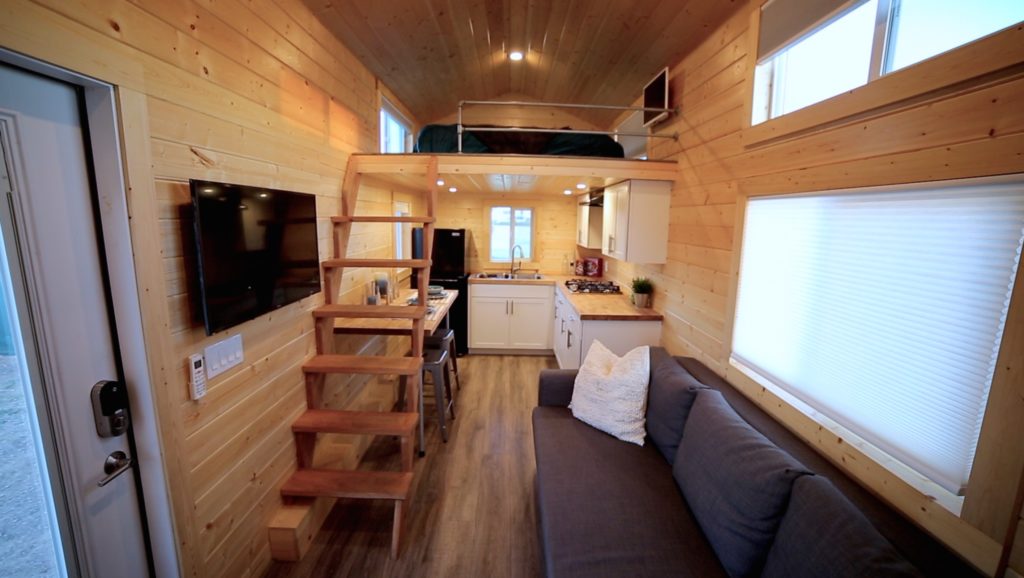 1. Downsize and Minimize
Are you a first-time homeowner or wanting to simplify your life by literally living smaller? A tiny house is an exceptional property opportunity waiting to be seized.
Overwhelmed with clutter, or simply longing for a freer, minimalist lifestyle? Decreasing the number of your possessions as well as the size of your living space makes a significant difference.
An average American home is approximately 2,600 ft² in size. By contrast, a tiny house typically measures between 100 and 400 ft². You'll be amazed at how you can creatively maximize a small space to make it a breathable, livable and organized environment in which to live, work and sleep.
2. Design Your Own Dream Home
If you've always wanted to design your own dream home, now's your chance! The choice is yours: a movable home or a permanent residence set on a foundation.
With estimated DIY building costs of between about $15,000 and $40,000, a tiny house is a more affordable option plus it can be tailor-made to include all of your finishing touches.
Planning your own home's layout allows you more freedom to live in the space you've always envisioned. Each personalized feature is something you lose out on when buying a larger, existing home.
3. Reduce Your Carbon Footprint
An unarguable benefit of having a smaller home is less cleaning and maintenance! A space that's easier to tidy and repair saves you both time and money. Your utility expenses will reduce dramatically, as you'll find yourself spending far less on electricity and heating.
Tiny houses are typically constructed with the dual goal of conserving energy while being cost-effective. Decreasing both your monthly expenses and carbon footprint are both compelling reasons for opting for a tinier approach to living.
4. Work or Travel from Home
Ever wanted to work from home or travel while working? A movable tiny house can enable you to go wherever you please. Setting up your own small home office is completely possible, and will allow you to be mobile and motivated in your comfortable, customized workspace.
5. Create a Steady Rental Income
Only need a vacation home? Build your tiny house on a recreation property. Constructing it on wheels to connect to trailers with a permit for access into RV or mobile home parks is an alternative long term investment. You can enjoy your simpler life in nature during the summer months to gain some perspective.
If you're looking for a fixed rental income, consider renting out your tiny house to vacationers or long-term tenants. Your earning potential has no limits. Brainstorm how your tiny home can be kitted out to become THE perfect alternative guest accommodation option.
For fixed houses, aways get a real estate agent such as Scott Haveson (in Seattle) on your side to make sure you don't make any mistakes when purchasing your very own, perfect tiny house.
There are so many positives to investing in a tiny house. Consider how your life can be changed forever by embarking on this exciting adventure.