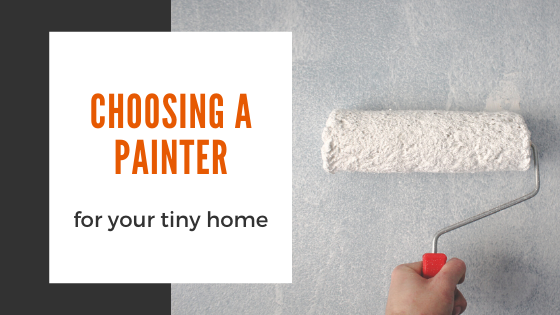 5 Questions to Ask Before Choosing a Painting Contractor for Tiny Homes
If you have a room in your home that needs a paint job, the right contractor can help. Ask these questions before choosing a painting contractor for tiny homes.
Choosing a painting contractor from the myriad of options out there can be difficult.
You want to find a reasonably priced option, but you also want to know that they're going to get the job done right, in a timely manner, and that it will look good when they're finished.
Lucky for you, today we have the top five questions you should ask potential painting contractors to be sure you get the best deal and best job possible!
Do You Have References and Reviews?
A painting contractor that knows his stuff and has experience should have glowing reviews from previous clients.
First, check their online presence. Does their web page have four and five-star reviews with satisfied client testimonials? Do their social media accounts offer further reviews that can give you more insight?
If they don't have an online presence, don't be afraid to ask for written references and reviews from previous clients. Keep in mind, however, that written reviews are easier to fake than reviews submitted by real users online.
Do You Have a License and Insurance?
Even experienced contractors make mistakes and have accidents.
Professional contractors protect their clients by being licensed and insured while on the job. This ensures that in the event of a mistake, where your property is affected in any way, you won't be stuck footing the bill, or trying to gain compensation from the contractor.
This may not seem like such a big deal - after all, it's just a paint job, right? But in the event your contractor accidentally backs his truck up over your landscaping or breaks a light fixture while moving a ladder, you'll be able to rest easy knowing the damage is covered.
What Are Your Painting Contractor Fees?
Make sure you know the entire range of fees associated with the job and see a breakdown of the expenses. Ask for an itemized quote that will allow you to see precisely what is included in the job.
Make sure to inquire about fees not covered in the initial quote, such as what happens if a problem arises and more work is necessary.
How Will You Prepare, Perform and Finish the Job?
Ask your painting contractor about their process to make sure you are on the same page about what a job well done looks like.
How will they prepare the painting surface? Do they do necessary prep work like filling holes and sanding? How will they prepare the area in which they'll be working and protect the other areas?
What will the finished product look like? Will they guarantee their work and fix mistakes?




How Do You Deal With Issues That Arise?
Even with small paint jobs, issues tend to arise. Lead paint, for instance, is a huge issue in many homes built before the nineties and is a health hazard. A professional painting contractor will have plans for keeping employees, and your home safe in the event issues like these are part of the equation.
Choosing a Painting Contractor
Choosing a painting contractor is a process that should be done with care to make sure you have a finished job that you can appreciate for years to come. Take time to ask the above questions to ensure you find a painting contractor who makes your experience a good one.
Looking for other helpful articles? Check out the rest of our blog for more!
Digital Magazine Dedicated to Micro, Tiny & Small Home Living
Do you have more time at home? Enjoy some inspirational reading from Tiny House Magazine!
Discover different types of tiny houses from liveaboard boats to Alaskan yurts, converted school buses to high wall tents.
Try recipes from a tiny house kitchen. Each month we feature a recipe from the Tiny House Foodie. Learn to make it work and still cook like a pro.
Hear from those living with kids in a tiny house. What happens when you build for two but end up with four? Can it really be done?
Read excerpts from books on tiny houses, downsizing, and a host of other related topics.
Each month brings new topics and new, exciting articles!