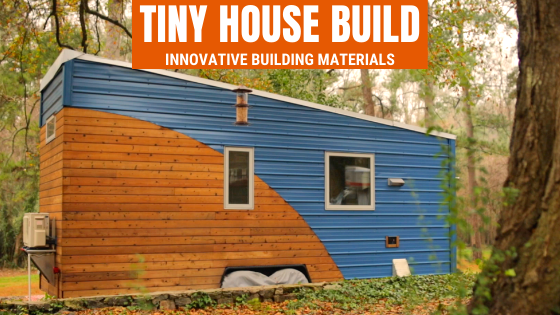 Innovative Building Materials for Creating a Custom Tiny House
Have you ever dreamt of owning a tiny house? The tiny house movement gained substantial momentum after the housing market crash in 2009. People didn't want to give up their dream of owning a home, but budgets were tight, and mortgages were hard to come by. 
Fast forward a few years, and the tiny house movement became more than just a financially viable way to become a homeowner.
People were excited about the prospect of living a more minimalistic life. For some, it was about reducing environmental impacts and adopting a more sustainable life. For others, the concept of living "off-the-grid" and being self-sufficient was an exciting prospect. 
Today, the tiny house market is full of prefabricated homes and custom manufacturers, and it doesn't show any signs of slowing down. If you're interested in creating a custom tiny house, you have numerous options for bringing your vision to life with innovative building materials.
Whether you're interested in sustainability or functionality, there are several innovative building materials to consider for your custom tiny house. 
Here are some of the top building materials to consider for your tiny house build. 
Structural Insulated Panels 
If you want the most energy-efficient tiny house possible, do a little research on structural insulated panels (SIPs). SIPs are wall systems that consist of insulated foam sandwiched between two pieces of wood.
They also add an extra level of insulation, which is ideal for energy efficiency.
SIPs are prefabricated and interlock together to make airtight structures. Using them instead of traditional framing ensures that your tiny home is airtight and primed for energy efficiency. 
Metal Siding 
Aesthetically speaking, most people use traditional exterior siding techniques and materials in their tiny homes. This usually consists of some variation of lap siding. There are several types of lap siding, but when it comes to tiny houses, metal siding is the way to go.
Metal siding is cost-effective, energy-efficient, and it requires minimal ongoing maintenance.
You'll want to go with steel instead of aluminum for durability reasons. The good thing with steel siding is that steel siding colors are abundant, so you can achieve a look that you like. 
Polyisocyanurate Foam Board Insulation
Even if you go with SIPs, you'll still need additional insulation. There are several options on the market. However, the polyisocyanurate rigid foam board is the highest performing option on the market.
It's moisture-resistant, lightweight, and boasts the highest R-value of any rigid foam option.
The only downside to this type of insulation is that it isn't the most environmentally friendly option, and it's also quite costly. So, if either of those is a concern for you, denim and cotton insulation are fantastic, eco-friendly, and cost-effective alternatives.  
Vinyl Shingles 
You want your roof to be durable but also lightweight. Asphalt shingles aren't the best for durability or energy efficiency, so it's important to open your options up to other alternatives. Vinyl roofing shingles are an innovative alternative to asphalt.
They can look like any other roofing material, but they're more durable, energy-efficient, and cost-effective than many of the options on the market. 
Vinyl Flooring 
Let's talk about flooring for a second. Ultimately, the interior flooring has a lot more to do with personal preference than anything else. However, if you want flooring that's easy to install, affordable, durable, and water-resistant – you can't go wrong with vinyl flooring. Hardwood floors tend to be the most popular choice, but they're difficult to maintain, and they don't do well with moisture damage.
In such a tiny home, minor blemishes on hardwood floors become focal points, because there isn't anywhere else to look.
Vinyl flooring has come a long way from its original state, and it can mimic many other materials, so you can have the hardwood floor without the hardwood headaches. 
Building Your Custom Tiny Home
Ultimately, the materials you choose to for your tiny house build come down to your primary goals. Someone who wants to save the most money possible will use very different materials than someone who wants to be as eco-conscious as possible. 
The good news is that the market is thriving, and there are alternative materials for almost every part of the tiny house build.
Many DIYers build their entire tiny house out of recycled materials or materials that they could attain for free. Others have completely decked out tiny homes, where every corner has an innovative material or tech. 
If you get clear about why you want a tiny house, it will be simple to find materials that make sense for you. Don't be afraid to research, and if you aren't DIYing, be sure to work with a qualified contractor who has experience in the tiny house market.
by Matt Lee
Matt Lee is the owner of the Innovative Building Materials blog and a content writer for the building materials industry. He is focused on helping fellow homeowners, contractors, and architects discover materials and methods of construction that save money, improve energy efficiency, and increase property value.
The Ultimate Tiny House Design/Build/Transition Workshop
Sign-up for this acclaimed 16+ hour Digital Tiny House Workshop to learn how to build a tiny house, the legalities to be aware, how to make the transition to living tiny, and more!
INCLUDED with the DIGITAL WORKSHOP:
54 bite-sized, engaging episodes
Downloadable follow-along booklet for note-taking
Over $300 in FREE bonuses, from tiny house plans to more how to's
Digital Diploma upon full completion of the course