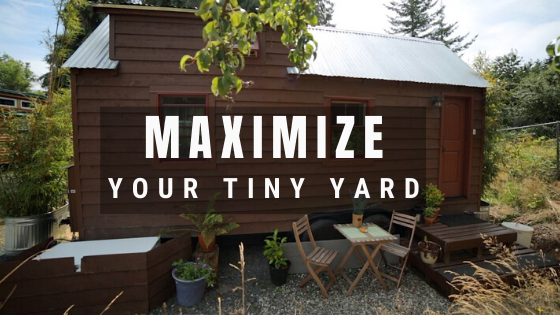 5 Super Smart Ideas to Maximize Space in a Tiny Backyard
If you're grappling with the limits of a tiny backyard, check out this blog for a little inspiration on how to make the most out of the space you do have!
It's not uncommon at all for tiny houses to be placed on small lots, whether in a backyard, tiny home community or RV park. Some people find that they're unhappy with the size of their outdoor space.
With limited indoor living space, a yard helps create an outdoor living area.
Do you wish your backyard was bigger than it is? It's probably not possible to physically make it larger. But there are some steps you can take to make it feel like it's not so tiny.
Here are five super smart ideas for maximizing the space in your backyard so that it works better for you and your family.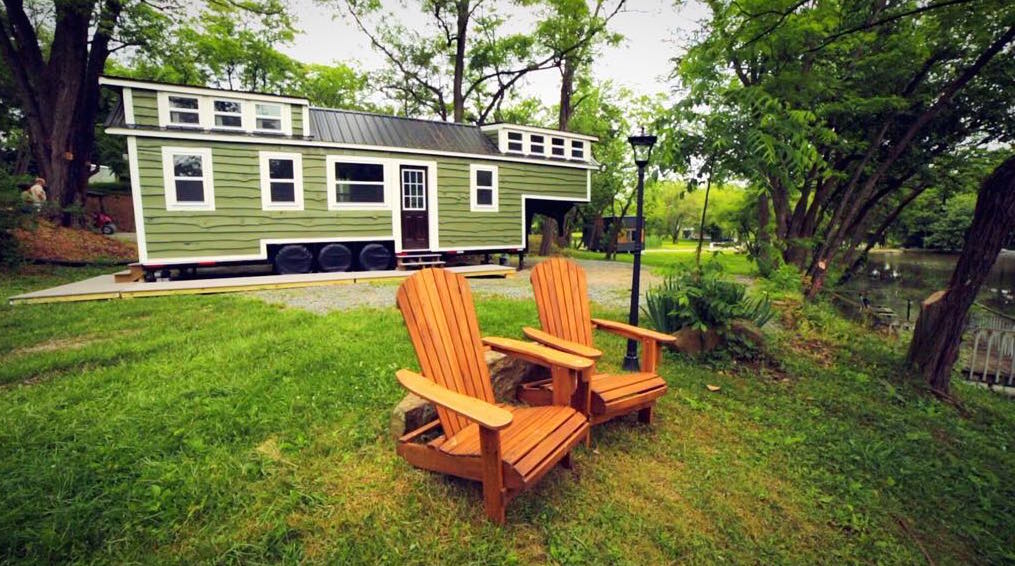 1) Limit the Amount of Outdoor Furniture in Your Backyard
If you spend a lot of time entertaining in your backyard space as an alternative to inside your tiny home, you probably have your fair share of outdoor furniture set up throughout it. It's hard to have people over to hang out and eat if you don't have places for them to sit.
But you should try not to cram too much of it into a tiny backyard since that's going to make it look overcrowded.
Rather than buying a big, bulky outdoor table that can fit you, your family, and all your guests, opt for several smaller tables that you can strategically position in different places throughout your yard.
Generally speaking, this is the approach you should take to everything that you put into your tiny backyard. You should pay very close attention to scale and avoid putting anything in your yard that's going to overcrowd it.
This might mean replacing a large dining table with smaller ones, or it might mean replacing an above-ground swimming pool with one of the more compact, top inflatable hot tubs to free up space.
2) Make Sure Everything in Your Backyard Serves a Purpose
When you don't have a lot of space in your backyard, you need to make sure that everything you put into it has a specific purpose. Or better yet, you should look for items that can serve more than one purpose, like you would inside your tiny home.
If, for example, you're looking into buying a container that you can use to store your outdoor chair cushions, you should see if you can find one that doubles as a bench. It'll provide you with storage while also opening up a few extra seats.
3) Turn Your Outdoor Space Into an Extension of Your Indoor Space
Again with limited indoor square footage, connecting your tiny home with the outdoors can dramatically expand your usable living space.
One excellent way to do this is with a site-built deck, tailored to the size and shape of your house and your lot. Consider building a deck that runs the length of your tiny house, and perhaps wraps around from the front door. Not only will it make your small home feel larger with an outdoor living room, but a deck also adds much visual appeal and multifunctional opportunities.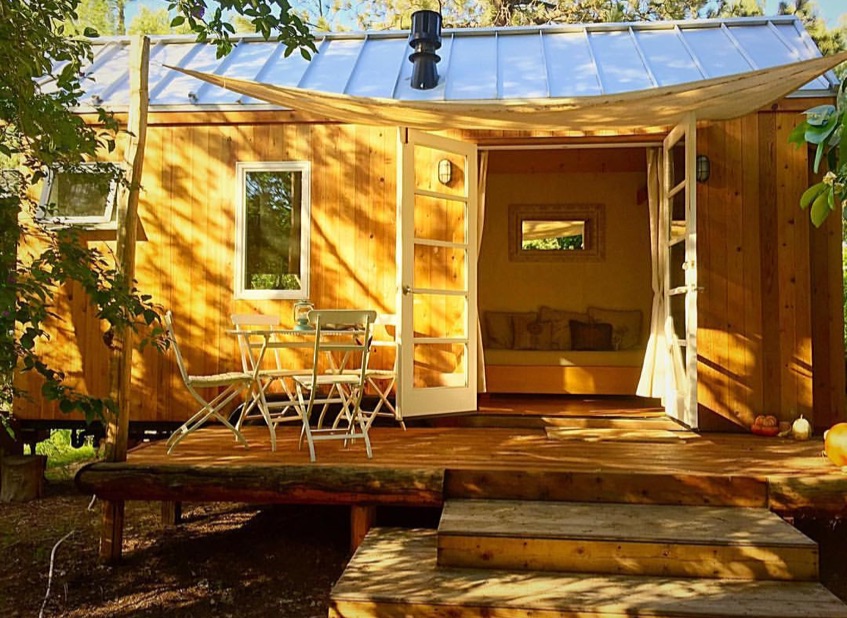 For example, you can store items underneath it or create compartments in the steps. Additionally, if your yard is uneven, a deck creates level space for activities, like yoga or working at a table.
When you have a small outdoor space, it's not a bad idea to use similar colors and patterns outside so that they complement what you have going on inside. This will establish a connection between the two spaces and make your outdoor space seem larger at the same time.
4) Play Around With Different Outdoor Lighting Options
The lighting that you add to your tiny backyard is going to play a big part in making it feel larger than it is. You should look for various types of lighting that you can scatter throughout the space to create focal points in it.
Try to use everything from landscape lighting and sconces to string lights and potentially even pendant lighting. You don't need to go too overboard with your lighting, but you should find ways to use it to your advantage in a tiny backyard.
5) Avoid Allowing Clutter to Build Up in Your Backyard
Studies have shown that about 25% of Americans have a clutter problem. They have entirely too much clutter in their homes, which often spills out into their backyards.
But even for tiny house dwellers with decluttered homes, the urge to collect stuff can manifest itself in their outdoor living spaces. Remember, clutter can easily make an already small backyard feel even tinier.
Don't let your tiny backyard get overrun by stuff or mess. It'll become almost unusable if you do. Get into the habit of picking up after yourself after spending time in your backyard and don't allow anything to linger in it for longer than it absolutely has to.
Maximize Your Tiny Backyard Space by Putting These Ideas to the Test
Do you find that you're not spending as much time out in your backyard as you would like because how cramped it feels? By using the ideas found here, you can start to make the most of the space that you have.
Looking for other ways to improve your tiny living experience? Check out the articles on our blog for more helpful suggestions.