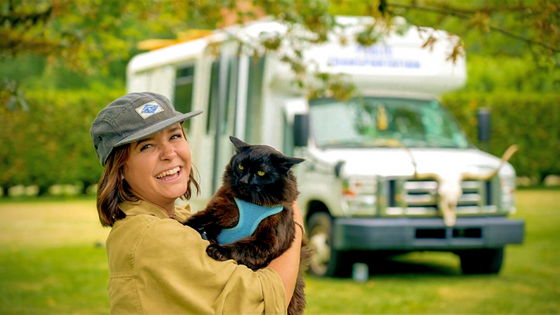 Solo Woman's Tiny Home Shuttle Bus Conversion
Meet Syndey, who downsized into a DIY shuttle bus conversion after living in a 40-foot skoolie for a year. She wanted to be more agile on the road like her friends in vans. So she sold it and got a smaller bus from GovDeals.com. Syndey paid $12,500 for the vehicle. Then she put about $8,000 into the build-out. That's inclusive of all of her appliances and solar power system.
Syndey doesn't entirely do solo woman travel. Throughout most of her bus life, she has constantly been a part of a nomadic bus/van life community caravan. They have been tremendously valuable for advice, moral support, and friendship.
"Traveling was never a huge part of my life prior to bus life. Living in Hawaii, when you travel, it's to go see family because my extended family never lived there.

I want to live everywhere. This is the I want to live on the beach and in the mountains and in the snow and on the slopes. It's the only way you can do that really.

And caravanning is my favorite thing to do. I was introduced to that early on. A row of buses and vans, and then you go and camp places for however long at a time. So I've spent months with people. And you really, really turn into family.

It makes me really appreciate having people around a lot. And I really don't like to travel alone. I rarely travel alone. I'm often traveling with people for that reason. I love the community."

-Sydney, @sydneyskoolie
Inside Her Tiny Home Shuttle Bus Conversion
Sydney's shuttle bus conversion home is a 2016 Ford E50. It's 25 feet long from bumper to bumper, making it just a smidge bigger than a standard parking spot. She installed a deck, solar panels, and a storage box for outdoor adventure gear on the roof.
One of the real benefits of a shuttle bus over a van is the 6'2" interior height. As a shorter lady, it feels extra spacious for Syndey. But she took other cues from van conversions, like her pull-out toilet drawer. But unlike many small rigs, Syndey does have a shower.
It's hidden in a cabinet with a removable lid and an opening side door. A PVC pipe gets hooked into place, as well as a shower curtain. Syndey loves the convenience of an onboard shower, so she doesn't have to rely on Planet Fitness solely. It also helps with watering plants when they need a good soak.
She achieved a vibrant, cozy feel and a cat-approved setup too. All the houseplants bring the space to life but are challenging to maintain. Notably, Syndey's 40-foot skoolie experience taught her what to do better in her new tiny home. For instance, her DC 10.2 cubic feet fridge:
"I cook a lot, so I needed a big fridge. And my last bus didn't have a freezer section. So I really wanted to make sure I have a freezer and one that's a stand-up style, especially in a van. The chest style freezers really popular. A lot more energy efficient. But when you're constantly moving, and then one thing spills, or you have berries raspberries, and it starts to drip, then you have this gross pool of that underneath at the bottom of the fridge that you have to clean pretty much weekly.

You take everything out of your fridge and clean it. So big stand-up style definitely recommend."
Her kitty Caden enjoys lounging all over the bus. Syndey highly recommends a no-spill water bowl for any nomads with pets. When she needs to move, Syndey just unplugs it from the USB and tips it forward, so all the water is securely stored. This means there's no need to empty it every time. Solving a previous source of annoyance.
Watch the full shuttle bus conversion tour above to see more & for more bus life tips!