6 Ideas to Make Your Tiny House Bedroom Cozy
Let's get cozy! A tiny house bedroom is for cuddling, relaxing, and sleeping—not for distractions.
Tiny homes are usually tranquil heavens, free from stress and hassles. Every small homeowner wants to make every part cozy and comfortable, especially in their tiny house bedroom. However, they often find it difficult to draw the line between snug and clutter.
Too many things in a tiny home bedroom can make you feel claustrophobic. But the absence of ideal elements can also leave your bedroom feeling empty and detached. People find it challenging to create a cozy bedroom space in a tiny home as they feel there is hardly any room for creative freedom.
But the truth is, small house bedrooms can be the perfect setting for an extremely cozy environment. That is why we have come up with a list of six ideas that can strike the perfect balance between comfort and restricted space.
These budget-friendly ideas for a tiny house bedroom would make anyone want to stay snuggled in their bed throughout the day.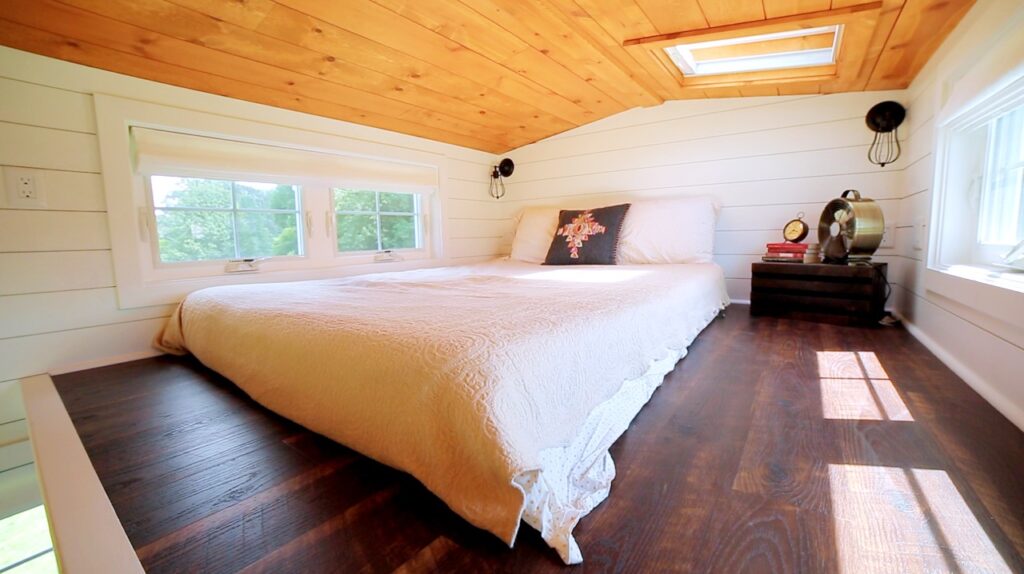 Use Weighted Blankets
Weighted blankets are the latest trend to make your bedroom warm, comfortable, and cozy—for any size house. People who use them describe the feeling of getting hugged gently because they apply soothing pressure all over the body. It is called Deep Touch Pressure therapy with several benefits for a user's physical and mental health.
Weighted blankets are known to decrease anxiety and induce peaceful sleep. People are often confused about how heavy a weighted blanket they should buy for themselves. Ideally, a weighted blanket should be approximately 10% of your body weight and weigh about 15-20 lbs. If you have a child, manufacturers also make kids' blankets that weigh around 5 lbs.
Apart from the weight, you should also consider the materials used to make a weighted blanket. Ideally, they should be made with premium quality fabric filled with glass beads.
Some manufacturers provide a super soft outer cover which can make it feel even cozier. If you are a hot sleeper, you should choose a cooling weighted blanket with an outer fabric made with bamboo viscose.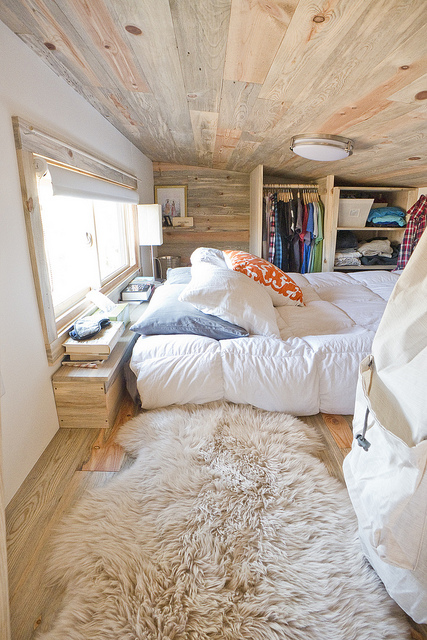 Add Soft Rugs
In addition to weighted blankets, you can also add a textured rug or throw in your tiny house bedroom. You can place them at the foot of your bed to add to the coziness. You can also put a throw or a rug on the back of your chair (if you have room for one) to create a cozy vibe. Textured rugs add a dynamic touch to a neutral color scheme and boost the character of your bedroom.
Chunky knits, faux furs, or suede can add layers of dimensions to several parts of your bedroom or your tiny house. Creating a delicate mix of textures in your small bedroom can create the perfect environment to snuggle up with a book.
Use Soft Neutral Colors
Harsh patterns and bold colors are often too much for a tranquil, cozy bedroom. Instead, try using neutral colors or earthy tones that are more suited to provide a snug environment.
Warm neutral colors offer a sense of comfort in any small space. You can also use small decors with woven textures or brassy metal exteriors to convey coziness in your tiny home bedroom.
Introduce Wooden Accents
Introducing a wooden panel or ceiling beams can add to the coziness of your tiny house bedroom. Even though adding wooden surfaces can be costly for regular homes, it would not cost a lot in a tiny house due to the limited space.
You can also try adding small wooden cabinets to your small bedroom to make it feel cozy and add function. If you have a limited budget, you can incorporate wood-inspired colors through the entire bedroom and give it a uniform aesthetic sense.
Choose the Right Light
Do not be afraid to use a lot of windows in your tiny house bedroom. You can use simple blinds or neutral-colored curtains to increase privacy or block daylight in your bedroom.
Use warm light with yellow or orange tones to add to the coziness in your bedroom. Avoid using overhead lights in tiny bedrooms as they might be too harsh. Instead, use subtle table lamps or a dimmer that can soften the light.
Use Soft-Edged Furniture
Use upholstered or soft-edged furniture in your tiny house bedroom to make it feel cozier—best suited for a downstairs bedroom in a THOW or in a small home on a foundation. You will find that round edges with soft textures give a sense of a more comfortable environment.
Your small bedroom may not have too much space for a lot of furniture. But even if you use a small cabinet or a bedside table, make sure that the edges are rounded. Soft-edged furniture is also safer to use in a tiny space as you will save yourself from bumps and scratches.
Maximize Your Tiny House Bedroom Coziness
We hope that you find these ideas useful to make your tiny house bedroom cozy and comfortable. If you have any such ideas for other tiny homeowners, please let us know.
For more tiny home design features and ideas, browse our blog.
Cover image: Tori's Tangled Tiny bedroom
Tiny House with Downstairs Master Suite
Digital Magazine Dedicated to Tiny Home Living
Do you have more time at home? Enjoy some inspirational reading from Tiny House Magazine!
Discover different types of tiny homes from liveaboard boats to Alaskan yurts, converted school buses, and more.
Try recipes from a tiny house kitchen. Each month we feature a recipe from the Tiny House Foodie. Learn to make it work and still cook like a pro.
Read excerpts from books on tiny houses, downsizing, and a host of other related topics.
Each month brings new topics and new, exciting articles!