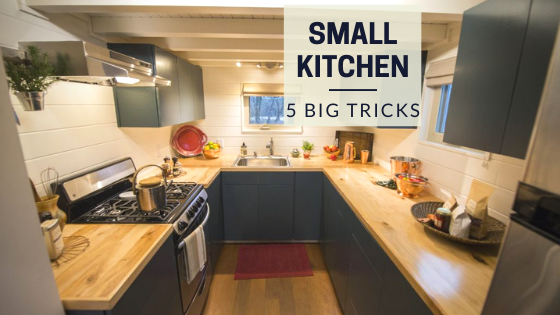 5 Remodeling Tricks to Make a Small Kitchen Look Bigger
We share 5 tiny home design and remodeling tips to make your small kitchen look and feel bigger.
Living in a tiny home comes with many benefits, but the fact that you have less space is not one of them. If you're considering updating and remodeling your tiny home a bit, the kitchen is one area where you can apply a few tricks to make it seem much bigger.
Kitchens often feel cramped even in regular-sized homes, so if you want to create the illusion of more space, here are 5 tips for doing so.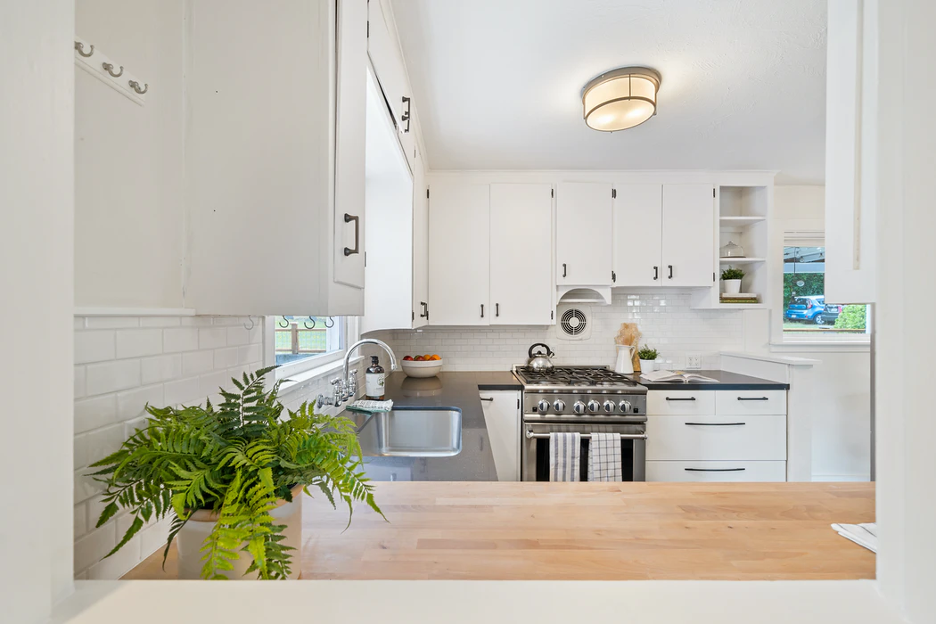 Avoid Color Contrast
Light colors seem more spacious, but you can void this effect by contrasting them with dark-colored cabinets, trim, and other features. The first rule of making your tiny home kitchen seem bigger is to paint in a light-colored, uniform scheme. You can vary your shades and tints, but too much color contrast should be avoided.
Use a Folding Table
One of the easiest ways to add actual space to your kitchen is by using a folding table. It can fold up flat like a lawn chair, or you can just use one with leaves on either side that fold down when not being used.
This is called making use of vertical space and will add much-needed spaciousness to your kitchen when you aren't using the table.
Pick Tall, Narrow Cabinets
If you want to make your ceiling seem higher, use tall, skinny cabinets. The visual effect they have in relation to your floor, counters, and ceiling gives the impression of greater height, as opposed to wider, shorter cabinets that have the opposite effect.
"You can also use glass doors on your cabinets to add more visual depth to the space, a particularly useful trick with tall cabinets." - Chuck Waltman, Houston Home Remodeling Pros
Make Use of Your View
By having a window that lets in natural light and provides a direct view outside, the outdoor scenery will seem like an extension of the kitchen itself.
The more vast and expansive your view, the bigger your kitchen will seem. Some windows are better for this than others, so make sure yours is big enough to achieve the desired effect.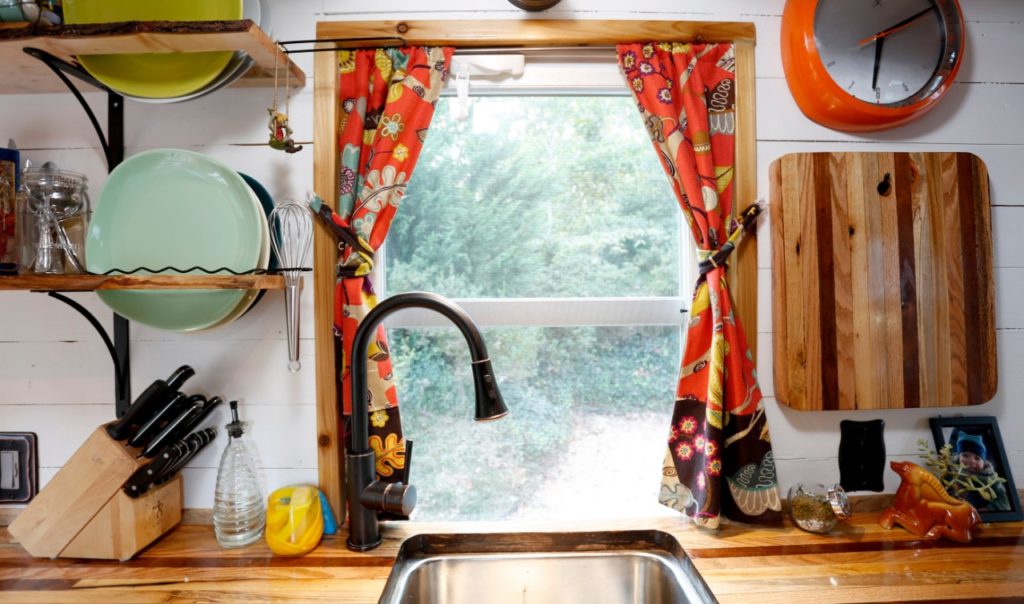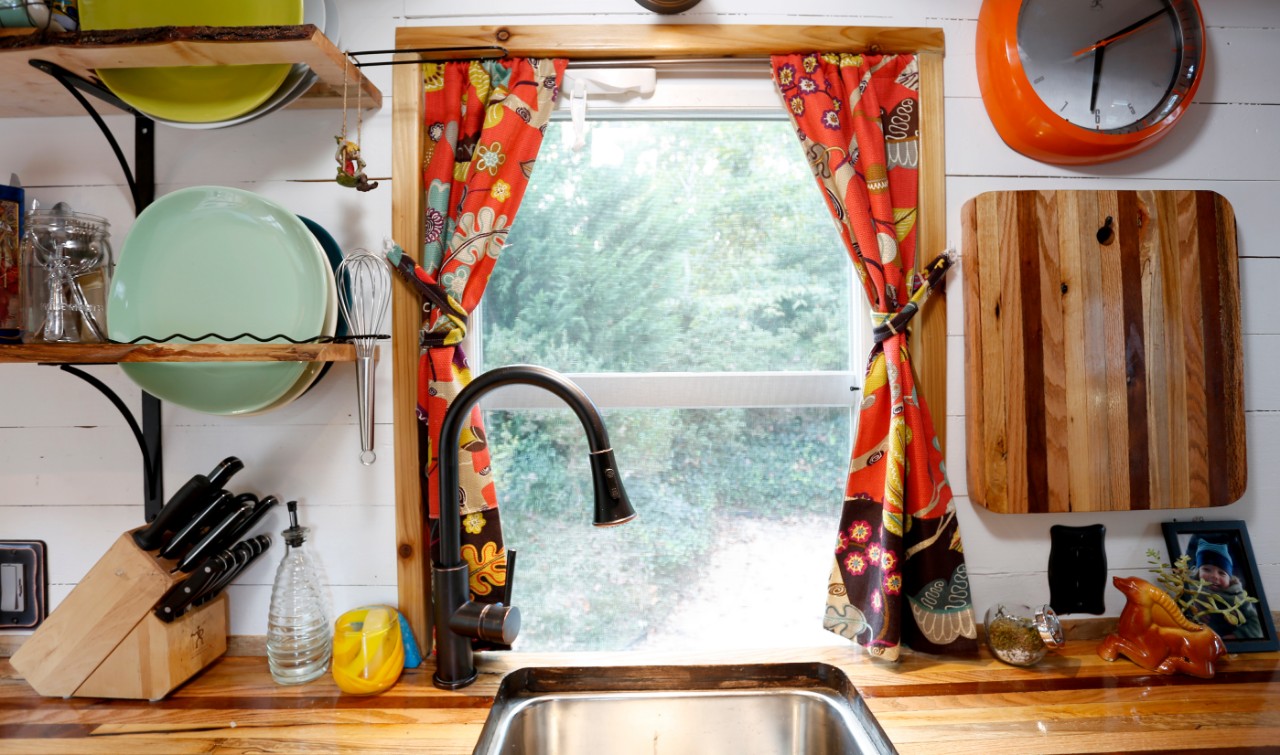 Implement Shiny Surfaces
Shiny surfaces reflect light, bouncing it around the kitchen and giving the impression of more space. Stainless steel works great for this, as does glass.
Microwaves, cabinets, faucets, and appliances are the best ways to make use of this effective lighting trick. White cabinetry will also complement this lighting trick and amplify its effects.
These Tips are Guaranteed to Make Your Small Kitchen Seem Bigger
Using just one or two of these tips in your tiny home's kitchen will have a noticeable effect. But, you could also combine every tip on our list for maximum effect.
By combining the right colors, appliances, furniture, windows, and cabinets, you can make a small kitchen appear magnitudes bigger than it actually is. One of the downsides of tiny homes is that they can feel cramped, so by using these 5 tricks, you really can have your cake and eat it too.
Author Bio:
Skylar Ross is a home development writer and contributor for Phoenix Roofing Contractors. He specializes in topics related to home improvement, home construction, and innovative building materials.
Tiny House Kitchen Design Ideas from 10 Unique Homes
Digital Magazine Dedicated to Tiny Home Living
Do you have more time at home? Enjoy some inspirational reading from Tiny House Magazine!
Discover different types of tiny homes from liveaboard boats to Alaskan yurts, converted school buses, and more.
Try recipes from a tiny house kitchen. Each month we feature a recipe from the Tiny House Foodie. Learn to make it work and still cook like a pro.
Read excerpts from books on tiny houses, downsizing, and a host of other related topics.
Each month brings new topics and new, exciting articles!