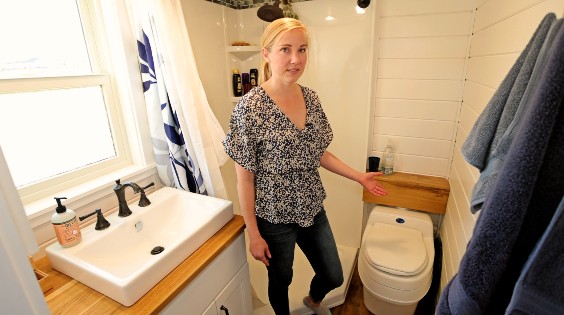 6 Tips for Renovating Tiny Bathrooms
Interested in renovating your tiny bathroom? 
In your tiny home journey, don't underestimate the importance of a well-designed bathroom. Nothing should stop you from transforming every square inch of this essential room to maximize function and create an aesthetically pleasing feel.
Below, we share six tips to help you relatively quickly renovate your tiny bathroom without issues.
Add Storage
Adding extra storage to your tiny bathroom will help declutter and organize the room, leaving you with enough floor space for other things. For instance, adding a small compact cabinet or floating shelf can provide extra storage for toiletries and clean towels.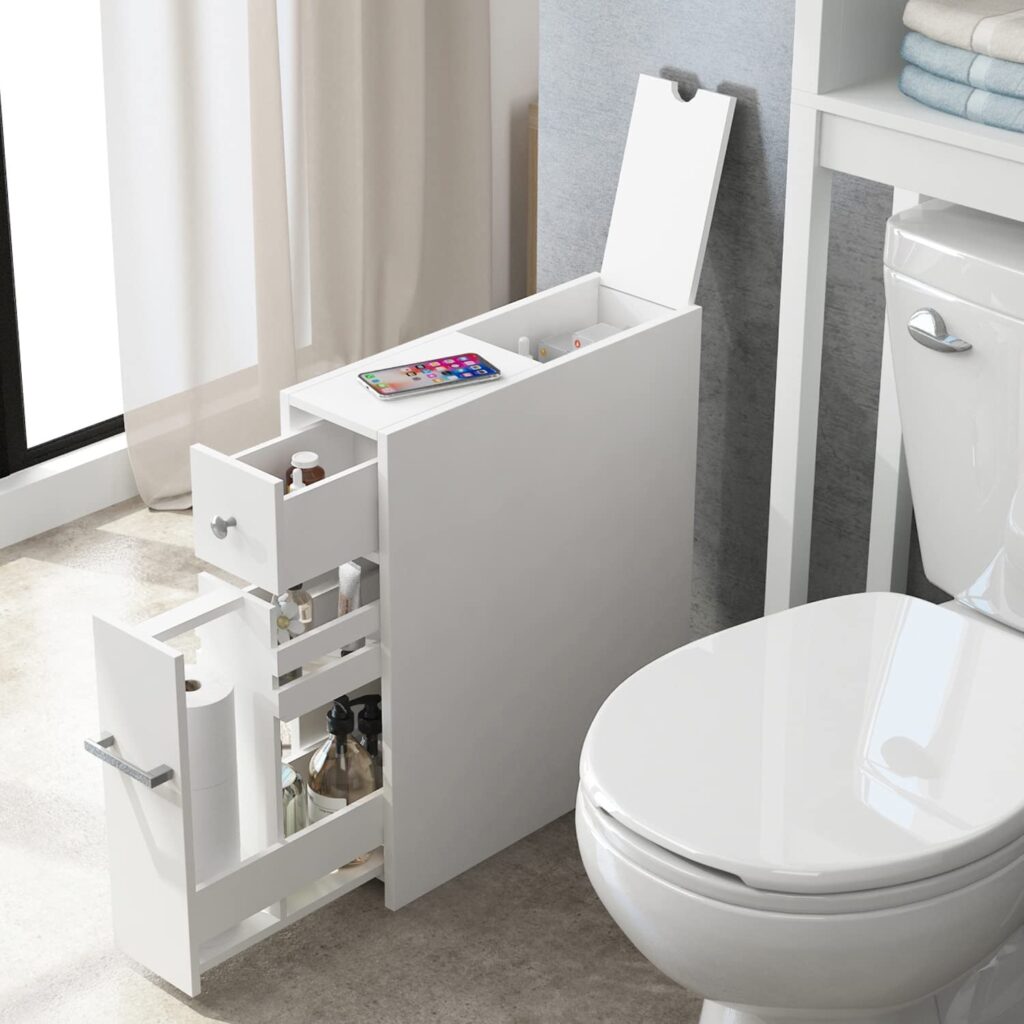 Additionally, install a removable hanging rod for drying towels inside your shower/bath surround. We did this in our 130-square-foot tiny home, which really came in handy during the snowy winter months for hanging wet gear. Also, you can use hooks on the wall to hang towels, washcloths, robes, and other items that are easy to reach but hard to fit on racks or shelves. You can never have too many hooks in a small space! Consider adding an over-the-toilet or under-counter storage unit that can hold other necessities within arm's reach without taking up valuable floor space.
Looking for more inspiration? Take time to learn more about bathroom renovation options to find solutions that best suit your space. Pinterest, YouTube, and even professional renovators are excellent sources of ideas.
Add a Layer of Paint
A little paint can go a long way in making a space feel fresh & clean! Painting over existing walls can give your room an instant makeover, and so can peel & stick wallpaper. Stick to light colors and avoid any contrasting hues or dark colors. You might also want to match the wall color to your floor tile choice, as it will help elongate the space. If your bathroom ceiling is short, applying vertical stripes of paint on the walls can have a similar effect. Most importantly, paint your ceiling white to make it feel taller.
Light Up the Space
Lighting is one way to open up a room and make it feel more spacious. Add natural light by installing skylights or a large window on the side of your bathroom. You may also use recessed lighting to illuminate the entire space and install track lighting to light up the area around your sink. Using sconces on either side of your mirror or vanity will help fill in any dead space behind you. You may also use mirrors to reflect lights by hanging them at different angles and heights.
Add a Mirror
A full-length mirror is the most essential feature in any bathroom. You can mount it on the wall, above the sink, behind the vanity, or on one of the cabinets. A mirrored cabinet is even better because it adds more storage and looks much more stylish than a plain cabinet. If you plan to install only one mirror, you may consider a rounded mirror as it adds more visual variety to the space and serves as a focal point.
Install an Under-Mount Sink
An under-mount sink is perfect for tiny bathrooms where space is at a premium because it takes up less room than a traditional vanity sink. It also provides plenty of storage space below it. This type of sink also has built-in aerators to prevent water from splattering everywhere when you wash up after brushing your teeth.
Decorate with Plants
Plants are the perfect way to brighten up a space. There are so many different types of houseplants that you can use in a bathroom, such as ferns, ivy, and succulents. You can put your plants on the toilet countertops, near the vanity, on the floor, or on top of the shelves. That's just what Tyler did in your tiny bathroom.
Don't feel overwhelmed with the size of your tiny bathroom. You can still spruce it up to make it look bigger and more stylish. Determine what will work from the options above and walk the journey with a professional in the field.
One of our favorite tiny bathroom designs!
Have you ordered our book yet?
Learn the history of the modern movement, get a breakdown of tiny home styles, and meet the passionate tiny community. The Beginner's Guide to Tiny Houses also discusses the pros and cons of micro-living―is a tiny house right for you, right now?
What people are saying:
"Most books about tiny homes are really just about the fantasy, with beautiful pictures in far-off places, but they don't tell you how to get from point A to point B. That's where this book comes in and fills in all the gaps!"