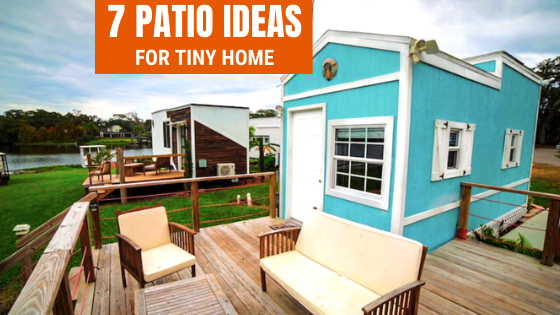 7 Great Patio Ideas That'll Go Perfectly With Your Tiny House
Want a beautiful patio for your tiny home? Then read on to discover the best tiny patio ideas to make the most of your outdoor space here.
There's no denying that tiny houses are in right now. The demand just keeps growing!
With more than 10,000 now spread out across the U.S., more people are choosing to downsize and move into a tiny, trendy home with every passing year.
But while downsizing is great in theory, moving from a traditional home to such a tiny space can still be a challenge. One great way to ease the transition is to make the most of any outdoor space you do have.
Keep reading to learn a few tiny patio ideas that can help you do just that.
Add an Outdoor Living Room
With space at a premium inside of your tiny house, taking full advantage of any outdoor space you do have is essential.
One great way to maximize your space is to add a second living room—outside.
With outdoor couches, tables, chairs, and more, you create the perfect space for entertaining or just relaxing with more room to stretch out.
Check out a patio furniture store to give yourself plenty of options for comfortable couches and oversized chairs great for lounging in. Add an outdoor rug and throw pillows to make your space cozy.
Covering your space with an awning or pergola will help keep the sun and rain off of your new furniture so that you can use your space even when the weather isn't great.
If you aren't lucky enough to live somewhere that's warm year-round, you can also add outdoor heaters to extend the season that you can enjoy your outdoor living room.
Importantly, an outdoor living room is possible whether your tiny home is an ADU in a backyard or on your land. Many lots in tiny home communities could also accommodate a patio space.
Expand Your Kitchen
One of the hardest things to give up when you move into a tiny home is a big kitchen, especially for home chefs. Even if you do have some counter space, an oven, and a stove, the odds are that each of these is smaller than what you'd have in a standard house or apartment.
While it's totally workable, it could leave some wanting more options. Luckily, if you have a backyard or patio, you can easily expand your kitchen outdoors.
Adding a simple grill will make it easier to cook for friends and family or to cook things like fish that could stink up the inside of your home.
Or, take your outdoor kitchen one step further and add a pizza oven! You can even add countertop space to make preparing large meals easier.
Make Room for a Family Meal
Another luxury that many tiny homes simply don't have space for is a family dining table.
While you might have room for yourself, your spouse, and maybe your kids to sit down together for a meal, if you've been clever with your space, there likely isn't room for visitors to join you.
But if you live somewhere, that enjoys some fair weather (or your patio is covered), adding an outdoor table can solve this problem.
You can shop for outdoor tables in every shape and size to fit your space and your family so that you won't have to sacrifice holiday meals or family get-togethers in your new tiny home.
Shop for Small-Space Furniture
Don't have the luxury of a large outdoor space? You can still make the most of your tiny house patio.
Folding loungers give you a way to relax and layout in the sun, but can be easily folded up and stowed away when not in use.
If you don't have room for a large dining table, you can purchase a folding table or one with removable leaves. That way, you can fold out or expand your table when you have visitors.
If you don't need space to entertain, a small cafe table and chairs are the perfect place to enjoy your morning coffee, but won't take up much room on your deck.
Build a Deck
Regardless of how you plan to use your outdoor space, adding a new deck that is level with your home is a great way to make the most of your yard.
Having a patio, you can easily walk right out onto makes it easy to carry meals to your outdoor tables. It also helps you utilize your yard even when the ground is wet or muddy.
If you have space, adding tiers to your deck at different heights is a great way to define your space. One tier could be for your outdoor living room, complete with couches or chairs, while another could hold your outdoor kitchen or dining table.
This will help make your patio feel even more like an extension of your tiny home.
Create a Vertical Garden
Just because your tiny home's patio might be short on space doesn't mean that you have to give up having a garden.
With a simple wall or fence, you can easily create a vertical garden.
A quick online search will bring you tons of simple DIY plans for building wooden vertical planter boxes. If you aren't handy with tools and wood, you can also purchase hanging baskets or vertical planters that are easy to install and still allow plenty of space for your new garden.
Then, add herbs that you can use to cook up tasty recipes or flowers to brighten up your small space.
An Outdoor Fireplace Makes a Great Gathering Space
Even if your tiny house has a tiny gas fireplace or even woodstove to go with it, nothing beats an outdoor firepit or fireplace as the perfect gathering spot on a warm summer evening.
No matter the size of your yard or patio, adding a fire pit or an outdoor gas fireplace is a simple way to create a unique, fun space you'll love to use.
If you don't have room for lots of outdoor furniture, simple stools or benches make great seats that hold plenty of visitors and friends.
Just make sure to place your outdoor fire pit far enough away from your tiny home!
Choosing the Right Tiny Patio Ideas
Which tiny patio ideas are right for you depends entirely on your space and how you plan to use it!
If you're looking for more tips and ideas for downsizing and moving into your very own tiny home, check out the rest of our blog for more resources!
Good Tiny News Delivered Weekly!
Sign-up for our weekly newsletter featuring the latest good news, design inspiration, legal victories, and new resources to help you achieve your dreams!