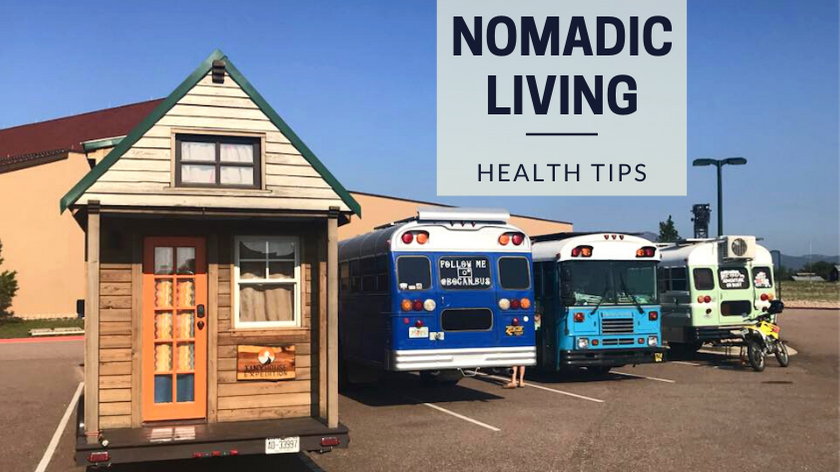 Tiny Home on Wheels – How To Stay Healthy While on the Road
Digital nomadism and tiny home on wheels living fit well together for many. But maintaining healthy habits can be tricky when on the move.
Digital nomadism has redefined the workspace and how leisure, travel, and work go together. Done right, it is a lifestyle that can significantly improve your productivity and the quality of your life.
However, it does come with its unique challenges, especially if you decide to live in a tiny house on wheels.
A few months ago, we brought you the interesting story of Alisha and Brian, who've been traveled and lived exclusively on their off-grid tiny home for over a year. The couple shared the various challenges they face while on the road - we recommend you watch their story here if you haven't.
One important bit not shown in the video is how they manage their physical and mental health side of things while living nomadically.
In today's post, we take a look at five tips that will help to ensure your new lifestyle doesn't take a toll on your health.
Create a Gym-Free Exercise Regimen
Physical exercise is one of those things that's super easy to put off when you are busy. And when you're on the road and don't have access to any equipment, there's even less motivation to work out.
However, it is a known fact that exercise improves mood, boosts energy levels, and promotes better sleep. This, in turn, keeps you healthy and increases productivity.
If you're staying in a hotel or an apartment rental, you'll likely have access to a gym or at least some dedicated space for exercising. Unfortunately, this might not always be possible when living in a tiny home on wheels. Even then, it shouldn't be an excuse not to work out.
Create a 20-30 minute body training program consisting of some cardio and bodyweight exercises like pushups, sit-ups, and squats. You can also watch video tutorials on yoga or similar activities on YouTube or your preferred subscription service.
Anything that doesn't require equipment really and can be done anywhere at any time will serve just fine. Knocking out a half-hour of exercise in the morning will leave you feeling refreshed and energized for the day.
On travel days during fuel stops, we often took short walks or did a bit of jump rope. It always felt energizing to move, before driving the next leg.



Watch Your Posture
If you spend a lot of time sitting, you may be experiencing some lower back pain. Not only do extended intervals of sitting coupled with poor posture mess up your spine, but they also increase your chances of suffering from cardiovascular issues and cancer.
When creating your workout program, be sure to include exercises that target your lower back and your core (abs).
Besides, get up after every half hour of working and do some physical activity. Walk around, stretch your body, or maybe do a couple of squats.
The idea is to work those muscles a bit.
Be Mindful of What You Eat
Sticking to a proper diet and a consistent eating routine are two common challenges you're likely to face when you're on the road. Speaking from our experience, unhealthy snacking on travel days can get out of hand. Planning ahead of time helps tremendously.
We recommend cooking your own fresh, healthy food and eating at fixed times of the day or night. It's also a great way to save money while traveling!
Be sure to include lots of vitamin-rich foods and proteins and, if you can, steer clear of frequent excessive coffee and alcoholic drinks.
Drink plenty of water and also keep your proportions reasonable. If you overeat, your post-meal crash will be much longer, and your overall productivity will reduce. At the end of the day, how healthy you feel will be determined by how you choose to fuel your body.
Your Mental Health is Equally Important
A digital nomad lifestyle can be exciting, but it can also take a toll on your state of mind. The human mind craves routine and familiarity. A lack of these two crucial aspects can severely impact the overall quality of your life.
To help you get a routine going while on the road, try sticking to a sleep schedule.
The Mayo Clinic recommends at least seven hours of sleep per night. But that's not all. You need to sleep at a fixed time each night to enjoy the maximum benefits.
We also recommend setting aside some time to meditate (or just peaceful downtime). This is a simple, inexpensive way to manage your stress and to increase your imagination and creativity.
Feeling fear of harassment or violence dramatically impacts your mental health, as unfortunately, many People of Color experience. Finding support and safety resources within the tiny living community can help in some ways.
For instance, Diversify Vanlife is a social media group that aims to create "a safe space for people of color & underrepresented individuals in the vanlife community". It was founded by Noami of @irietoaurora.
The Tiny House Trailblazers do similar work, as well.
Have Fun
They say all work and no play makes Jack a dull boy. You're a digital nomad with an enviable lifestyle that gives you unique opportunities to travel the world and earn a living while at it. Explore the new environment by visiting popular attractions, sampling its nightlife, and meeting new people.
Side note, we recommend Penny Hoarder's work-from-home job listings for opportunities to make money online while traveling.
Conclusion
Self-care is crucial if you want to sustain your health and productivity when leading a digital nomad lifestyle. Keep fit, eat healthily, and make sure to get enough rest.
How do you keep healthy when traveling in your tiny home? We'd love to hear your feedback in the comments below.