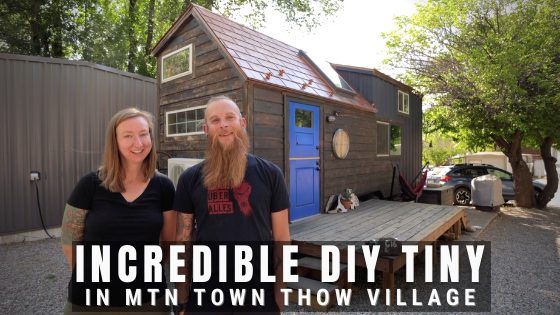 Couple's 26.5′ DIY Tiny House in Dreamy Tiny Home Community
Their DIY Tiny House Helped Them Move to Dream Mountain Town & Tiny Home Community
Meet Erika and Ray, a rad couple who built an exceptional DIY tiny house in the Denver area. They did it over a few years, mostly paying for paycheck-to-paycheck and through a small personal loan. In the end, it cost about $50,000. Impressively, it's now all paid off!
Their handmade home's financial freedom and mobility allowed them to move to their dream mountain town, Durango, Colorado. And they scored a lot near downtown at Tiny Town, part of the enchanting Island Cove mobile & tiny home park.
Being legally parked in a tiny home community is a significant relief for them. Their first parking spot was under the radar. While the neighbors didn't have a problem with them, the risk of the dreaded knock on the door from code enforcement still existed.
In addition to the added security, lot rent at Island Cove is pretty affordable at around $500-$750. Renting a studio apartment in downtown Durango, on the other hand, goes for $1650!
Monthly rent also gives them access to all the amenities of the tiny home community, including on-site laundry, a community garden, and a private island! Erika and Ray love spending time on the island, hanging out by or in the river. Daily, Ray goes fly fishing out there to decompress after a day of work at a local brewery.
Inside Their 26.5 ft DIY Tiny House
Erika and Ray's DIY tiny house is called Das Kleine Haus, which is German for "The Little House".  It's 26.5 feet long with 290 square feet. And thanks to it's light-weight steel framing, sourced from Volkstrukt, it only weighs about 14,000 pounds. For comparison, our 20-foot stick-built tiny house on wheels weighs 10,000 pounds.
Their tiny home features a salt box roof—gable roof with asymmetrical planes, one long and one short side. This provides an intriquing look and spacious feeling inside. Combined with the skylight in the living room, they enjoy lots of light. Importantly, this helps them not feel couped up on snowy days.
Further, the planned their entire build on windows the found at salvage yard and recylced building material stores. Their kitchen features an epic window that is perfectly situated above their counter and sink.
Another real hero of Erika and Ray's DIY tiny house is impressive amounts of pratical, easy-to-access storage. For example, they have a mechanical room on the back of the home that also serves as tool shed. They can access inside through a door in their bathroom, which is handy if they ever need to grab their fire extinguisher or just extra toliet paper.
"Being of the Millenial generation and knowing we would never be able to afford a (traditional) home, we like the idea of having something small that we would eventually own, and we do. And just not have all that excess space. Excess is kind of a theme in our American culture.

We have everything we want, and need inside this house, or underneath the house, or hanging off the house. But it's all right here! And we don't have the room you just throw all your junk in. It's kind of perfect for us.

And being on wheels is good too. I mean, we like being able to take our home wherever we go."

—Erika, Das Kleine Haus
Watch the tour above for incredible tiny house design ideas!
Also, follow Erika & Ray's tiny home life on Instagram: @das_kleine_haus
Have you ordered our book yet?
Learn the history of the modern movement, get a breakdown of tiny home styles, and meet the passionate tiny community. The Beginner's Guide to Tiny Houses also discusses the pros and cons of micro-living―is a tiny house right for you, right now?
What people are saying:
"Most books about tiny homes are really just about the fantasy, with beautiful pictures in far-off places, but they don't tell you how to get from point A to point B. That's where this book comes in and fills in all the gaps!"