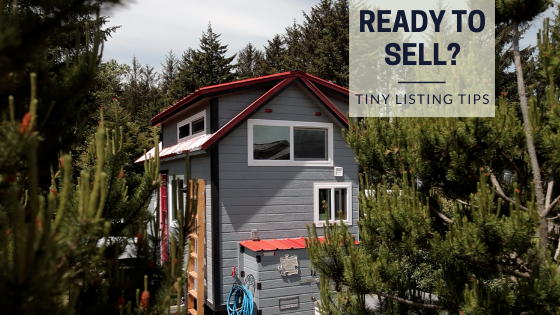 How to Sell Your Tiny House Fast
Looking for guidance on how to sell your tiny house?
In recent years, there has been a definite trend amongst a significant number of house buyers that 'less is more and more people are now embracing a minimalistic way of life incorporating a smaller environmental footprint.
A tiny house is defined as a dwelling with a floor area of 400 square feet or less (37 square meters), or sometimes as much as 600 sqft for a foundation-based tiny home.
Tiny houses can be harder to sell, and a different approach is needed to increase the chances of selling yours quickly and at a reasonable price. Before you put your tiny house on the market, it is well worth doing your homework about property prices in your area and on tiny house listings sites. It is also good to ensure that all the paperwork is in order, just in case you do sell quickly.
All this takes time and effort but will make a big difference. If time is not on your side and you don't want the hassle of trying to sell your tiny house with countless viewings, check out some we buy any house reviews as selling your tiny home for cash could be a desirable option.
Here are our tips for how to sell your tiny house:
1) Establish your price
This is your most important step, and it requires good research. If your price is too high, your tiny house will stick on the market for countless weeks or months. If your price is too low, you may not get what it's worth and could spend extra time waiting for a buyer who might think the low price means something is wrong with it.
For foundation-based tiny houses, study your local market well to get an idea of prices and ask the advice of a local real estate agent who specializes in unique properties. On the other hand, for tiny houses on wheels, review specialized listing sites to compare how much similar size homes are going for. Pay special attention to the level of customization and what's included with the list price, like appliances, towing expenses, or a parking spot.
For sale tiny house sites:
2) Prepare your tiny house for the market
Before you put your tiny home on the market, you will need to get photographs and a virtual tour prepared. In anticipation of these, clean your house thoroughly from top to bottom. Tackle any outstanding DIY projects and clear clutter from every room. You want your tiny house to look attractive and as spacious as possible. Outside check that the paintwork or siding is good and that the outdoor space is tidy and cute with plenty of 'curb appeal.
Additionally, get all the important paperwork together. For a tiny house on wheels, this includes certification documentation, title, and registration.
3) Let photos tell the story
If you are preparing an ad for your home, ensure that the text is brief but comprehensive and supported by plenty of quality photographs. Prospective house buyers want to see all the rooms in your tiny house, as well as its top features and all exterior angles. Good photographs are a powerful selling tool. The photographs will be good enough quality if taken with a modern mobile, but think carefully about each photo's composition to ensure that it does your tiny home justice!
If you feel unable to take the photographs, invest in a professional photographer. They are not as expensive as you think, and the pictures will be creatively taken to maximize all the good points of your tiny house.
4) Create a virtual tour of your tiny house
Most potential buyers assess homes for sale via the internet, studying photos, descriptions, and videos. A quality video tour of your tiny house is well worth doing to show its unique character. Make sure you include views of all the storage space so that potential buyers who are thinking of downsizing can get a good idea of how your tiny house could work for them. Seeing your home in action can help push a potential buyer to make an offer.
5) List your house with a specialist company
It is best to list your home with a company specializing in tiny houses such as Tiny House Marketplace. Listing your property on a specialist website will be beneficial as it will be reaching the target audience in this niche market. Before you sign up to any of these sites, check that you fully understand the details and the expenses you will incur. For example, some websites charge per email response from prospective buyers. On the upside, the top tiny home listing sites offer a financing option for qualifying buyers—see the list above.
Advertising your property online will certainly increase your customer reach – even appealing to buyers across multiple countries. It is also well worth reaching out to other tiny house owners and bloggers through various social media pages & groups to spread the word that your property is for sale. Your home will definitely appeal to a tiny house fan.
How to Sell Your Tiny House Quickly Sum-Up
If you do not have the time or energy to sell your tiny house, as we mentioned earlier, there is another option open to you: to sell your tiny house for cash to a 'we buy any house' company. Indeed, these companies usually offer you 85- 90% of the market value of your property, but a reputable one will do it with no time delay, no hidden costs, and in cash – which is something that appeals to an increasing number of sellers. If you sell your tiny house to one of these companies, be sure to check their 'we buy any house reviews' to ensure they are a legitimate company and if they're interested in mobile and fixed tiny homes.
Selling a tiny house can certainly be a challenge as it will only appeal to a niche market. However, factors like the US housing shortage and the expense of traditional homes make them more appealing than ever.
Our tips will definitely help you to make your tiny house as attractive to potential buyers as possible and sell at a good price. We also give you an easy selling option to consider too.
Have you ordered our book yet?
Learn the history of the modern movement, get a breakdown of tiny home styles, and meet the passionate tiny community. The Beginner's Guide to Tiny Houses also discusses the pros and cons of micro-living―is a tiny house right for you, right now?
What people are saying:
"Most books about tiny homes are really just about the fantasy, with beautiful pictures in far-off places, but they don't tell you how to get from point A to point B. That's where this book comes in and fills in all the gaps!"