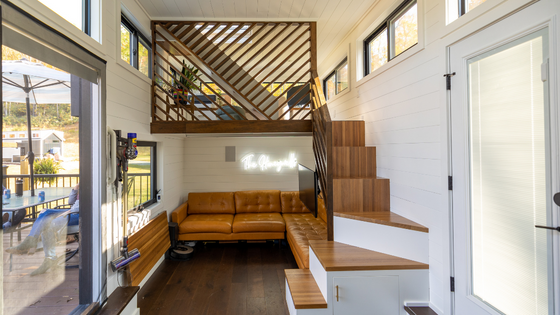 Couple's Stunning 40-ft Gooseneck Tiny House
Meet Leo and Shannon, newlyweds living in a gorgeous custom 40-ft gooseneck tiny house built by Liberation Tiny Homes. Gaining financial independence was their primary motivator when choosing to go this route. They drastically lowered their monthly expenses by leaving NYC to move to a semi-rural tiny home community in North Carolina. Ironically, their old big city apartment had the same 40-ft by 10-ft footprint.
"When we were living in Queens, our rent was over $2,000 a month. When we moved into Brooklyn, we got lucky because we had a rent-controlled apartment. It was $1,650, which is really good for the Bushwick area. And we were further able to reduce our rent by moving into Acony Bell. We own our home. And our land rent is $600 a month. So the only things we really worry about aside from that is propane, which is really inexpensive, plus electric and internet.

We've been able to really downsize our expenses. So I like to view it as giving ourselves a mini raise or a large raise. One of the biggest motivators for us in going tiny, aside from staying with downsized living, was to be able to use it as a vehicle for financial independence. So we're able to really save for our future and think about what we want to do as we grow old together."

-Shannon & Leo, @apextinyhouse
Inside their Stunning 40-ft Gooseneck Tiny House
Leo and Shannon's 40-ft gooseneck tiny house on wheels feels anything but small. Their outdoor areas triple their overall living space. This includes a pergola-covered patio, a sizable deck in front of the home, and a huge rooftop deck with dreamy views of the Acony Bell village and the Pisgah National Forest. Further, they have an accordion-style glass front door. When open, it seamlessly connects the indoor and outdoor areas.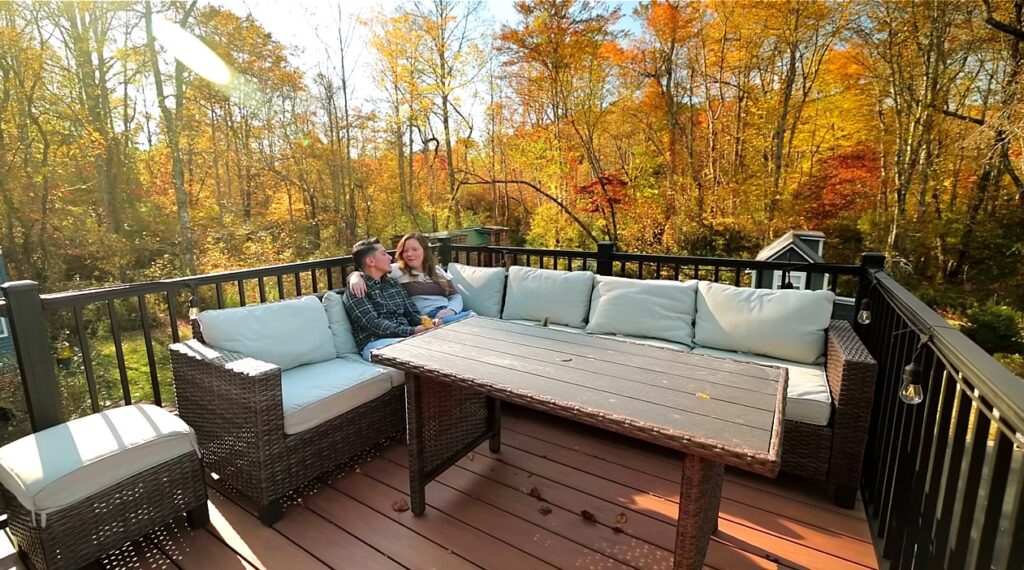 Their tiny house interior feels extra spacious thanks to the 10-foot width, high ceilings, and large open area. Because of this, Leo and Shannon are able to make great use of their living room. For example, their couch is 10 feet wide by 7 feet long and can fit about six people. They came up with a smart solution for the TV. It's mounted on a long track to move from one end of the sofa to the other, and it swivels 360 degrees.
Shannon enjoys a comfy clever home office in a loft above the couch. She can sit on a regular chair cut down, so her legs go down into a space cutout in the bump out on the end of the house. Her feet don't dangle but instead, rest on a flat surface. Basically, Shannon can normally sit while working at the computer.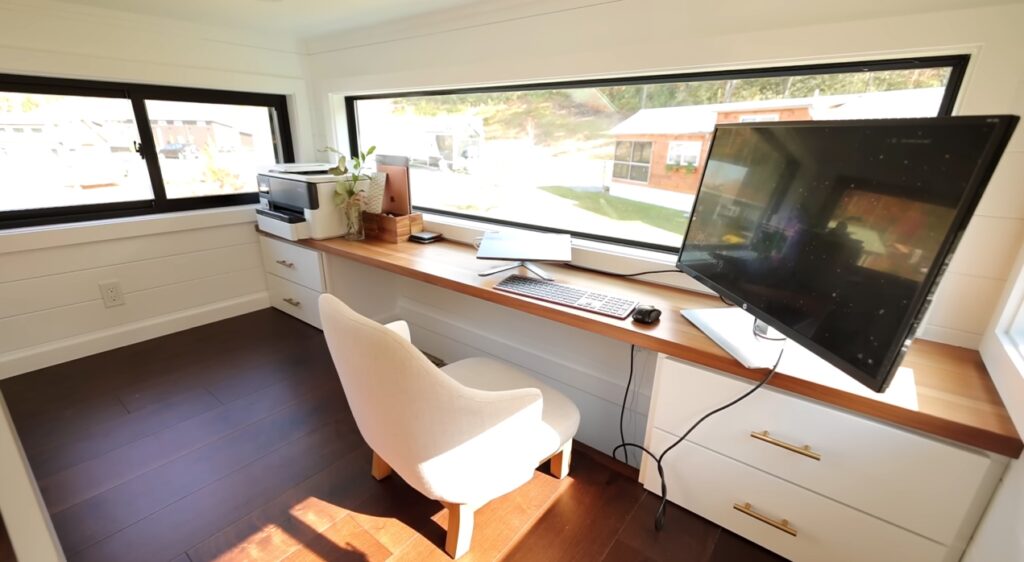 Their bathroom is absolutely luxurious for a tiny home. It's also laid out in a practical way for a "railroad-style" layout. The space is divided up. A "toilet closet" with a closing door allows for privacy while someone walks through the bathroom to get to the bedroom or is getting ready at the vanity.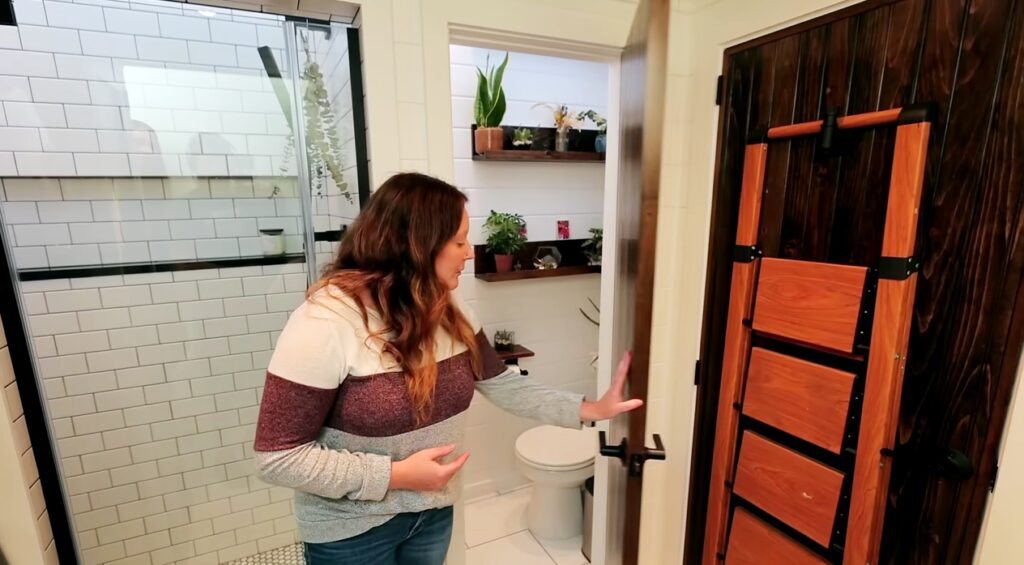 That tiny space has a lot of natural lighting due to high ceilings and upper windows. Similarly, their beautifully tiled shower has an extra tall ceiling height. It features a waterfall shower, a large skylight, and a bench so Shannon can drink tea in the shower. Additionally, their bathroom has a stackable washer/dryer with a folding table on top of the pull-out closet.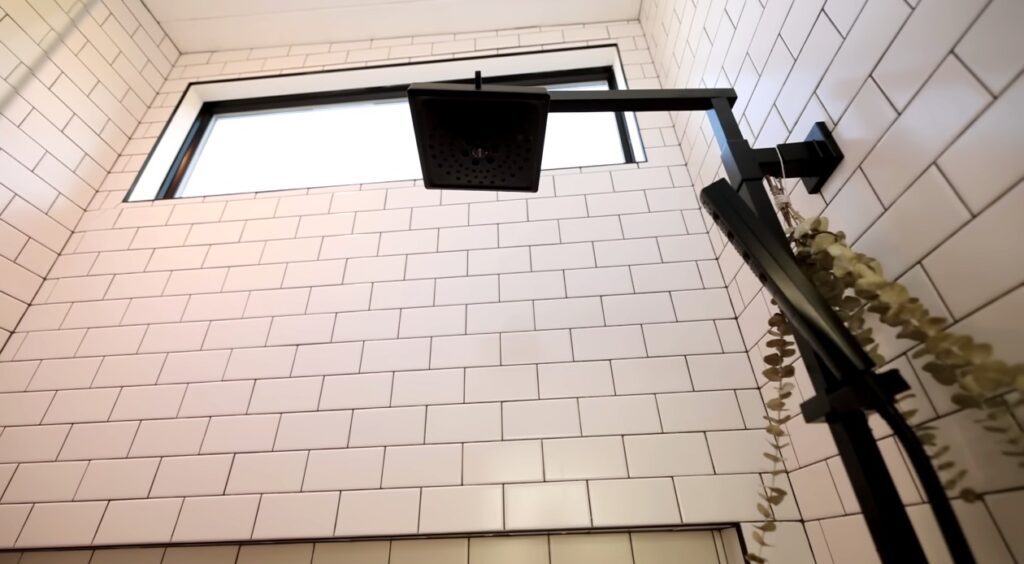 Their standing-height bedroom is up just a few stairs. Like the bathroom, the windows are placed close to the ceiling to provide much natural light while maintaining privacy. A small loft above the central bathroom area ceiling can be accessed on one side of the room. For now, this is used for their dogs, but in the future, Leo and Shannon plan to use it as a nursery.
Cost & Financing of their 40-ft Gooseneck Tiny House
Leo and Shannon commissioned a fully custom build from Liberation Tiny Homes. They purchased their appliances separately via Black Friday sales to save a little money. With everything included, their house cost between $158,000-$160,000.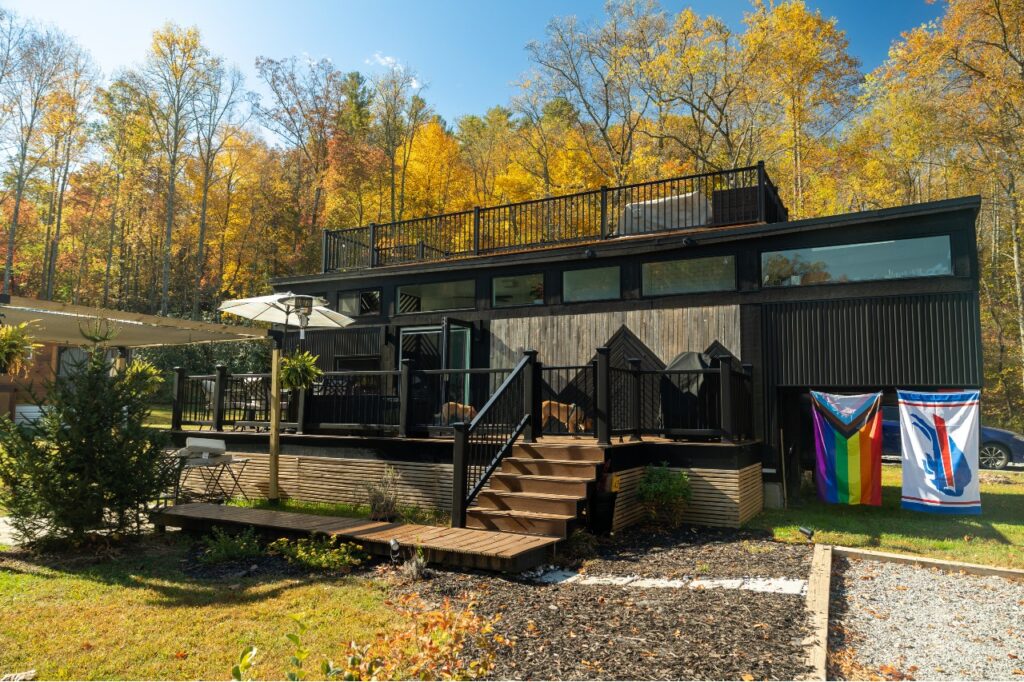 "We were pretty fortunate in the way that we were able to finance our home. When it came down to the options of paying for the house, we had already been saving a good chunk of money for it. And we were evaluating whether we were going to do a loan for the difference. But what ended up happening was that because we were in the time period with the pandemic, I was part of a mass layoff with the company that I was working with.

There ended up actually being a 401(k) policy that came out because of the pandemic, which allowed people to pull money from their 401(k) without having a penalty for pulling it early. And with that, you're able to pay it back over the course of three years. So what I ended up doing was deciding to borrow for myself so I'd be able to invest back into myself afterward. We own the home, and we're just paying for the land that it's on."

-Shannon, @apextinyhouse
Watch the tour to see more of their stunning 40-ft tiny house!