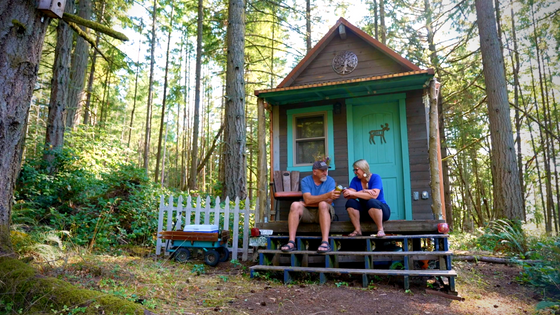 She built a cute $40k Tiny House – parked on an Island!
Meet Jillian; she built a $40k tiny house with help of friends in the Colorado mountains. Then she took her cute creative DIY home on a road trip to Washington. After a couple of different parking spots and falling in love, Jillian towed it to a remote island. Now her THOW is their off-grid retreat, and hubby Ken is building a man-cave shed house.
"When Ken and I decided to move in together, it kind of tore at my heartstrings because I loved my tiny house, and I didn't want to leave it. But he's also 6 foot 2, and there's no way we could live in here together. I'm not one of those people that could share this space so easily. And it was, again, one of those weird things.

He had this property on this island, and he's always wanted to build a tiny house. And I was looking for property, and I had a tiny house. And I was like, well, if we move in together, why don't we move the tiny house onto the island property? And it just worked out really beautifully.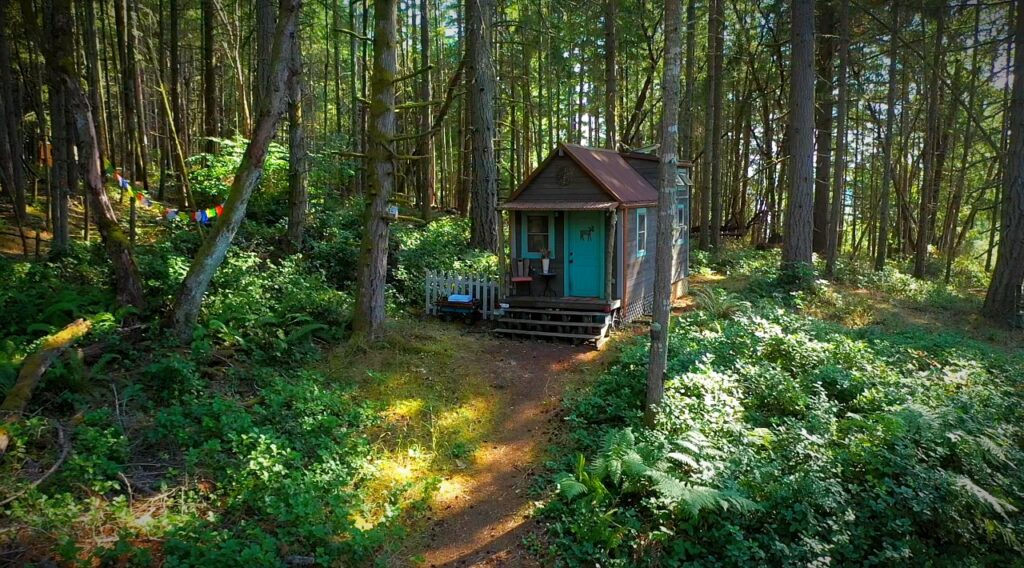 Getting it to this property, we had to put it on a ferry. And that was pretty unique to put a tiny house on a ferry. I loved seeing it. People were really excited about it. But then we had some challenges. We were coming down the hill and the truck kind of skid out on some mud and hit a tree. And we had to hitch and unhitch and re-hitch four different times to get it to this particular spot because there's so many tight angles. This is where it's going to be forever.

We've got a camping permit through the county, and so we're allowed to camp here 120 days a year.

I love coming to the island because I love coming to the tiny house. Because every time, it feels like I truly am coming home. God, you're going to make me cry because this place has so many memories from not just living in it, but how special I can look at one little thing and it takes me back to the building process. And I think of the friend who helped me with that particular idea or the person that helped get me out of trouble by coming up with another way to do something, because more than one idea, it turns out, is a better way to go."

-Jillian, @chillinwitjillin
Inside Her $40k Tiny House
Jillian's "Greener Grass" tiny house on wheels is 160 square feet or 240 with the sleeping loft. She built it with many recycled materials, giving it character-rich charm. For example, the sliding bathroom door uses reclaimed barn wood. A few contrasting pieces came from an old fence around her childhood home.
Over the years of living in her tiny home, Jillian upgraded the interior to make it work better for her needs. She originally installed a tiny bar sink in the kitchen. After being frustrated with the limited dishwashing space, Jillian upgraded to a more oversized single-basin sink. She scored it for $15 from an antique store.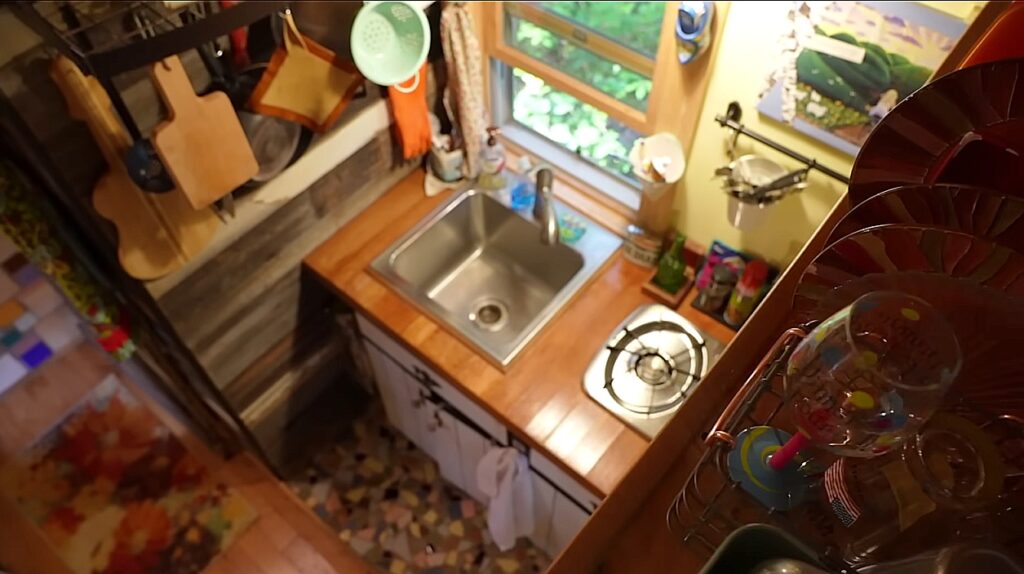 The refrigerator will be the next upgrade. Jillian loves the current bright red vintage-style fridge but plans to transition to a propane fridge. This is because of the heavily wooded off-grid island location.
Jillian built a clever and efficient storage area under the stairs. She has a two-tier closet with hanging space and a dresser underneath. A beaded curtain delightfully disguises the entire area. Additionally, she fit in a full-length mirror and more drawer storage.
Financing Her $40k Tiny House
During the research stage of building her tiny house, Jillian found the budget piece difficult. Because of the kinds of materials people use and the amount of labor you pay for, create a sizable THOW price range.
Ultimately, she took out a personal loan for $30,000. Jillian put the extra $10,000 on credit cards. While it was more than she had anticipated, the cost for a professional to build it for her would have come to more than double. Labor is expensive! More than that, many builders don't want to use recycled materials for various reasons.
"I have officially paid off my tiny house, which is a huge weight off my shoulders. I feel like it's just such an accomplishment because finances are, I think, a huge stressor for everybody, and that was part of the whole idea of building the tiny house is having more money for life."

-Jillian, @chillinwitjillin
Watch the tour to see all of her cute $40k tiny house!