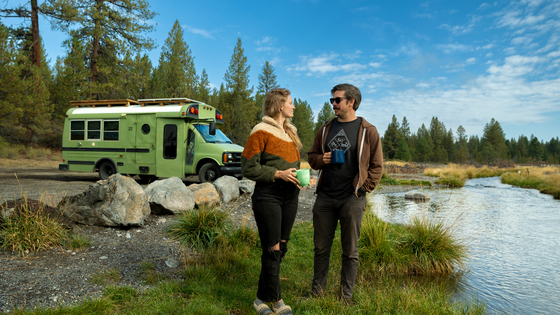 Creating a Tiny Kitchen Cookbook & Art in a DIY Skoolie
Meet Andy and Ayana, an engaged couple living in a DIY skoolie home. It's been their ticket to pursuing their passions, from art to gourmet cooking. Ayana creates custom jewelry from their multifunctional workspace. While, Andy recently created a cookbook for nomads all from their off the grid tiny kitchen!
"Well, it is certainly not the easiest environment to cook in, as I'm sure everybody would imagine. We have in there just a three-burner propane cooktop and a little bit of counter space, a tiny, tiny sink. So there is a lot of adversity to overcome in cooking really well. But it's been a really fun challenge to learn how to cook really nice meals in a small space with a simple setup.

In July, I published my first cookbook, The Buslife Kitchen, which features 107 recipes from 15 different cuisines, all of which are developed in our kitchen. So they're perfect for cooking in a tiny kitchen, all developed for the stovetop. There's a whole section about baking on the stovetop, which is really handy if you live in a little space like ours where you can't afford an oven.

...

Andy has always been really good at bringing people together with his food. So having our first Thanksgiving on the road in Joshua Tree with a few other nomads that we had met, and Andy's roasting a turkey and baking a pumpkin pie and all of this on our tiny stove in our tiny kitchen. It's a cool way to share your gifts and also bring people together."

-Andy & Ayana, @the.buslife.kitchen & @letsliveeverywhere
Andy and Ayana live in a 2001 Chevy Express van front/mid-bus. It comes to about 90 square feet in total. The Buslife Kitchen cookbook was developed, written, and photographed, all from their extra tiny short bus skoolie. They have very little counter space, a three-burner propane stove, a small under-the-counter fridge, and an itty-bitty sink.
A larger sink is one thing they would definitely do in a second bus build. Also, they'd move their stovetop further away from their Dometic refrigerator. The heat from cooking causes it and their solar system to work harder. This is not good for the lifespan of either.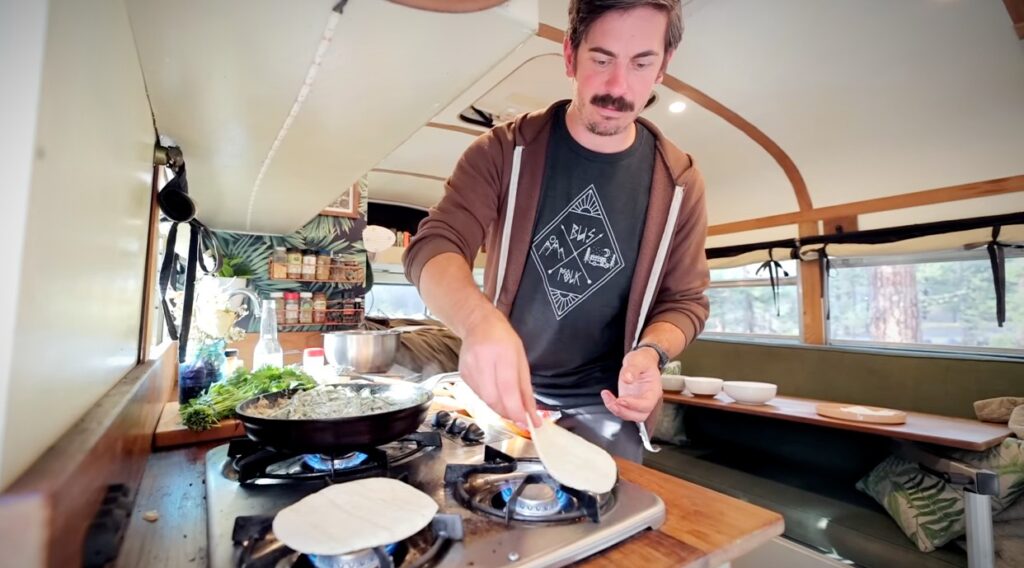 Fortunately, AJ can use a lagoon-mounted table over their sofa for additional workspace. Ayana also utilizes this area for her jewelry work. All of her supplies get stowed away under their built-in couch. Additionally, the tabletop is stored in a long drawer under their bed. Through their skoolie is a wide-variety of storage solutions from deep drawers under the woodstove to coat closet organization system behind their side door.
With such a tiny skoolie, fitting in a full bathroom is a challenge. Andy and Ayana chose to go with a Nature's Head composting toilet that lives underneath the bed on a heavy-duty slide. They shower mostly at Planet Fitness. Though, they sometimes take an outdoor shower. They use a small rechargeable USB shower head. It pumps boiled water from a bucket.
Watch the tour above to see how they make delicious meals & art in their DIY skoolie!