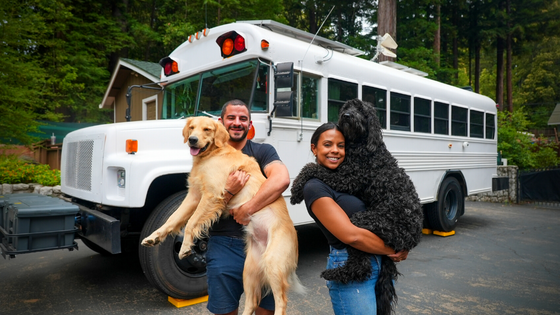 Digital Nomad's Off Grid Bus Conversion Tiny Home
Meet Britt and Justin, who turned a 30-foot school bus into a cozy tiny home to make the most of their time as digital nomads. High diesel prices slowed their nomadic travels a bit. Fortunately, slow living is one of their life goals.
"Even though we're working quite a bit (remotely), the fact that we're in a different place pretty much weekly and we're able to walk outside on our lunch break or so and just see the views or even work outside, just the fact that our environment changes, I think it helps a lot with any type of work stress as opposed to kind of being locked into the same position or being at the office.
…
But yeah, to your point, there are so many people that have saved up and taken time off work or work random jobs, which we also think is super cool, and we kind of envy them. So there's so many people from so many different walks of life living this lifestyle, and it's really cool to see how everyone makes it work for them."

-Britt & Justin, @thegwagonbus
Inside their Off-Grid Bus Conversion
Britt and Justin bought a 2002 Blue Bird bus with a CAT 3126 six-cylinder motor and around 200 horsepower. With the back deck and the front rack, it comes about 35 feet long. They paid $4,500 for the vehicle itself and then put between $25,000-$30,000 into the build.
Their off grid bus conversion tiny home includes 1,200 watts of solar mounted on top, which runs on a 24-volt system. It's composed of six 200-watt panels on the roof. Then they have an MMPT charge controller, 600 amp hours of 12-volt lithium batteries, plus a 3,000-watt inverter. This robust solar system means they're able to run everything very smoothly. They've even been able to run an 8,000 BTU air conditioner! Overnight, they maybe get down to 70%, but it's back up to 100% by 1 pm the next day, so-- even if it's gray outside, they still average around 500 watts of solar input.
See the full tour of their rad off grid bus conversion above!