Tiny House Events
Stay informed about upcoming events all over the US & the world!
Tiny Home Festivals, Film Screenings,  Advocacy Meetings, Workshops & MORE

Skooliepalooza 2021
February 1, 2021

-

February 10, 2021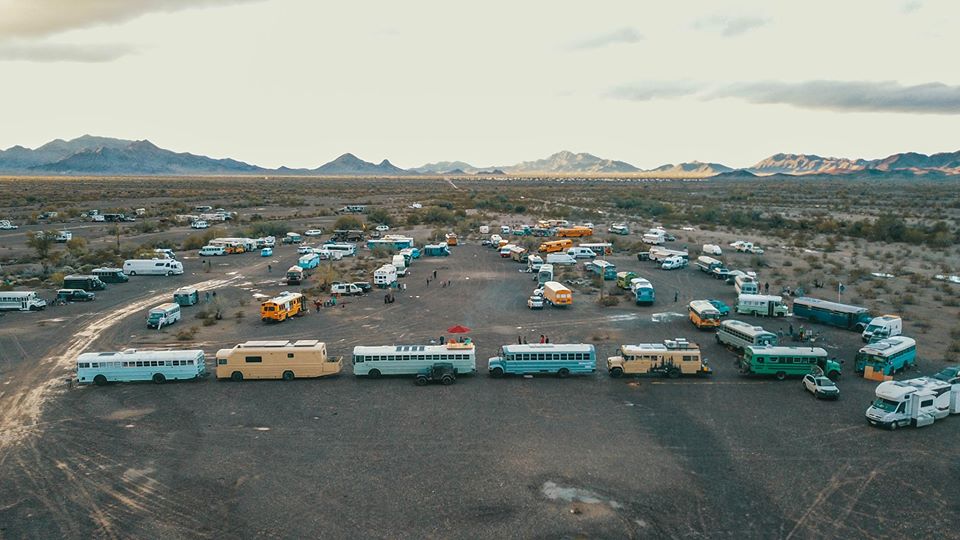 Come park your rig in the beautiful southwest desert for the 5th annual Skooliepalooza™ school bus conversion, winter camping, and community-building event!
Meet other conversion owners, or just come to see what others have done in their own builds as ideas for your own future conversion. Van dwellers and tenters welcome! It's family-friendly too.
Join for a week-long community event with a wide variety of activities, from an organized desert hike, star gazing, to bus transmission maintenance, crafts, and potlucks.
"For the most part, Skooliepalooza is and always will be an organic event of-and-by the community. This year will be no different except that Skooliepalooza is postponing all official organized events like potlucks, dances, seminars or socials at the winter gathering; per the State of Arizona and BLM recommendations.
It would be irresponsible at this time for close quarter events like potlucks or seminars where prolonged contact with those outside your own direct family or group may occur.
Yes, Skooliepalooza® 2021 is on BLM land and many of you have traveled specifically to gather in the desert, we get that and only you know what is or isn't acceptable risk for you and your family.

That said, if you are still planning on camping at Skooliepalooza this year we hope you will do it by being careful, and respectful of others and the community; not just our Skooliepalooza community; but those you pass through like Ehrenberg, Blythe and Quartzsite. We have seen posts and comments recently that imply that maskers, or anti-maskers may not be welcome in their camp or on their bus. Stop it! This is not what community is about. If you feel that you cannot keep politically-charged viewpoints separate then you are asked not to camp. No one should be made to feel uncomfortable or unsafe attending or visiting a fellow camp, period.

Should you elect to host guests and visitors at your own camp please, use common sense and respect the guidelines laid out. This includes wearing a mask, practicing social distancing where possible, washing your hands and sanitizing frequently. It is up to the community to act responsibly during the on-going pandemic and use best-guidelines for the safety of yourselves and others in the community.

We also ask everyone to remember to adhere to all local, state and BLM regulations which include pack it in, pack it out and leave no-trace. The future of Skooliepalooza events rests on the entire community being responsible stewards as they have shown themselves to be every year thus far.

Now, the good news! We are excited to announce a regional Skooliepalooza event to be held next September in beautiful Northern Nevada where we hope to again offer structured activities, seminars and community building opportunities, plus, exciting new events like a mini bus-rodeo and bus-Olympics (more details to follow).
Suggestions or questions may be directed to the volunteer organizers by e-mail:

[email protected]

"