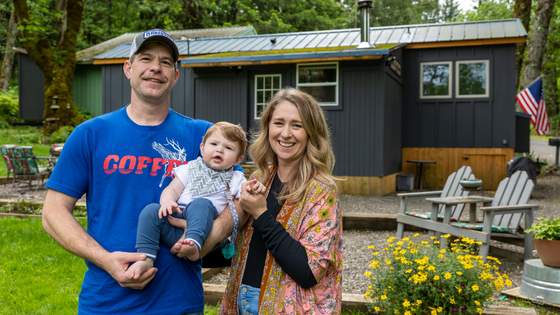 Family Builds Beautiful Not-So TINY HOUSE
Meet the Hedricks, a family who built a beautiful not-so tiny house. It's 365 square feet plus a freestanding utility room, nestled on an enchanting wooded property. Fortunately, as their family has grown, they have been able to adapt the space to meet their changing needs. Because of that and the low cost of living, their tiny home has been the ticket to fulfilling a simple living lifestyle and affordable homeownership.
"The thing about it for me is just having a simpler life. I feel like Our lives are so busy. There are some many things to think about, and so many things to pay for and to do, and responsibilities.

This is ours, it's simple, and I love it.

The nice thing about a small space is you have to talk to each other a lot because you're constantly passing by each other. There's no getting away from one another, and I'm sometimes a reclusive. I like my alone time which I don't get anymore (because of their new baby). It's good to do new things.

It's true; love grows best in little houses."

-Jen and Dan Hedrick, @theknotsotinyhouse
Inside their Not-So Tiny House
Their not-so tiny house is 10-foot wide by 36-foot long. Dan got a great deal on an old office on wheels. Together, they deconstructed it, fixed up the trailer, and built their single-level home on top. Before it was complete, they lived in a fifth-wheel RV and built a freestanding utility room. It's now placed next to their THOW. Jen shares that as outdoor horse-loving people, it makes tiny living truly doable for her because of how it acts as a laundry/mud room and extra storage space.
When their tiny home was complete, Dan's teenage son moved back in with them after living with his mom. Their living room became his bedroom but then they found out they were expecting. So, father & son built a comfy detached bedroom on wheels. Then, they reworked their tiny house to make room for their new darling addition to the family.
Follow their simple tiny home life on Instagram: @theknotsotinyhouse
Watch the tour to learn more about how their tiny house has evolved!
Thanks to our video sponsor, HelloFresh!
Use code TINYHOUSE16 for up to 16 FREE MEALS + 3 Surprise Gifts across 6 HelloFresh boxes, plus free shipping: https://bit.ly/3zmw5KU