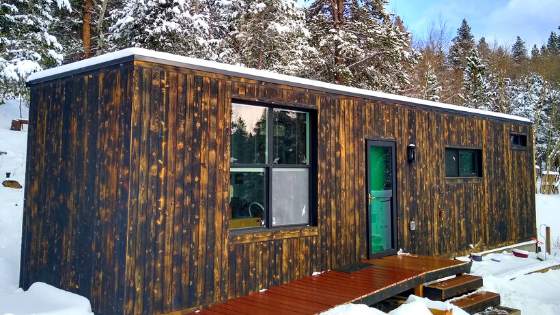 Her Permitted Container Home on Land
A Dream Come True! Jen's Mountain Tiny Home
Meet Jen, living her dream in a permitted container home in the Colorado mountains. It all began with a massive amount of research. Notably, she found a county open to nontraditional housing types and exceptionally helpful during the land development process. The pandemic, unfortunately, made completing everything a challenge. But Jen prevailed and is thrilled to be living tiny legally on her property with incredible views!
"We have a certificate of occupancy that I got in June of 2020. It was not too difficult. Part of my process in my research in finding property was also doing research on building departments and what they did allow and didn't allow.

There are a lot of counties in Colorado that shy away from unique builds like this; being a container is a big deal, and a lot of them are very afraid of that. Gilpin County was not.

They were very welcoming and open to building with anything as long as you build with the wind and snow load minimums, which are really huge. Being at this elevation it's a big deal. You got to make the house sturdy enough to withstand the elements up here.

My engineers, architects, and the builder were all responsible for that. They met and exceeded all of those minimums on this house."

-Jen, @r3cubedhome
Inside Her Permitted Container Home on Land
Jen's tiny house is built using a 40-foot shipping container. In total, her container home has about 320 square feet of primarily open living space. She minimized the use of interior walls to create an airy, spacious feel. So, the only separate room is the bathroom.
Additionally, the exterior was insulated instead to maintain the industrial look of the container inside the house. Jen did paint her interior white. Then, she re-painted the container serial numbers as an accent and reminder of its past use.
Her closet space is built into her raised bed. It sits on a platform, so there's room beneath for storage. Jen's kitchen also features much space-efficient storage with the help of Ikea—a small space design go-to resource!
Follow Jen's tiny container home life in the mountains on Facebook, Instagram, and YouTube.
Watch the tour of her permitted container home above to see more!
Thanks to our video sponsor, Switchcraft! ​ Download the game for free here.