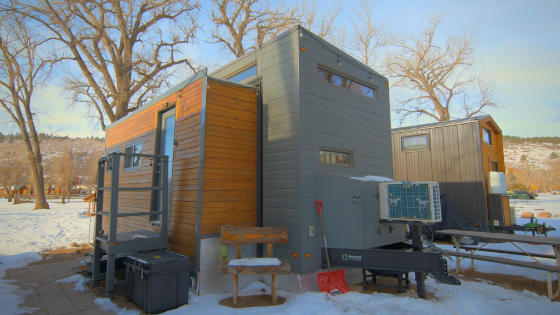 Her Spacious Tiny House EXPANDS to 15-ft Wide
Expanding Tiny Home with a Downstairs Bedroom
Meet Lindsay, an archaeologist who loves her unique spacious tiny house. It's the kind of small space living that doesn't require any comfort or storage compromises. Notably, the best part for Lindsay is it helps her meet her lifestyle goals. And helps her cat Tubby live her best life!
"Some of my top lifestyle goals are not to be constrained by one location. Living in a typical house, if you want to move, you have to pack up the whole house, sell it or find renters, or find a new place to rent. With tiny living, I can just pack up the breakables, find somebody to haul my house and just move it to a new location.

I think the most rewarding part of about tiny living is that I can afford to live on my own. I don't have to have roommates despite living in a place that has a pretty high cost of living."

-Lindsay, @ermalerma & @tubby_the_tinyhousecat
Inside Her Expanding Spacious Tiny House
Lindsay's spacious tiny house is thanks to her two slide-outs, expanding in from 8.5-feet to 15-feet wide. As a result, there's ample space for a separate ground floor bedroom and living room. ZeroSquared is the Canadian-based builder behind this unique layout. Lindsay's home is their Aurora model.
Her tiny house on wheels is chock full of storage, a functional ergonomic home office, and a roomy kitchen that's bigger than many in traditional homes. Also, Lindsay's bedroom features a Murphy bed that creates additional floor space for activities like yoga. Overall, she has so much available space that her belongings definitely do not fill up her house. That means there's room to evolve over time.
Watch the tour above for more of her spacious tiny house!
Follow Lindsay and Tubby the cat's tiny house life: @ermalerma & @tubby_the_tinyhousecat

Thanks to our video sponsor, Omaze!
For your chance to win a Tiny Home AND support a great cause go to https://www.omaze.com/tinyhouseexpedition.
Our NEW Tiny House Book!
"Alexis and Christian are great people and when they write a book about tiny houses, you can have confidence that it will be jam-packed with valuable information. This book delivers all the info you could possibly be looking for regarding tiny house living. Target for this book is someone that is feeling a bit overwhelmed and isn't sure what they need to consider as they embark on their tiny house journey. This book will provide the info they need and should help anyone in this position. Well done. Well written. 5 Stars."