How To Host a Tiny House Dinner Party
There are amazing benefits that come with living minimally in a tiny house, like the peace of mind and the beauty of simplicity that it brings!  One of the few downsides, however, is how difficult it can be to host guests with such limited space. Luckily, we have put together some tips on how you can work around the small space and host a wonderful dinner party in your tiny home.
Keep reading below to see if these tiny house dinner party tips might be right for you!
1) Eat Dinner Outside
Because of the limited space in your tiny home, it would be a good idea for you to comfortably enjoy your meal together outdoors, especially with more than a couple of guests. This is where comfortable, curated outdoor living space can double or even triple your living space. To enjoy a nice meal outside, you can simply set up a folding picnic table and chairs with some cute decorations like flowers.
If your guests are going to spend most of the time outside, then you should set up several fans and an overhead tent for shade. However, when you go outdoors during the summer, be prepared for the risk of bugs! Be sure to provide plenty of bug spray for your guests to stay comfortable. We're big fans of natural spray that's pet and environmentally friendly. You can also burn a citronella candle so your dining area will be less prone to bugs during dinner.
2) Folding Furniture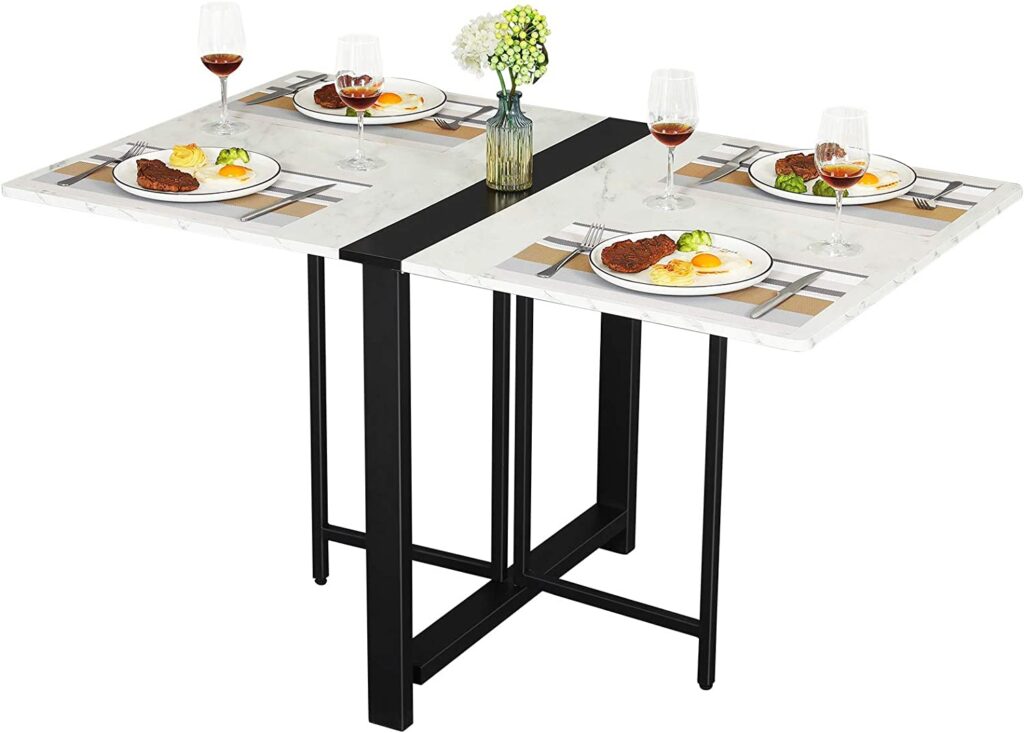 Using folding furniture in your tiny home is also a good idea if outdoor dining isn't a good option for you. Furnishing your house with foldable couches, chairs, and tables that can collapse, you can easily access significantly more floor space.
Then when you need to create more functional areas for guests, easily fold out the dining table and chairs. Once the meal is over, fold up your furniture unnecessary furniture to quickly give you more open lounge space.
3) Make Sure Your AC is Running Well
Keeping your guests cool is necessary for everyone to be comfortable during a tiny house dinner party. With a small space and many people, you risk having your home feel hotter faster, even if it's not that hot outside. For this reason, you should invest in quality air conditioning and keep up with maintenance and AC repair as needed.
4) Ensure Good Ventilation When Cooking
When you go to cook in a tiny house, you will need to be mindful of the fumes that can be produced. Keep your home's windows open to create extra ventilation and airflow throughout your kitchen when your guests are over.
Adding fans or a fume hood to your kitchen can help prevent your space from getting overly heated and smokey. Beware that these aren't all created equal. A ductless range hood filters the air and recirculates it back into the kitchen, which is less than ideal for small spaces. In contrast, ducted hood vents any fumes directly outside of your home. It creates a more clean, smoke and carbon-monoxide-free cooking space.
A tiny house indoor/outdoor living space perfect for dinner parties!
5) Try a Potluck-style Dinner Party
Another alternative that you can use is a potluck-style dinner party. You can always ask your guests to bring a dish (and maybe an extra plate and utensils!) to contribute to the meal. This type of dinner party tends to be less formal, but it can make your life significantly easier if you need to organize a meal for a group of people with limited kitchen space.
Final Thoughts on Hosting a Tiny House Dinner Party
Organizing a dinner party can be tricky! Especially when you have such little space in your home to work with.
Some extra steps are necessary for a tiny house dinner party, like running the AC, ensuring proper ventilation, and planning the use of space ahead of time. This will all help it run smoothly.
Check out the Tiny House Concierge's guest post on Hosting Guests in a Tiny Home 101 for more tips!
Have you ordered our book yet?
Learn the history of the modern movement, get a breakdown of tiny home styles, and meet the passionate tiny community. The Beginner's Guide to Tiny Houses also discusses the pros and cons of micro-living―is a tiny house right for you, right now?
What people are saying:
"Most books about tiny homes are really just about the fantasy, with beautiful pictures in far-off places, but they don't tell you how to get from point A to point B. That's where this book comes in and fills in all the gaps!"