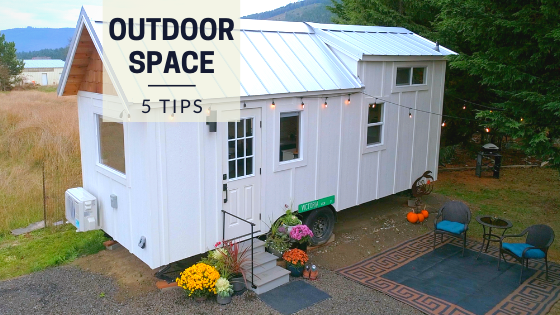 Creating the Perfect Tiny Home Outdoor Space: 5 Top Tips
Perfecting your tiny home outdoor space expands your living space in meaningful way.
The tiny house movement has taken the world by storm. It's an idea that has grown in popularity as a living solution that promotes sustainability, financial freedom, and mobility. Once you've found a permanent spot for your tiny home, you'll naturally want to find ways to make the place a little more homely. Having a tiny home doesn't mean you can't have a little outdoor oasis of your own. All you'll need is a little creativity and a well-thought-out plan. Furthermore, a garden or some sort of outdoor living space is something that can really add value to a tiny home.
Whether you are a green-fingered gardener yourself or you'd rather find a top landscaper in your area to get the job done for you, here are a few tips for creating a perfect outdoor space for your tiny home:
Consider Your Style Preferences
Before you get started creating your perfect tiny home outdoor space, you should consider your personal preferences. Are you someone driven by functionality? Are you keen to grow your vegetables, or are you looking for more of a luxury aesthetic than a shabby chic vibe?
The options are endless, but narrowing down your priorities for space and your style preferences is a good first step towards creating your outdoor dream space.
Look for Ways to Maximize Your Tiny Home Outdoor Space
Whatever aesthetic you decide to go for, your outdoor space will be an extension of your tiny home. However, the chances are your yard space won't be all that large either. It's important that you find ways to maximize space. You can do so through the strategic use of outdoor lighting or simply decluttering the area. Adding multifunctional elements like a storage bench can help create a tidy, useful outside living area.
With limited space available, you'll want to keep functionality in mind when designing your outdoor space.
Be Mindful of Moving In the Future
While you may have laid your roots, for the time being, the joy of being a tiny homeowner is the flexibility to move. With that in mind, look for gardening solutions that are conducive to moving.
Container gardens and vertical gardening solutions are both great options for the semi-nomadic tiny home dweller.
Enlist Professional Help for Your Tiny Home Outdoor Space
Although one of the joys of being a tiny homeowner is the ability to find cost-effective ways to deal with DIY home improvements, there are some advantages of hiring a professional to help you get the most out of your space. Landscape designers are trained professionals who've developed the ability to create tailored gardens that meet the client's needs. Additionally, the price might also be tiny because of the small scale of the project.
The challenges you'll face when you've got limited space to play with, making effective use of the space might be easier said than done, so hiring someone with a trained eye is likely to reap huge rewards. However, this might be better suited for a tiny homeowner with their own land.
Creating Your Ideal Tiny Home Outdoor Space
Taking the plunge to pursue the tiny home lifestyle has so many advantages. Still, those who value their personal outdoor space might feel a little apprehensive about it, considering the spatial challenges of THOW parking options as well as those posed by the prospect of traveling.
However, by taking the time to set your priorities, being mindful of your limitations, and consulting the professionals, you should find some simple yet creative gardening and landscaping solutions that fit in well with your tiny home lifestyle.
Digital Magazine Dedicated to Tiny Home Living
Do you have more time at home? Enjoy some inspirational reading from Tiny House Magazine!
Discover different types of tiny homes from liveaboard boats to Alaskan yurts, converted school buses, and more.
Try recipes from a tiny house kitchen. Each month we feature a recipe from the Tiny House Foodie. Learn to make it work and still cook like a pro.
Read excerpts from books on tiny houses, downsizing, and a host of other related topics.
Each month brings new topics and new, exciting articles!