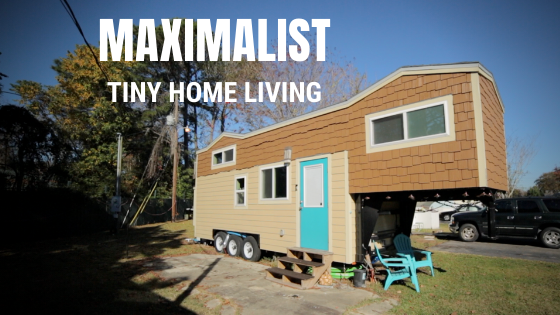 "I'm a Maximist" Tiny Houses Aren't Just for Minimalists
Do you have to be an extreme minimalist to live a tiny house? Absolutely not.
Meet Andy. He is a self-described "maximist."
He lives in a tiny house that is full of all his favorite things and hobbies, like volleyball and cooking. Everything is carefully displayed or stored, kind of like a nesting doll system. He has maximized his storage space; compromising on what brings him joy was out of the question.
For Andy, tiny living is an opportunity to create more flexibility in his life, from early retirement to more travel. It's all about freedom of choice.
His advice: soul search & do you!
Curious for a more in-depth tour of Andy's tiny house? Watch the below full tour of his 32' gooseneck tiny house on wheels, the Rover, parked in Charleston, SC. Cornerstone Tiny Homes built it. Andy's Rover features a catwalk stairwell that connects the two lofts, a large shower, and decked-out kitchen space. Perfect for trying out new, fancy recipes!
Andy's style of tiny house living isn't for everyone. That's the point; it is just right for him. The tiny house movement is an individualistic, freeing way of life centered around what's best for you.
Watch the full tour of Andy's tiny home, The Rover!
Part of the (tiny) Home Tour of America, a Tiny House Expedition and Home State Apparel collaboration.
Exclusive Content
Monthly LIVE tiny living discussions with extended Q&A, plus BONUS content, like behind-the-scenes filmmaking and tiny home life insights.
Early Access
See new videos first, get first dibs on new online courses and more!
Exclusive Giveaways & Discounts
Win tiny living festivals passes, and more!
Join today!