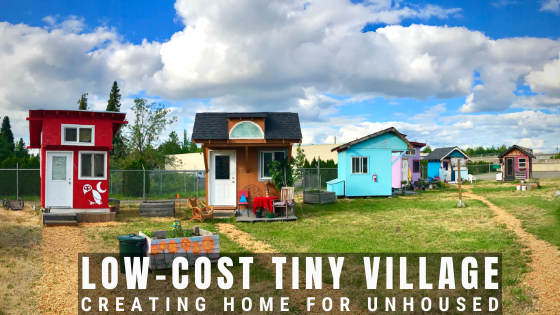 Inspiring Low-Cost, Self-Managed Tiny Home Village for Formerly Homeless
What does it take to create a more humane society that provides opportunities for stable, safe, and affordable housing?
Opportunity Village in Eugene, Oregon, is a successful transitional tiny home community for formerly homeless individuals and couples. Amazingly, it only costs $5 per night per person—perhaps the most cost-effective shelter program in the nation.
Their tiny homes, aka budget bungalows, are nestled in a village setting with shared common spaces and buildings. Supportive services are provided, but the community is self-governed by its residents. This adds to feeling ownership, as well as the long term sustainability of the program.
It began in 2013 as a pilot project on city-owned land and since has served over 100 people and counting. And now, many residents have transitioned to the permanently affordable Emerald Village, a community of tiny homes on a foundation.
Both were created by SquareOne Villages, a nonprofit that creates self-managed communities of cost-effective tiny homes for people in need of housing. They are continually developing new villages to serve various populations of low-income, in both urban and rural settings.
To learn more, support their work, and get resources to start your own community, visit:
https://squareonevillages.org.
Tour Cottage Vilage, their lastest affordable tiny home community in Cottage Grove, Oregon:
Exclusive Content
Monthly LIVE tiny living discussions with extended Q&A, plus BONUS content, like behind-the-scenes filmmaking and tiny home life insights.
Early Access
See new videos first, get first dibs on new online courses and more!
Exclusive Giveaways & Discounts
Win tiny living festivals passes, and more!
Join today!