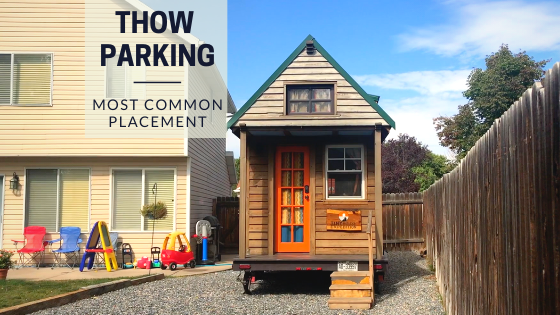 The MOST Common Tiny House Parking Spot
Backyard Tiny House Parking Creates Informal Cohousing Community
Revisiting Today's Tiny House Parking Spot, Episode 6
In this episode, we parked in my sister Nicole's backyard in northern Utah. It's a wonderful way to visit family, striking a perfect balance—enjoying our private space and fun time together, as we choose.
During our stay, we had the best time hanging out with her two little boys, Luke and Charlie, and her brand-new baby girl, Briana. We first parked at Nicole's place two years ago, for the entire winter. Back then, sweet Luke liked to shovel snow off our tiny house porch and steps.
Their backyard conveniently features a gravel RV pad—perfect for our tiny house on wheels. Though she doesn't have RV hook-ups, fortunately, we can run our entire house, including our electric oil radiator heater, off 15 amps (a standard outlet). For winterizing tips, read this blog post.
Did you know backyard parking is the most common tiny house parking arrangement?
Tiny houses in backyards act as accessory dwellings (ADUs). By that we mean, parking on a property with a primary residence is where you can find the vast majority of tiny homeowners.
It's a practical and convenient parking opportunity, closer proximity to resources while utilizing available land and existing infrastructure.
Further, backyard tiny house parking is mutually beneficial for the tiny dweller and property owner by helping to pay for and maintain the property.
This is incredibly valuable for elderly homeowners, single parents, or anyone who needs a little extra help.
Often instead of full "lot rent" payments, work/trade arrangements are negotiated. For instance, the tiny dweller may be responsible for some property maintenance duties, like shoveling snow, in exchange for rent or reduced rent.
It is essential to point out that most cities do NOT allow tiny houses on wheels in backyards. Slowly but surely, this is changing. Watch our films Living Tiny Legally to learn more, and join the Tiny Home Industry Association to support advocacy efforts.
For now, most tiny house dwellers live under the radar, at the mercy of their neighbors. One neighbor complaint can result in a code violation notice and eviction, in as little as 48 hours or up to 90 days, in some cases.
If you are uncomfortable with the risk, advocate for change through your local planning department or move to a place that allows for full-time tiny house living.
A few places with legal tiny house parking as an ADU:
California: Fresno, Los Angeles, San Jose, Santa Clara County, San Diego, Humboldt County, San Luis Obispo, and more in the works
Eagle Mountain, UT
Great Barrington and Nantucket, MA
Lyons and El Paso County, CO (unincorporated areas)
Portland, OR (per housing emergency ordinance)
Often in counties with unrestricted property (no zoning or building codes; though, with sanitation requirements)
If you are OK with taking on the risk of parking on property not zoned for THOWs, there are a few things we highly recommend. The property owner, with or without the tiny homeowner, should talk with the immediate neighbors. Let them know what you'd like to do, and find out if they have any concerns.
For instance, the founders of Going Places, a tiny cohousing community in a Portland neighborhood, reached out to their neighbors and addressed the concerns raised.
One concern was privacy, as one of two tiny houses had a window that looked into the neighbors' yard. An easy solution: placing frosted, static window clings on the window, creating visual privacy. This initial communication began a process of building strong bonds and friendships with all their surrounding neighbors.
Learn more about this backyard tiny house community here.
Importantly, if you plan on unpermitted tiny house parking, we encourage you to be what we call a Respectful Rebel. Yes, you may not be following the zoning and building code rules, but that doesn't mean you are a bad person.
Fun fact: NOT fully code compliant households are relatively common among traditional homeowners—adding power to a shed, renovating a bathroom, or building an addition without proper permits or going against local regulations.
Though as a rule-bender, you MUST be polite and responsible. Properly maintain your house, inside and out. Be an asset to your host (property owner), your neighbors, and the local community. You can take out the trash without being asked. You can offer a helping hand to a neighbor in need. You can volunteer for a local cause.
The bottom line, if there's one thing you should do in a backyard tiny house parking situation, it's be respectful.
How To Find Tiny House Parking: In-Depth Guide
How To Find Tiny House Parking
Exclusive Content
Monthly LIVE tiny living discussions with extended Q&A, plus BONUS content, like behind-the-scenes filmmaking and tiny home life insights.
Early Access
See new videos first, get first dibs on new online courses and more!
Exclusive Giveaways & Discounts
Win tiny living festivals passes, and more!
Join today!