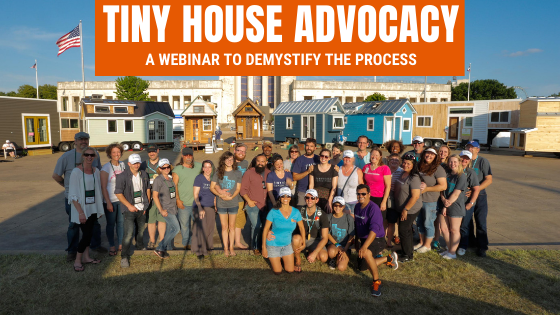 Legalize Tiny: a New Online Tiny House Advocacy Webinar
Interested in learning how to take tiny house advocacy from idea to reality to help create more legal, accessible housing options?
Earlier this year, you might remember us sharing about an online tiny house advocacy webinar. Consider that the legalize tiny 101, which covered how to become an advocate and how to work with your local government.
To help you take the next step forward, we are joining forces with the Tiny Home Industry Association to bring you a new webinar on September 30. Good news: you'll also get access to the 101 training.
Keep scrolling to learn more about this insightful tiny house advocacy webinar.
Leading national advocate, Dan Fitzpatrick, along with special guests, will share valuable implementation tools that demystify the process of creating a capable local advocacy team.
Additionally, learn talking points about how to leverage this unprecedented time to advance your local tiny housing advocacy goals effectively.
Dan is the man. Seriously, his tiny home advocacy track record is astounding. We first met him during the filming of Living Tiny Legally, Part 1, after he helped pass Fresno's movable tiny house zoning ordinance. That led to a tremendous ripple effect across the state and country. And he's now the Tiny Home Industry Association president.
Free Bonuses
By purchasing one $25 ticket, automatically get an annual Individual Membership to the Tiny Home Industry Association. You will also receive access to THIA's 2-Part Online Advocacy Training 101, How to Work with your Local Government Officials.
Or you can join THIA directly here.
THIA is advocating to legalize Tiny Homes as permissible and permanent housing. With your support, we are #MakingTinyPossible across the US and world!
Already a THIA member? No need to buy a ticket! Check your email (and Junk folder) for the event invite.
Special Guests
Hear from Genny Crane and Ellen Stone, the co-founders of the San Diego Chapter of American Tiny House Association. They will share their experience building a thriving local coalition that helped get movable tiny houses approved as ADUs in the City of San Diego.
Also, hear from Lindsay Wood. She is a tiny house dweller, consultant, and co-founder of Experience Tiny Homes. Currently, Lindsay is leading up the Sonoma County Tiny Home Coalition.
Living Tiny Legally
Since we first started making the Living Tiny Legally documentary series, we've been astounded by the growing number of legal victories for tiny houses. From two months to two years, it takes much dedication to get these building codes and zoning ordinances across the finish line. The one thing that can make all the difference is a strong coalition.
We know this all may sound intimidating, but that's just what we and the Tiny Home Industry Association want to help make more approachable. Please join us for this tiny house advocacy webinar to learn steps you can take to be the change you wish to see in the housing world.
Grassroots advocates are working to legitimize tiny housing through educational initiatives and collaboration with local and state-level policymakers on common sense regulations. Their shared goal is to create more housing options to meet the needs of all residents.

Legal acceptance is critical for gaining access to financing, insurance and more secure placement of tiny homes. The biggest obstacles, restrictive zoning and building codes, are slowly but surely being overcome.

To learn more, watch our docu-series, Living Tiny Legally.
-Alexis Stephens & Christian Parsons, Creators of Living Tiny Legally