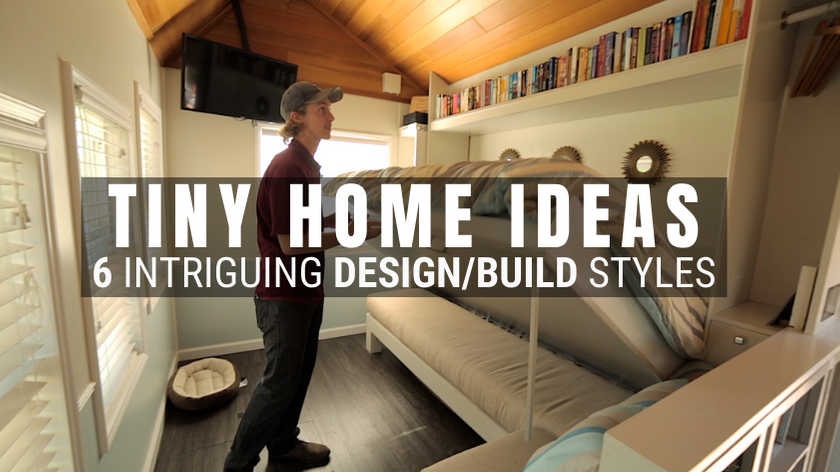 Intriguing Tiny Homes: 6 Unique Design and Building Approaches
From an unfolding modular home, 95% salvage built tiny homes to sustainable greywater systems, and more!
Enjoy this look at six different approaches to tiny house design and building, discovered during our travels across North America.
When it comes to tiny homes, no one size or style fits all. They come in many forms, from tiny houses on wheels, earthbag homes, container houses, bus conversions, and more. Interestingly within each category, there's a wide array of building materials, techniques, and technologies. 
Tiny House Ideas from 6 Design & Build Styles: 
Revolve House, 238 sqft tiny house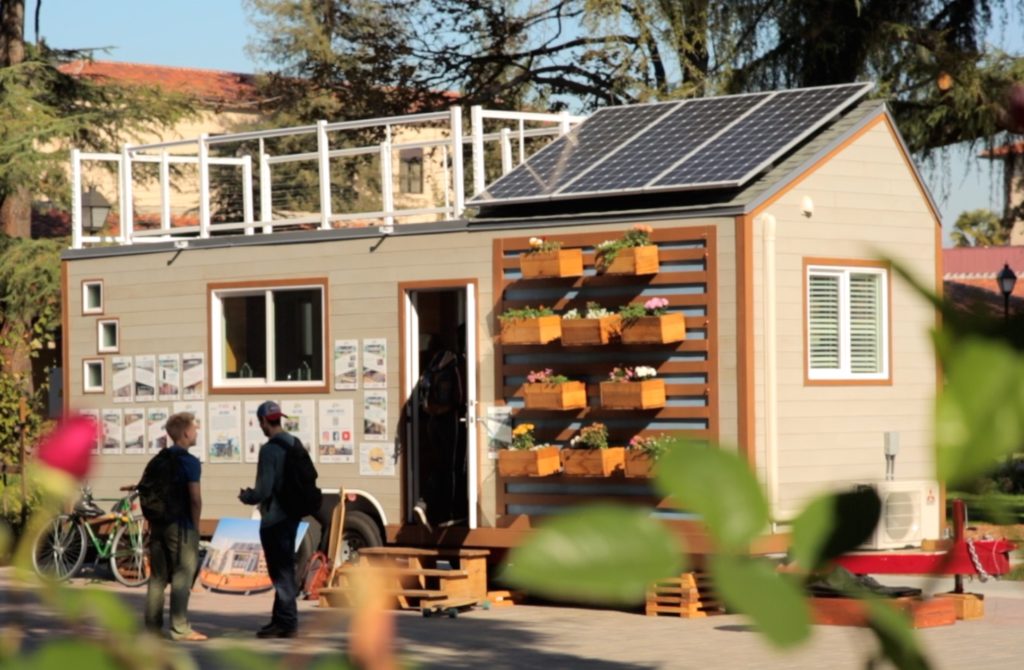 Santa Clara University students built the Revolve tiny house. It showcases a simple greywater recycling system, downstairs sleeping area, and impressive recycled & repurposed materials.
For instance, the kitchen features a paper stone countertop; made out of  100% post-consumer recycled paper. Also, the cabinetry is made from repurposed maple from the University's old basketball court. Learn more here.
The Modern, 150 sqft tiny house on wheels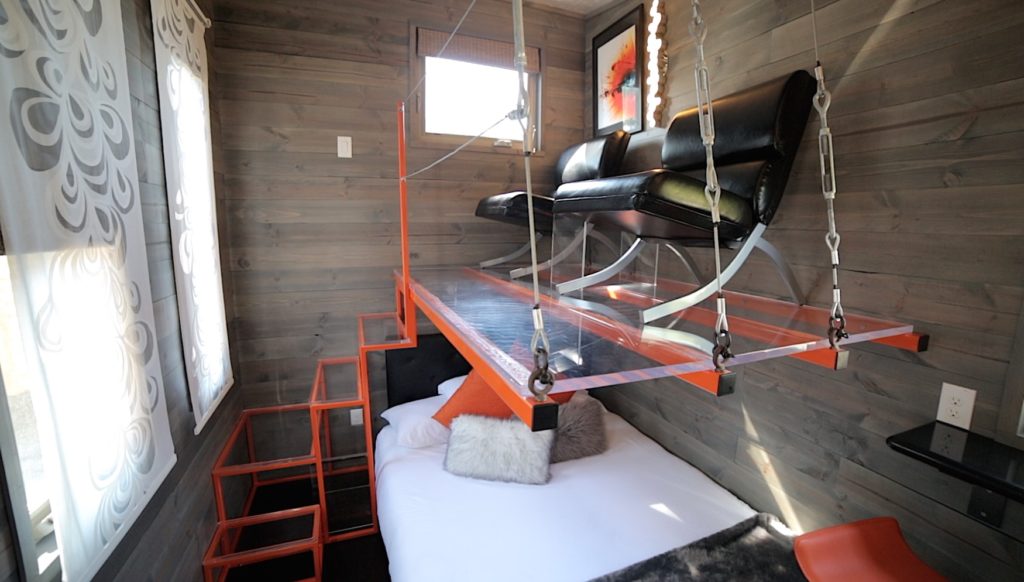 The Modern tiny house on wheels is available for rent at Tiny Digs Hotel in Portland, Oregon. It is reminiscent of a 1960's futuristic bachelor pad. The bathroom features a clear acrylic upper wall bringing in lots of light and openness to the shower.
Most interestingly, the tiny house features a unique see-through seating area suspended over the sleeping space.
Boxabl Casita, 375 sqft prefab home
Boxabl creates unfolding prefab houses built in a precision factory environment, using cutting edge materials and technologies. These are super energy-efficient; made of highly durable steel, concrete, and EPS foam. This combination results in a structure resistant to fire, floods, rot, pests, high winds, and more.
Their 20'x20' Casita is their flagship product, ideal for ADU use. It's fully ADA compliant and sells for only $50,000, including appliances.  Learn more here.
UC Berkeley students built the THIMBY house to create an affordable, self-contained off-grid home. Not only is it powered 100% by solar, but it also features an amazing biofiltration-based water recycling system. Watch the video to learn the ins and outs of their innovative whole-house greywater system.
Altogether, the THIMBY cost $46,500 to build, including the Tesla Powerwall.
Watch the above video for a closer look at these tiny homes! What appeals most to you?



Texas Tiny Houses:

The Kidd, 63 sqft;

The Mascot, 160 sqft;

Vicky Won, 170 sqft; Blue Moon, 300 sqft
Brad Kittel, the creator of Texas Tiny Houses, builds beautiful, fairytale tiny homes from 90-95 percent pure salvage. That's basically everything: the doors, floors, windows, lumber, glass, hardware, and siding.
The repurposed materials come from homes and barns throughout Texas, some as old as the early 1900s. Importantly, these precious materials would have otherwise ended up in the landfill. Learn more here.
Eco-Dome, 400 sqft earthbag home
CalEarth built the Eco-Dome for a mere $10,000. It is an earthbag home using superadobe as a low-cost energy-efficient tiny home, engineered to surpass all structural building codes.
Learn more about the EcoDome and earthbag construction in our short CalEarth documentary:
Exclusive Content
Monthly LIVE tiny living discussions with extended Q&A, plus BONUS content, like behind-the-scenes filmmaking and tiny home life insights.
Early Access
See new videos first, get first dibs on new online courses and more!
Exclusive Giveaways & Discounts
Win tiny living festivals passes, and more!
Join today!